Though the United States has come a long way in the campaign to reduce tobacco use, smoking continues to pose a significant risk to the health of many Americans. Smoking is a significant contributing factor to various cancers, as well as cardiovascular diseases such as heart disease and stroke. Meanwhile, the rise of e-cigarettes has brought in a new generation of tobacco users. Public health is far from done with its fight against tobacco, and ASTHO is continuing to invest in our tobacco control efforts.
ASTHO's tobacco control program serves as a resource on perspectives, capacities, challenges, and opportunities to implement state-based tobacco control and prevention initiatives. The overarching goals of this program are to enhance the capacity of state health agency tobacco prevention programs to improve tobacco-related polices and practice; foster environmental, cultural and systems change; and serve as a resource to ASTHO members on tobacco-related initiatives.
Responding to Emerging Challenges in Tobacco Control E-Learning Module
This technical assistance package contains a collection of virtual event recordings and written resources from both ASTHO and the Tobacco Control Network, which address challenges including flavored tobacco product policy, the intersection of COVID-19 and tobacco cessation, and more.
Explore the Module
Opportunities and Strategies for Tobacco Prevention During the COVID-19 Pandemic
While the COVID-19 response has strained tobacco prevention and control efforts, this brief highlights ways the pandemic has afforded health officials unique opportunities to retool their tobacco prevention response.
Access the Brief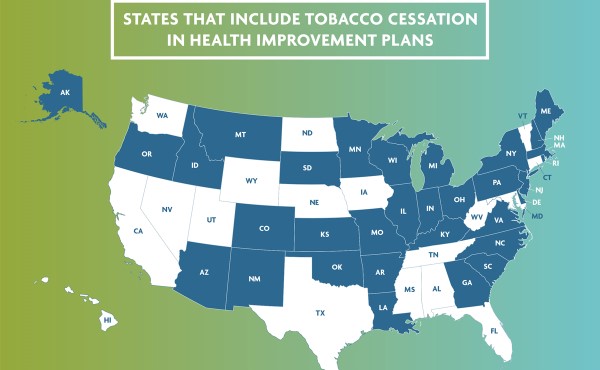 Smoking Cessation Infographic
This infographic summarizes findings of the surgeon general's report on smoking cessation and provides examples of cessation work already taking place in states, including which states feature smoking cessation in health improvement plans, current cessation programs in Medicaid and workplace wellness initiatives, and policy actions to encourage people to quit smoking.
Access the Infographic
Latest Tobacco Control Resources
Collaborations
Our team provides coordinating support to the Tobacco Control Network (TCN), a CDC-funded ASTHO peer network of tobacco control program managers and other public health professionals dedicated to the promotion of tobacco control and cessation in the states and territories. In our work with the TCN, ASTHO convenes a peer-elected executive committee of state and territorial tobacco control program leaders to ensure that the best resources and collaboration opportunities are available to help tobacco control programs respond to emerging challenges in an effective and coordinated manner.
Our team also works closely with ASTHO's Community Health and Prevention Policy Committee, comprised of ASTHO members and subject matter experts across different disciplines in health promotion and disease prevention, to ensure that the committee's longstanding priorities related to tobacco control are well-reflected in ASTHO's work with health agency tobacco control programs.