Welcome to the health equity summit past events resources center. Information about past health equity summits and related series, recordings, and additional resources are available below.
2022 Commemorating Juneteenth: A Journey to Equity
On June 16, 2022, from 1:30-2:30 p.m. ET, ASTHO hosted a webinar highlighting the importance for public health to commemorate Juneteenth in the effort to heal relationships and achieve health equity among the Black community. The featured speakers discussed the connection between racism and the impact on public health.
Ms. Opal Lee, the "Grandmother of Juneteenth," shared her journey advocating to make Juneteenth a national holiday and Arthur R. James, MD, a retired obstetrician, gynecologist, and pediatrician highlighted the legacy of racial injustice to the health inequities we experience today.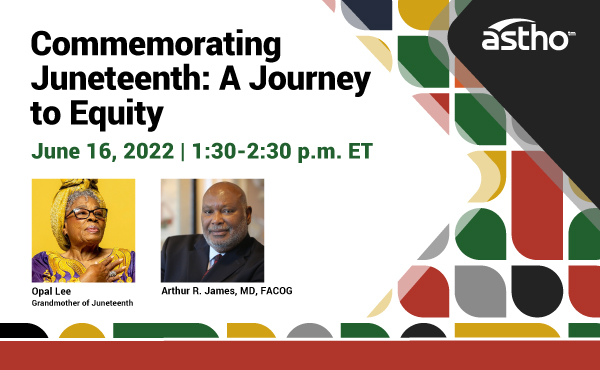 2021 Prioritizing Equity in Public Health Leadership Summit and Conversation Series
During the month of March 2021, ASTHO, in conjunction with CDC's Office of Minority Health and Health Equity and the Robert Wood Johnson Foundation, held a weekly series of webinars as part of the Prioritizing Equity in Public Health Leadership Summit. The series was designed to inspire state and territorial public health leaders, partners, and stakeholders to create innovative policy and practice solutions to reduce structural racism and eliminate racial and ethnic health disparities.
The series led up to a full day summit on April 21, 2021, where ASTHO held a national convening of state and territorial health officials with local and federal partners on Prioritizing Equity in Public Health. This virtual meeting served as a forum for state and territorial health practitioners to learn about emergent public health issues and apply evidence-based and promising practices to address structural racism and advance health and racial equity. The summit featured keynote presentations from national thought leaders, breakout discussions, and real-world case examples that can be applied to current public health challenges.
Summit Recordings
Click on the dropdown menu below to view each of the Summit's recorded sessions.
Series Recordings and Resources
Leadership and Policy: Actions to Address Racism as a Public Health Issue
March 5, 2021 at 1-2:15 p.m. ET

Speakers:
Georges Benjamin, MD, Executive Director, APHA
Daniel E. Dawes, Director, Satcher Health Leadership Institute
Leandris Liburd, PhD, MPH, Director, Office of Minority Health and Health Equity, CDC
Moderator:
Edward P. Ehlinger, MD, MSPH, Past President of ASTHO

This session featured public health leaders discussing the fundamental drivers of health inequities and how public health agencies can advance equity-driven policy actions. Participants walked away from this session with innovative policy solutions to narrow the gap in health inequalities.
Resources:
Transforming Public Health Through Leadership, Justice, and Racial Healing
March 12, 2021 at 1-2:15 p.m. ET

Speakers:
Norman Oliver, MD, State Health Commissioner, Virginia Department of Health
Barbara Ferrer, PhD, MPH, MEd , Director, Los Angeles County Department of Public Health
Moderator:
Gail Christopher, PhD, Executive Director, National Collaborative for Health Equity

This session featured state and local health officials discussing how they managed multiple crises over the past year during heightened government mistrust while steadfastly working to accomplish their agencies' missions. National change agent Gail Christopher facilitated this conversation on how public health agencies can support efforts that move the country towards racial healing.
Resources:
Institutionalizing Equity: Public Health Leaders Advance Organizational Change
March 19, 2021 at 1-2:15 p.m. ET

Speakers:
Aletha Maybank, MD, MPH, Chief Health Equity Officer, GVP, AMA
Dwayne S. Marsh, President and CEO, Northern California Grantmakers
Kou Thao, Director, Center for Health Equity, Minnesota Department of Health
Moderator:
Renée Branch Canady, PhD, MPA, Chief Executive Officer, Michigan Public Health Institute

This session featured a discussion on the importance of leadership when implementing organizational changes to advance health and racial equity. Participants learned effective methods to prioritize equity and utilize public health leadership to advance structural transformation.
Resources:
Shifting Power Workshop: Collaborations to Confront the Root Causes of Health Inequities
March 26, 2021 at 1-2:15 p.m. ET

Speakers:
Van Do-Reynoso, PhD, MPH, Director, Santa Barbara County Health Department
Hazel Davalos, Community Organizing Director, Central Coast Alliance United for a Sustainable Economy (CAUSE)
Paula Tran Inzeo, MPH, Mobilizing Action Toward Community Health (MATCH) Group Director, University of Wisconsin Population Health Institute
Moderator:
Lili Farhang, Co-Director, Human Impact Partners


Across the United States, state and local health departments and community power-building organizations are collaborating to challenge the social, environmental, and economic conditions that create health and racial inequities.
This work is more important than ever given the intersecting and cascading crises of COVID-19, police violence, and housing and economic insecurity. Health departments are accountable to these crises and should increasingly seed and nurture collaborations with groups explicitly focused on building community power as a strategy to achieve health equity. In that spirit, this discussion will highlight a framework to approach this work, along with examples of health department and community organizing collaborations.
Resources: