State Primary Care Offices Expand Access to Care and Improve Health Equity
September 21, 2022 | Chikamso Chukwu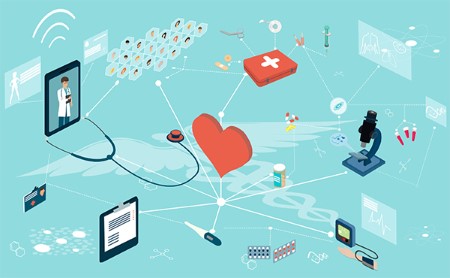 Alisa Druzba has been director of the New Hampshire State Office of Rural Health and Primary Care since 2006. She is also the chair of the Primary Care Office (PCO) National Committee and is an advocate for PCO directors and staff across the country. ASTHO sat down with her to spotlight PCO contributions to health equity and access to care, and how to build connections to other work within health agencies.
What are PCOs and why are they valuable?
PCOs help identify communities most in need of healthcare services. Under the cooperative agreement with HRSA, PCOs are responsible for federal shortage designation work. That means we confirm information about clinicians in the state, such as whether they offer outpatient care, where they are located, if they accept Medicaid, and whether they offer a sliding fee scale. PCOs use that information, along with other national data sources, to identify areas in greatest need of support.
We are also the one-stop shop for the National Health Service Corps programs, the Nurse Corps programs, and the new Substance Use Disorder Treatment and Recovery (STAR) Loan Repayment Program. These are programs that connect health professionals to areas with limited access to healthcare.
What data do PCOs collect and what do you do with it?
Each PCO—there's one in all states and U.S. Territories—performs provider data validation. While states have different ways of processing data, New Hampshire uses a survey method to validate physicians who renew their license. We also pull provider Medicaid claims data to find out if primary care is being provided in an area that has not yet been identified.
We create reports every year for each of our clinician types, to highlight interesting trends. We lay out all the data and then look at the difference in provider types between rural and non-rural areas. On the claims side, which is super fun, you can really look for things such as real travel time for patients. We can look at trends. We can look at deserts of care. None of that is strictly traditional PCO work. But if you have that skill set and that ability, you can use that information as well.
One of the coolest things related to our data collection happened during COVID-19. When the state was creating its vaccine administration plan—and clinicians were a priority group—we were the only ones who had any idea how many clinicians were in New Hampshire. So, they were able to accurately plan and disperse those resources because of our surveying.
What challenges do PCOs face?
There is a tremendous amount of turnover in PCOs and, as a result, there is a constant need for technical assistance to onboard new people. Also, it's rare for a director to have the skill set to perform complex shortage designation work. So, PCOs need several staff to accomplish all the tasks and meet those requirements.
The State Primary Care Offices (PCOs) grant itself doesn't cover that breadth of work or all the competencies. The longer we work under the cooperative agreement, the more we try to be proactive and efficient, and that takes time. While completing our regular work, there are considerable deadlines to meet. And we have the ongoing educational component of this work.
We also spend quite a bit of time continuing to educate stakeholders, groups, and providers on what is behind our data sets and why they should take the time to invest their resources in shortage designation work. It is a long-term investment, but it does pay off in the end.
How does your office collaborate with other offices/divisions across the health department?
In any way that we can. For example, our lead poisoning prevention program grant came out, and it had some very specific requirements for rural areas. We had a lot of data for them about access to care and the rural populations that they were able to use for their grant application.
I also have always worked closely with maternal and child health programs (MCH) as well to make sure we are aligning resources. MCH programs do phenomenal needs assessments, so we support them with our provider validation and primary care barriers data. And together, we write great grants. For example, they have a program right now on pediatric telehealth, and I helped with that application. Sometimes we'll help with matching dollars if we're able.
How does the work of PCOs advance health equity and equitable access to healthcare?
Although New Hampshire has a majority white population, there are a lot of disparities. The ideal situation is for a person to see a provider that looks like them and understands their background and culture. We do a lot of work to elevate that conversation.
As part of our survey, we ask for demographic information (e.g., racial and ethnic background, languages spoken) from our providers, and then our epidemiologist matches the location of the provider with the community demographics. We are then able to point out when there's a disparity. We share that information with training programs and the state. We want them to know that there is diversity and there are people who want to pursue healthcare careers.
When we have the flexibility to fund health workforce programs and development, we emphasize equity. We believe that diversity should be considered not only in the populations that benefit from whatever service or work, but also in the organizations that are doing the work.
I think one of the biggest leaps for us has been helping people understand that access to resources can be so radically different even within the same city. When you start explaining the data and then tell some stories surrounding the data, it really seems to resonate with people. So that's been a great opportunity.
The development of this blog post is supported by the Health Resources and Services Administration of the U.S. Department of Health and Human Services under grant number 2 UD3OA22890-10-00. Information, content, and conclusions will be those of the author and should not be construed as the official position or policy of, nor should any endorsements be inferred by HRSA, HHS, or the U.S. Government.