Public Health and Healthcare Partner to Promote Influenza Vaccination
December 06, 2022 | Shalini Nair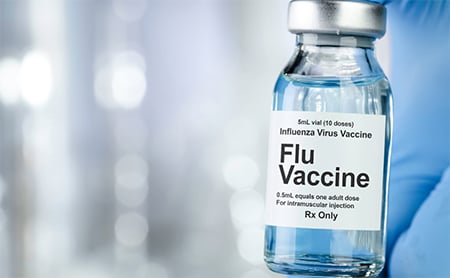 During the COVID-19 pandemic, the United States has seen historically low influenza activity for the past two flu seasons. However, as the use of pandemic-related mitigation measures such as masking decrease, CDC data appear to suggest we may be in for an earlier—and possibly more tumultuous—flu season this year, further exacerbated by the surge in respiratory viruses observed nationwide.
One of the best ways to reduce the risk posed by seasonal flu viruses is to get vaccinated. Flu vaccination can not only help prevent illness, but also significantly reduce the risk of flu-associated hospitalization—particularly in people with certain chronic conditions. However, only about 50% of Americans received a flu vaccine during the 2021-2022 season.
Racial and ethnic disparities in flu vaccination continue to persist, with rates among Black, Hispanic, and American Indian or Alaska Native adults even lower at less than 43%. Increasing equitable access to vaccination is crucial to alleviating this disparity and reducing flu-associated morbidity and mortality.
The existence of complex drivers for this phenomenon—including misinformation, distrust of public health authority, and systemic barriers to care—suggest a need for community-centered approaches to increasing vaccine uptake. ASTHO's Vaccine Equity Project, undertaken in collaboration with the National Community Action Partnership, is working to address this need among racial and ethnic minority groups and in rural areas. Partnering with trusted community agencies allows the project to not only tackle vaccine hesitancy, but to take a comprehensive approach that fulfills individuals' needs related to housing, food, and other determinants of health.
In commemoration of National Influenza Vaccination Week held from Dec. 5-9, ASTHO is highlighting two agencies whose unique collaborations with healthcare and public health have allowed them to effectively promote flu vaccinations within their communities.
Arkansas Breaks Down Barriers to Support At-Risk Populations
Our first spotlight focuses on a partnership between the Community Action Program for Central Arkansas (CAPCA) and hometown healthcare partner ARcare. ARcare is a federally qualified health center (FQHC) that offers a sliding scale fee system for patients in Arkansas who need affordable healthcare services. CAPCA initiated its partnership with ARcare through one of its Governing Board members, Logan Russell, who serves as ARcare's Community Liaison.
"Prior to the start of the vaccine clinics, CAPCA conducted community forums to gather data regarding vaccines and hesitance. Logan was able to utilize her connections with the local Harding University to secure a place for a forum to be held on campus. The results from the forums were critical and helped shape where, how, and when the clinics would operate to best cater to the White County residents' needs."
– Shelby Tarkington, Low Income Home Energy Assistance Program (LIHEAP) Coordinator, CAPCA
Due to its relationship with ARcare, CAPCA has been able to host Project Homeless Connect events at the ARcare facility in Searcy, Arkansas. These events focus on bringing service providers, programs, and resources together in one location to serve individuals experiencing homelessness. Partnering the Vaccine Equity Project with Project Homeless Connect has reduced barriers to vital vaccines for a population at high risk for both flu and COVID-19 infections.
At one recent clinic, nearly 60% of all individuals who received a vaccine identified as homeless. Between September and October 2022, CAPCA administered 56 flu vaccinations to community members and engaged at least 125 individuals who met the poverty threshold in their broader vaccine equity outreach efforts.
South Carolina Works to Meet Patients Where They Are
Our second spotlight takes us over to Berkeley County, South Carolina, where Palmetto Community Action Partnership (Palmetto CAP) is working with the South Carolina Department of Health and Environmental Control (SCDHEC) and Fetter Health Care Network (Fetter), another FQHC, to promote vaccination during patient visits.
SCDHEC has become an integral member of Palmetto's community action team supporting vaccine equity efforts by providing the nursing outreach teams who administer on-site vaccinations at events throughout the county. Currently, SCDHEC is working to provide students with access to flu vaccinations through the school system. For one community member, the opportunity to have her son vaccinated at school meant that her family was able to remain healthy and unaffected by an outbreak of flu in his classroom that occurred just a few weeks later.
Palmetto's other partner, Fetter, is a trusted, income-based health clinic in rural Berkeley County. While the agency had existing ties with Fetter prior to this project, it used this new dimension of its partnership to reach more community members in rural areas. Flu vaccines are administered at the clinic, and patients have been encouraged to receive the vaccine through the Vaccine Equity Project. If a patient is uninsured, or their insurance does not cover a vaccination, Palmetto covers the corresponding expense.
Having the ability to offer vaccination services at no charge to clinic patients has proven beneficial in reaching a new audience. In a two-week span bridging September and October 2022, Palmetto had already administered at least 65 flu vaccines to community members across two clinic events.
"Almost half of the vaccinations administered in the past three weeks through Palmetto were flu vaccinations received at Fetter Health Care. Having two health service partners has allowed Palmetto CAP to reach community members not only in a healthcare setting, as we have done with the Fetter partnership, but also to have the flexibility of mobility provided through SCDHEC."
– Tara Durham, Development Coordinator, Palmetto CAP
ASTHO Looks Ahead
Partnerships between public health, healthcare, and community action agencies represent an opportunity to not only address specific health concerns, but to take a whole person approach that also considers social and structural determinants of health. As of Nov. 1, 2022, all five of ASTHO's community partners have collectively administered at least 152 flu vaccinations and have engaged approximately 5,660 community members who meet the poverty threshold in their vaccine outreach efforts.
As this project moves forward, ASTHO will continue to share successes and lessons learned through this collaboration to improve vaccine equity. Learn more about how your state or territorial health agency can further promote National Influenza Immunization Week.