Partnering with Community Action Agencies Can Improve Trust in Vaccines
October 06, 2022 | Geetika Nadkarni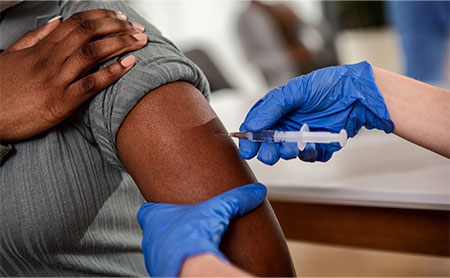 In the current climate surrounding vaccinations and other large-scale public health measures, it's more important than ever for public health to engage communities. One way to do this is through working with community action agencies (CAAs), local entities that work to reduce poverty and reduce disparities among the populations they serve. Funded through the Community Services Block Grant (CSBG), CAAs are an ideal complement to public health's mission to address the social determinants of health and achieve greater equity.
With support from CDC, ASTHO is working with the National Community Action Partnership and five CAAs in the Partnering for Vaccine Equity project, which aims to increase acceptance and uptake of vaccines among racial and ethnic minority groups and in rural communities. ASTHO chose to partner with CAAs as trusted community agents for this project because of their existing relationships within communities through programs such as Head Start, food banks, federal nutrition programs, and employment and housing assistance. Through their internal and external partnerships, they can reach people who may be concerned about vaccine safety and/or lack access to vaccination sites.
Through this project, CAAs are partnering with residents, faith-based organizations, local schools and universities, state and local public health departments, and non-profits active in the community. They are also engaging a range of local providers, such as federally qualified health centers (FQHCs), physicians, community health workers, medical and nursing students, and emergency medical technicians (EMTs). These community action teams are working together to improve vaccine acceptance and uptake and to customize evidence-based strategies to their own communities and neighborhoods.
Community Action Partnership of Kern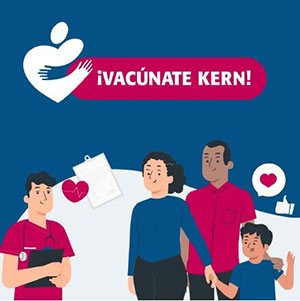 Figure 1: Social media image from CAP KernIn Kern County, CA, the Community Action Partnership of Kern used Medicaid data to target their efforts in zip codes with the highest vaccination disparities. They are using a variety of approaches and partners to serve as trusted messengers to address misinformation and dispel distrust of COVID-19 vaccines.
Pickens Community Action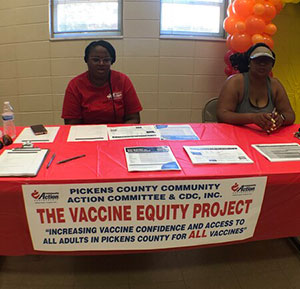 Figure 2: Pickens Community Action table at a local event.The team at Pickens Community Action in Pickens County, AL, knew that one of the groups with the lowest vaccination rates in their area was young adult males. They have begun engaging this demographic through their Head Start Fatherhood Program.
Palmetto Community Action Partnership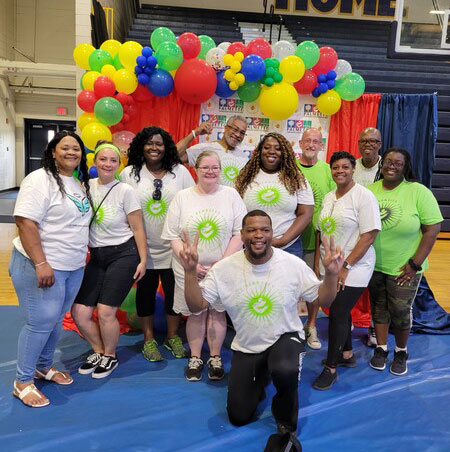 Figure 3: Palmetto Community Action Partnership team picture during Palmetto Community Day.Palmetto Community Action Partnership in Berkeley County, SC, is using their online registration system to not only schedule vaccination appointments but also link community members to other services as needed through their case workers. They have also been out to many community events, offering education and vaccination opportunities.
"Palmetto CAP saw the effects of COVID firsthand in how it impacted our staff and families. When this opportunity came along, our executive team was excited about the opportunity to keep people safe. Since we already had established partnerships in Berkeley County, we knew this mission was meant for us! The grant allowed us to dedicate staff to this project without taking away from our other programs. Thus far, we have impacted over 400 individuals with vaccinations and increased our relationships in Berkeley County." —Reba Hough-Martin, Deputy Director of Palmetto CAP
Community Action Program for Central Arkansas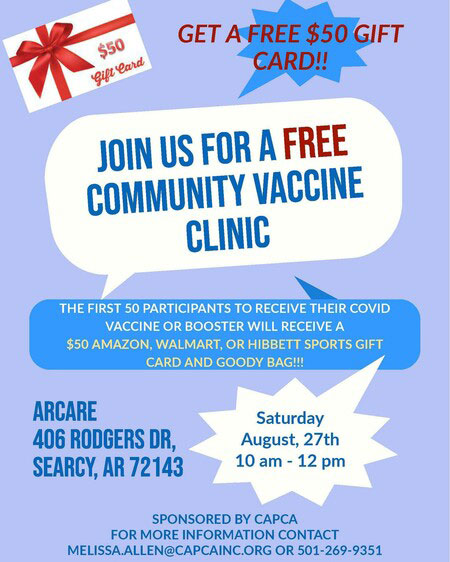 Figure 4: A flyer designed for a CAPCA vaccine clinic.In White County, AR, the Community Action Program for Central Arkansas (CAPCA) is working to understand the attitudes and barriers in their community to receiving immunizations. They held several listening sessions and fielded a large community survey to inform their outreach strategies. CAPCA is also helping to normalize COVID-19 immunizations by offering them in addition to other vaccines such as influenza and shingles through a partnership with a local mobile clinic.
"CAPCA took on the vaccine equity project to fill the gap in access to reliable information and education regarding vaccines, as well as to be able to provide access to vaccinations, if desired. The project highlighted the trust and confidence the community has in community action agencies. The long-standing relationship opened the door for communication and trust allowing us to penetrate the barriers of misinformation and accessibility for our low-income, minority, and migrant and seasonal families. The value of the project is beyond measure." —Jennifer Welter, Executive Director of CAPCA
Enrichment Services Program, Inc.
Enrichment Services Program, Inc. is working in Troup and Stewart Counties in Georgia and neighboring Russell County in Alabama to reduce vaccination disparities. They have built a remarkable team of trusted messengers among local providers, educational institutions, and faith-based organizations to tell their own stories of why getting vaccinated is important. The ASTHO infectious disease infrastructure and policy team recently conducted a site visit and attended one of their community events where they offered both educational materials as well as the opportunity for onsite vaccinations.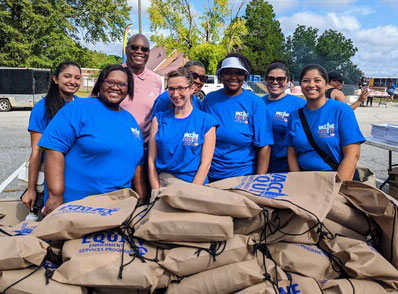 Figure 5 Shalini Nair and Geetika Nadkarni from the ASTHO IDIP Team attend a community event in Russel County, AL.
While this project is still in the early stages, the CAA's early successes in building partnerships and trust among the community around vaccinations could be modeled by other communities. Partnerships between community action and public health are a promising model to improve not only disparities in vaccination rates but other health equity-related issues. As this project moves forward, ASTHO will continue to share successes and lessons learned through this new collaboration to improve vaccine equity.