Video Series: Breaking Barriers to Help People Living With Disabilities Get Vaccinated
January 10, 2022
People living with disabilities have faced unique challenges throughout the COVID-19 pandemic, including barriers to accessing the COVID-19 vaccine. By learning about physical and digital accessibility, vaccine confidence, and community partnership building, health agencies can increase capacity to support people with disabilities during emergency response and vaccine distribution.
The following video series highlights the perspectives of ASTHO's disability and preparedness specialists. Since January 2021, ASTHO embedded 18 disability and preparedness specialists in state and territorial health agencies to voice the needs of people living with disabilities in the COVID-19 pandemic and broader emergency preparedness planning. Specialists work within jurisdictions' health agency to advocate for people with disabilities, identify disability inclusion gaps in the agency, and develop improvement plans to address emerging needs.
Each video below focuses on a unique topic and features stories from the field to demonstrate how the specialists work to ensure information, testing, and COVID-19 vaccination sites are accessible for people living with disabilities.
Accessibility and COVID-19
The COVID-19 pandemic has disproportionately negatively affected people living with disabilities. Specialists Ahana Singh and Carmen Boucher explain what accessibility means broadly, and how COVID-19 has changed the conversation about accessibility.
Accessible Testing and Vaccination Sites
Some testing and vaccination sites have physical attributes that make them inaccessible to people living with disabilities, such as lack of a wheelchair ramp or wheelchair-accessible bathrooms. Specialists Brooke Reister and Felecia Barrow discuss their experience addressing physical accessibility in their jurisdictions.
Vaccines for People Who Are Homebased
For some people living with a disability or complex medical condition, leaving their home to access care is difficult or requires the assistance of another person or supportive device. For this reason, accessing the COVID-19 vaccine at vaccination sites is challenging for people who are homebased. Specialists Sara Hart Weir and Adrienne Williams share the unique solutions their jurisdictions have found to vaccinate people who are homebased.
Website Accessibility
Online registration for COVID-19 vaccines or testing can create a barrier for people living with disabilities when websites don't meet accessibility standards. Specialist Katey Redmond discusses how inaccessible websites can impact an individual's ability to access the COVID-19 vaccine.
Partnerships With Disability Organizations
Partnerships with community organizations are vital to increase access to COVID-19 vaccines for people living with disabilities. Specialists Stephen Heck and Beatriz Vallejo discuss how partnerships with disability organizations are essential to promote an inclusive approach to preparedness and response.
Partnerships and Vaccine Confidence
Vaccine hesitancy is prevalent across many populations, including in some disability communities. Specialists Debra Young and Katey Redmond speak to the importance of building trusted partnerships to improve vaccine confidence.
Related Content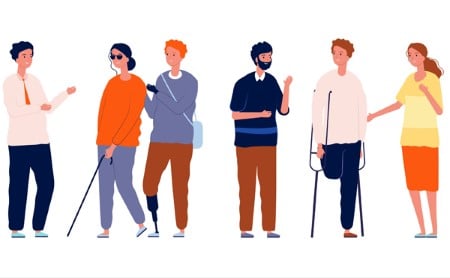 Embedded
Embedded is a multi-part series featuring ASTHO's 18 disability and preparedness specialists placed in jurisdictions nationwide.