The Debt Ceiling Discussion Greatly Impacts Public Health
May 11, 2023 | Devon Page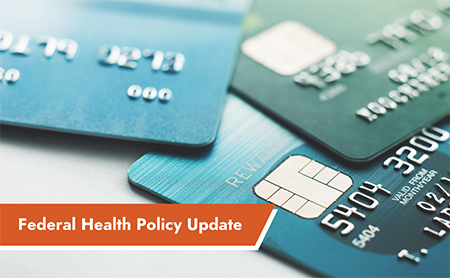 Originally thought to be as late as September 2023, the date on which the United States will run out of money to pay its debts will be more like June 1, Treasury Secretary Janet Yellen indicated earlier this month. Unless Congress passes legislation to raise the debt limit—the amount of money the government is legally allowed to borrow—the nation will default on its debt. With lawmakers at an impasse, Secretary Yellen's announcement sounded alarm bells for not only those on Wall Street but also in public health.
The United States has never defaulted on its financial obligations, and there is good reason for that. Defaulting on the debt would have catastrophic consequences, causing—in the words of Secretary Yellen—"irreparable harm to the U.S. economy, the livelihoods of all Americans, and global financial stability."
Specifics, admittedly, are tough to pin down. But predictions regarding how the health system would be impacted in the event of a default paint a grim picture. Federal, state and local agencies' work might be derailed by interrupted payments. Federal Medicaid funding to states could cease, threatening states' ability to reimburse providers. Some worry that this would result in providers being reluctant to treat Medicaid patients generally. Unable to pay subsidies for Marketplace insurance premiums, those who get insurance through the Affordable Care Act would also feel the pains of a default.
Last week the House narrowly passed a bill to raise the debt ceiling—H.R. 2811, or the "Limit, Save, Grow Act of 2023." While the House-approved bill represents a significant victory for Speaker McCarthy (R-CA) and the majority party, it will not pass the Democratically-held Senate as currently written. Top Democrats including President Biden have publicly spoken out against the bill. In addition to making certain Medicaid and SNAP benefits subject to work requirements, the House passed bill would reduce discretionary spending by 22%, limit increases in discretionary spending for the next 10 years to 1%, and rescind unobligated COVID-19 funding.
Indeed, tying discretionary budget cuts and COVID-19 funding rescission to debt limit solutions will be debated by party leaders as they meet over the coming weeks. What the outcome of these discussions will be, however, is far from clear. Currently, President Biden and the "Big Four"—House Speaker Kevin McCarthy (R-CA), House Minority Leader Hakeem Jeffries (D-NY), Senate Majority Leader Chuck Schumer (D-NY), and Senate Minority Leader Mitch McConnell (R-KY)—are obstinate in their respective positions.
Whereas President Biden, Senator Schumer, and Minority Leader Jeffries insist on a passing 'clean' bill to raise the debt ceiling before negotiating spending cuts (that is, a bill constrained to lifting the debt limit), spending cuts remain a precondition to Republicans sitting at the table. In fact, a group of 43 Republican Senators, led by Senator Mike Lee (R-UT), sent a letter to Senator Schumer this month expressing a collective commitment to oppose raising the debt ceiling without substantive spending and budget reforms. Compounding the standoff even further, Minority Leader Jeffries refused to support a short-term debt ceiling deal, instead insisting on a clean bill.
Some have suggested in the face of the stalemate that invoking the fourteenth amendment, which stipulates that the public debt "shall not be questioned," provides a potential way for the Administration to circumvent Congress. However, the suggestion seems unlikely as of now. Although the option is not ruled out completely, Secretary Yellen said such an invocation risks a "constitutional crisis."
Meanwhile, stakeholders far and wide are trying to understand the implications of various hypothetical deals—everything from the House bill to a clean debt limit solution.
The House bill as is would be a tough pill to swallow for public health. If enacted, the proposed discretionary spending cuts alone would have a near-ubiquitous impact, from public school funding to public safety programs. State health agencies could see core federal funding lines—some of which already underfunded—threatened. But, again, this bill being signed into law by President Biden as-is would take something just short of a miracle. Despite both sides self-proclaimed inflexibility, most probable is a scenario in which Republicans and Democrats strike a deal, landing somewhere in the middle.
The Democrats may concede to Republicans recissions of unobligated COVID-19 funds, protecting discretionary funding and Medicaid in exchange, for instance. A new analysis conducted by House Appropriations Committee Democrats shows nearly $17 billion in unobligated funding at the Department of Health and Human Services, with about $4 billion at CDC and $2.5 billion for the Strategic National Stockpile (SNS). This includes dollars designated for the infectious disease rapid response fund, research and development of vaccines and therapeutics, payments to hospitals and nursing homes, and genomic sequencing of COVID-19 samples to identify variants. How much, if any, of this money can be preserved remains to be seen. Perhaps federal agencies are able to push some funding out the door before claw-backs.
There is, plainly, no telling how the situation will unfold. People who've been here before will tell you that a deal will likely be struck but no sooner than 30 seconds before the deadline and with concessions from both parties. That's how these things sometimes go—brinksmanship in the spirit of compromise. In any event, ASTHO's government affairs team will be monitoring developments in each step of the way and advocating for the priorities and interests of State health officials and their agencies.