State Policy Can Reduce Systemic Racism in Public Health
February 24, 2022 | Adrianna Evans, Beth Giambrone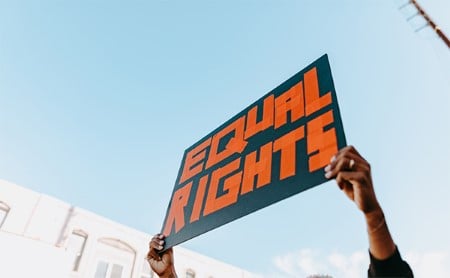 Public and private institutions, school districts, and business leaders are advancing racial equity and supporting policies to address racism. Public health organizations including CDC, ASTHO, NACCHO, and APHA have taken steps to eliminate the effects of racism. Likewise, many cities and counties have declared racism an urgent public health crisis comparable to other public health emergencies.
In 2020 and early 2021, state policymakers took action to raise awareness of the impacts of racism on health outcomes, to reverse the damage of racist polices, and to implement policy changes to ensure that future policies are enacted with a racial equity lens. In the past two years, many states introduced and adopted resolutions declaring racism a public health crisis. In the early weeks of 2022, there is notably less legislation that has been introduced as compared to the same time last year.
Data Has Long Depicted Disparities
An increasing body of research finds racism has a significant impact across the lifespan. Research shows that persistent exposure to racial discrimination may result in premature aging, poor health outcomes, and increased prevalence of certain chronic diseases. For example, Black Americans are more likely to have or die from certain chronic diseases, such as asthma, diabetes, and heart disease than white Americans. Black Americans also have a shorter life expectancy than the rest of the United States population. These racial disparities are tied to historical racist policies such as redlining and Jim Crow laws, and a legacy of disinvestment in communities of color.
The COVID-19 pandemic has highlighted and exacerbated these health disparities. Black Americans and other people of color were more likely to be infected with COVID-19 than white Americans. In 2020, Black Americans were found to have the highest all-cause mortality increase and Hispanic Americans were found to have the highest COVID-19 mortality of all racial groups compared to 2019.
Declarations of Racism as Public Health Crisis
In 2021, New York (S 2987), Nevada (SCR5), Hawaii (HCR 112-2021), and Vermont (JRH6) adopted such resolutions, including provisions calling on governors to declare racism a public health crisis, requesting federal funding to be distributed equitably to address issues disproportionately impacting Black, Indigenous and other persons of color, and establishing working groups to develop legislative or other actions that would reduce or eliminate racial and ethnic disparities. California also enacted SCR 17 to recognize March 21 as the International Day for Elimination of Racial Discrimination.
Resolutions were introduced and are still active in California (SB 17), Georgia (HR 78), Ohio (SCR 4), Massachusetts (H 2400), Missouri (HCR 64), Tennessee (HJR 10), and Wisconsin (AJR 8). These resolutions would establish working groups and outline specific measures for jurisdictions to take against the public health crisis (e.g., educating state personnel about how racism impacts individual and population health).
Minnesota introduced further legislation (companion bills SF 800 and HF 784) that would appropriate funds to address systemic racism in a number of state programs. Several other states proposed declarations, but these efforts did not make it through the legislative process. Beyond state legislatures, governors in Michigan, Nevada, and Wisconsin issued executive orders declaring racism as a public health crisis, requiring immediate action and allocation of resources.
Operationalizing Policy Changes
Maryland (HB 78) created a commission on health equity to examine the impact of various factors (e.g., workplace diversity, public safety, etc.) on residents' health. Illinois enacted HR 25 to urge medical professions to eliminate racism and recognize bias. The Illinois legislature is also considering HB 159 to establish an anti-racism commission and HB 158 to create a racial impact note to analyze the impact of proposed legislation on racial and ethnic minorities.
Washington enacted SB 5228 to require the inclusion of health equity education in health system medical trainings. Similarly, Minnesota's lawmakers are considering companion bills SF 877 and HF 660 to require anti-racism and implicit bias training for health professionals. New Mexico legislators introduced LR 44 requiring state agencies to create policies addressing institutional racism. In addition, governors in North Carolina and Vermont issued executive orders establishing task forces or councils to implement strategies and policies to eliminate racism in several systems including the public health and criminal justice systems.
In response to COVID-19, several states introduced legislation to address the racism-related issues highlighted during the pandemic. Minnesota (SC 13 and SC 7), Ohio (SCR 5 and HCR 17), and Hawaii (HR 142 and HCR 168) introduced legislation to condemn acts of violence, discrimination, and racism against people of Asian descent in response to the increase in racially motivated violence during the pandemic.
Public health agencies are well-positioned to lead, galvanize change, and foster collaboration across government sectors, stakeholders, and community organizations to advance racial equity and improve public health.
Looking Ahead
There are many ways jurisdictions can promote and adopt executive and legislative policies, such as forming taskforces, enacting meaningful policy change, and strengthening data collection capacities to evaluate and support a policy's effectiveness. ASTHO details specific recommendations for state health officials—such as formal acknowledgements, organizational change, and creation of partnerships—in its policy statement on eliminating structural racism.
Moving forward, jurisdictions can sustain these efforts by allocating funds to programs with a stated goal of eradicating racism. The inclusion of a racial equity lens in policies, practices, cultural norms, and public health programming will work towards combating institutional racism and ultimately improve health outcomes for everyone. ASTHO will continue to track legislative and executive action on this important public health issue.