Embedded: Puerto Rico's Public Health Emergency Preparedness Academy
March 01, 2022 | Haley Burrous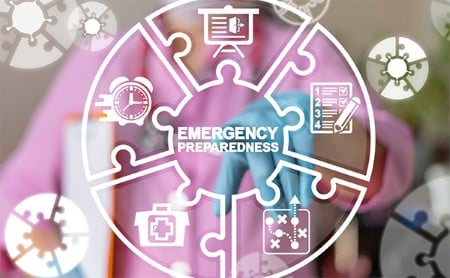 When Beatriz Vallejo, the disability and preparedness specialist in Puerto Rico, first joined the health agency, she identified an opportunity to improve communications between the preparedness office and other sectors of the health agency. After meeting with various directors across Puerto Rico's Department of Health (PRDH), teams expressed a strong interest in familiarizing themselves with the Incident Command System and the functions of the preparedness office during a public health emergency. Vallejo took on planning a novel program to share knowledge and clarify each sectors' roles and responsibilities during an emergency. This blog post describes Vallejo's unique approach to improve cross-sector collaboration: Puerto Rico's Public Health Emergency Preparedness Academy.
In collaboration with CDC, ASTHO provided full-time disability and preparedness specialists to 18 jurisdictions across the United States. Each specialist coordinates with both public health agencies and disability organizations to identify gaps and develop solutions that ensure an inclusive approach to preparedness that better meets the needs of people living with disabilities.
Program Overview
The Puerto Rico Public Health Emergency Preparedness Academy was established in collaboration with the director of PRDH's preparedness office as a solution to bridge communication gaps in the health agency before and during emergencies. An assortment of health agency staff and external partners participated in the academy, including:
Health agency vaccination and chronic disease programs
Centers for independent living
Environmental agencies
Healthcare coalitions
Shelters
The Special Supplemental Nutrition Program for Women, Infants, and Children (WIC)
Between March and September 2021, the preparedness academy convened several sessions to instruct attendees on the basics of emergency management. Each meeting provided participants with the opportunity to workshop and discuss a variety of topics.
Topic 1: Emergency Management 101
The essential capabilities of PRDH's Office of Preparedness, appropriate communication channels during emergencies, and emergency response using the Incident Command System.
Topic 2: Including Access and Functional Needs in Emergency Planning
Connecting health agency staff with representatives of the independent living movement to share the specific needs of people living with disabilities during public health emergencies.
Topic 3: Round Table: Essential Functions of Health Agency Departments
Describing daily workflows and essential functions during an emergency and areas for streamlining and collaboration.
Topic 4: Round Table: Health Agency Partnerships
Representatives from 12 external organizations shared how to build new partnerships and discuss areas for collaboration during emergency response.
Topic 5: Tools for Emotional Recovery and Staff Burnout
A psychologist-led discussion on mental health in the workplace, coping with emergency responses, and tips on working with the community during psychologically challenging responses.
Topic 6: Mass Care Planning
The health agency staff that oversee the development of mass care plans led a discussion outlining how information across sectors can be incorporated in future planning. These documents assist in partner agency coordination on the delivery of mass care services (e.g., sheltering, feeding, health services, distribution of emergency supplies) during an incident.
Topic 7: Sources of Data and Information During Health Emergencies
Experts presented on using hazard vulnerability analyses and the Community Assessment for Public Health Emergency Response Toolkit.
Early Outcomes
Each session of the preparedness academy gathered up to 40 people—including directors from other sectors, suggesting strong leadership buy-in. Throughout the sessions, participants showed active engagement by requesting additional information and resources. Early evaluation results indicated more than 90 percent of participants were interested in engaging in similar capacity building exercises. One participant stated the academy gave them a deeper understanding of how their job activities aligned with the Office of Preparedness, and emergency responses more broadly.
After several academy sessions, 17 participants formed PRDH's first Access and Functional Needs Population Committee. The committee—a multidisciplinary team of health educators, evaluators, and doctors, among others—continues to meet regularly to push the work of emergency planning forward and held their first successful communications exercise in November 2021.
Future of the Program
Although Vallejo's initial convenings of the preparedness academy have concluded, there are plans to continue the work she started. The preparedness academy will move to incorporate other public health topics beyond emergency preparedness, including health communications, cultural competency, health literacy, and specific matters affecting the LGBTQIA+ community. Instead of being housed within the Office of Preparedness at PRDH, the Epidemiology and Evaluation Unit within the University of Puerto Rico will host future convenings of the academy. The team continues to discuss methods to reach more staff with these development opportunities. One option under consideration is an online, self-paced course for continued learning.