Eight Ways Health Department Leaders Can Support Effective HAI/AR Programs
March 28, 2022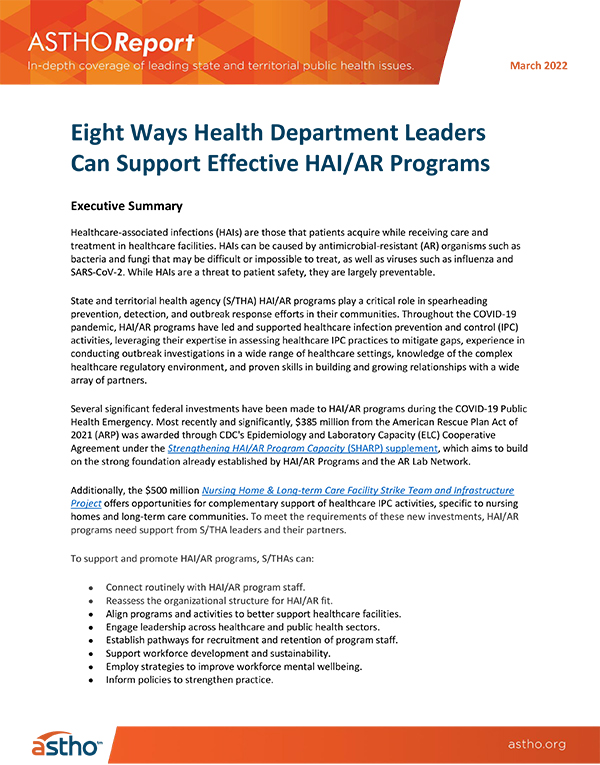 Healthcare-associated infections (HAIs) are those that patients acquire while receiving care and treatment in healthcare facilities. HAIs can be caused by antimicrobial-resistant (AR) organisms such as bacteria and fungi that may be difficult or impossible to treat, as well as viruses such as influenza and SARS-CoV-2. While HAIs are a threat to patient safety, they are largely preventable.
State and territorial health agency (S/THA) HAI/AR programs play a critical role for spearheading prevention, detection, and outbreak response efforts in their communities. Throughout the COVID-19 pandemic, HAI/AR programs have led and supported healthcare infection prevention and control (IPC) activities, leveraging their expertise in assessing healthcare IPC practices to mitigate gaps, experience in conducting outbreak investigations in a wide range of healthcare settings, knowledge of the complex healthcare regulatory environment, and proven skills in building and growing relationships with a wide array of partners.
Several significant federal investments have been made to HAI/AR programs during the COVID-19 Public Health Emergency. Most recently and significantly, $385 million from the American Rescue Plan Act of 2021 (ARP) was awarded through CDC's Epidemiology and Laboratory Capacity (ELC) Cooperative Agreement under the Strengthening HAI/AR Program Capacity (SHARP) supplement, which aims to build on the strong foundation already established by HAI/AR Programs and the AR Lab Network.
Additionally, the $500 million Nursing Home & Long-term Care Facility Strike Team and Infrastructure Project offers opportunities for complementary support of healthcare IPC activities, specific to nursing homes and long-term care communities. To meet the requirements of these new investments, HAI/AR programs need support from S/THA leaders and their partners.
To best support HAI/AR programs, S/THAs can consider the following:
Connect routinely with program staff.
Reassess the organizational structure for HAI/AR fit.
Align programs and activities.
Engage leadership across healthcare and public health sectors.
Establish pathways for recruitment and retention.
Support workforce development and sustainability.
Employ strategies to improve workforce mental wellbeing.
Inform policies to strengthen practice.