Grants Management Office Structure Optimization Toolkit
The Grants Management Office (GMO) Structure Optimization Toolkit was collaboratively developed to assist Health Departments in establishing and maintaining a more centralized GMO to optimize the utilization of federal funding. The purpose of this toolkit is to comprehensively assess the department's current federal grant workload, grant management office staffing requirements, and potential opportunities. Doing so enables efficient allocation of efforts and support among funded programs.
The primary objective is to centralize critical functions through a comprehensive grants management system led by specialized and well-trained personnel who maintain close communication with program staff. The toolkit also aims to define the transition costs associated with adopting this structure and appropriately distribute the expenses across multiple programs.
Once fully implemented, the centralized grants management system is expected to:
Strengthen the infrastructure of public health agencies and enhance overall performance.
Improve the capacity to manage federal grants and their funds effectively and efficiently.
Foster greater collaboration and stronger working relationships among different program areas.
Technical Considerations
IT support for application download
Microsoft Power Platform for Power BI usage
Exploring the Toolkit in Depth
The Grant Management Office (GMO) Structure Optimization Toolkit includes a set of electronic tools designed to conduct a self-assessment, recommend the best structure to manage grants, and allocate costs. Through the self-assessment, health departments will gain valuable insights into their current and projected workload demands and they can better comprehend their existing program management practices. By doing so, they can identify the necessary staffing requirements and uncover opportunities within the GMO, enabling them to efficiently allocate their efforts across funded programs.
How to Access the Application

To access and utilize the GMO Toolkit, health departments must contact ASTHO's performance Improvement team directly. Once connected, ASTHO and partner V2A Consulting can provide health departments with two technical assistance options:

Basic: Help you install the application, train primary staff on use, and/or coach through any challenges​.
Advanced: In addition to the above, facilitate completion of input forms with programs, help interpret results, and ways to implement recommendations.
Completing the Self-Assessment

Complete the self-assessment by inputting Grant and Program management data in 7 forms following the guidelines of the User Guide:

User Form
Grants Form
Programs Form
Grants Management Activities Form
GMO Roles Form
Cost Form –grant management expenses
Cost Distribution Pre-Work Form
Interpreting Self-Assessment Results

Once all forms are completed, the user will have access to a Power BI Dashboard that will serve to understand the opportunities and the resources needed to better manage the projected grants workload for the upcoming year.

Current Workload
Opportunities by Program
Opportunities Detail
Recommended Structure
Cost Distribution
Data Tables
Toolkit Tutorial
This two-minute introduction to the Grants Management Office Structure Optimization Toolkit, covers how the tool works and how it can help Grant Management offices become more agile and effective government agencies.
In-Depth Toolkit Training
During this hour-long webinar, ASTHO and partner V2A Consulting provide an overview of the Toolkit and demonstrate assessment functions and outputs presented in a series of visual dashboards. Participants also learn about opportunities for technical assistance to implement the Toolkit in their agency.
User Guide
The user guide for the GMO Structure Optimization Toolkit is a valuable resource available in both English and Spanish, designed to offer users a detailed and comprehensive understanding of the various components within the toolkit.
It serves as an all-encompassing reference that covers the entire range of functionalities and tools provided by the GMO Structure Optimization Toolkit. Users can find comprehensive explanations, step-by-step instructions, and practical examples that showcase the toolkit's capabilities.
English Version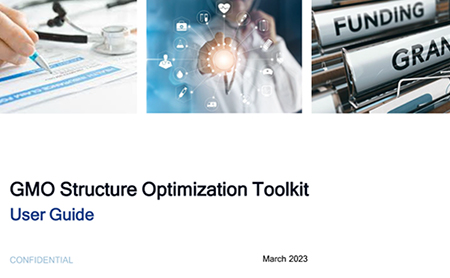 Versión en español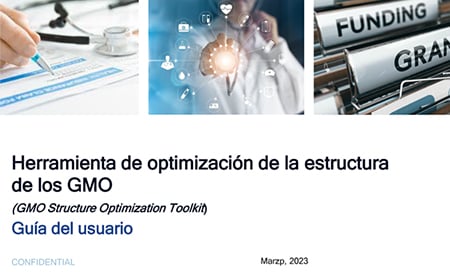 The GMO Toolkit is managed jointly by ASTHO's Island Support and Performance Improvement Departments in collaboration with V2A International, LLC and CDC. The Puerto Rico Department of Health participated in the initial design and a phased, pilot approach. Interviews with Hawaii, CNMI, Minnesota, USVI, and Washington, D.C. also helped inform the toolkit development. Funding for this project is provided by CDC through Cooperative Agreement 5 NU38OT000317-05-00.