Youth Sports as a Protective Factor to Promote Resiliency
July 27, 2021 | Kelsey Donnellan, Caitlin Langhorne Griffith, Jes Lyons, Victoria Pless, Talyah Sands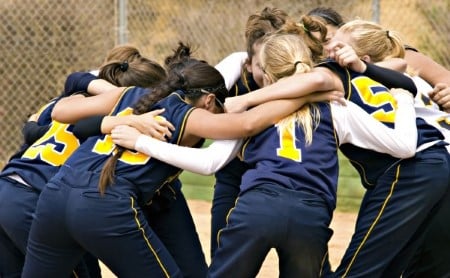 Every year in mid-July is National Youth Sports Week—this year falling on July 19-23. It's an important health observance because youth sports create strong connections with peers and caring adults, as well as promote socio-emotional skills and positive well-being.
The Office of Disease Prevention and Health Promotion's National Youth Sports Strategy (NYSS) outlines policies and strategies that support access to youth sports. Organizations that are NYSS Champions, such as ASTHO, work to promote participation and recognize the positive health outcomes sports can have on youth, such as limiting the impacts of adverse childhood experiences and building resiliency.
Building Resiliency Through Connection
Resiliency is "the process of adapting well in the face of adversity, trauma, tragedy, threats, or significant sources of stress—such as family and relationship problems, serious health problems, or workplace and financial stressors," and learning resiliency early in life can support long-term well-being and lower the risk of negative health outcomes later in life. Resiliency can be fostered through enhancing social-emotional factors, (e.g., self-awareness, self-management, social awareness, relationship skills, and responsible decision-making ), and youth sports can play a role in that.
Taking part in sports allow youth to learn important skills including teamwork, communication, problem-solving, and connection. This can support well-being and effective growth over time.
Sports can also be an essential aspect of youth engagement because it takes place over the course of the year (through the school year and over breaks, such as summer).
Sports also offer a wide range of activities for varying ages, which promote opportunity for youth to enhance their skills and connections over the years as they grow older, and interests change.
Many organizations guide schools and communities to enhance their youth sports organizations and activities and promote a positive culture around youth sports. Some guidance calls for coaches to take the time to learn about the effects trauma can have on youth and adapt their coaching accordingly. Other resources provide considerations on how to be inclusive of differently-abled individuals in activity settings.
For youth living with disabilities, sports are a powerful tool to boost self-confidence, improve motor skills, and promote understanding and social inclusion in the community.
States Strengthening Youth Sports During COVID-19
As with other things, the COVID-19 pandemic has made it challenging to engage youth in sports. CDC issued guidance for youth sports administrators in December 2020, an important reference for jurisdictions while also considering the context of the evolving state of the pandemic. Multiple states have also developed and considered recommendations, guidance, and policies to address the challenges associated with youth sports during the COVID epidemic.
Looking Ahead and Next Steps for Enhancing Youth Sports
Beyond the challenges posed by the COVID-19 pandemic, other social inequities in youth sports also exist. For example, youth living with disabilities do not always have access to youth sports programs. Policies to promote the inclusion of students living with disabilities in sports teams, such as recent bills in Massachusetts (S 2045, S 86) and Texas (SB 776) can help increase access to sports. Policies to support inclusive environments can mitigate some of the barriers transgender youth face when trying to participate in youth sports. Lastly, lessons from the COVID-19 pandemic can be used to promote play equity and inclusion for all children, as well as encouraging social connectedness and physical activity in the built environment.
Many of the recommended practices of groups such as the NYSS Champions can be built upon by state and territorial health agency leadership to alleviate the challenges of a post-COVID-19 world, support effective youth sports, and promote activity among youth. NYSS Champions can also work with others at the national, state, local, and community organizations to create systems-level impact in promoting the protective health benefits of youth sports. ASTHO will continue to monitor these issues and activities as states and territories consider additional policies impacting youth's access to sports.