What ASTHO Expects from the Incoming Biden Administration
January 13, 2021 | Jeffrey Ekoma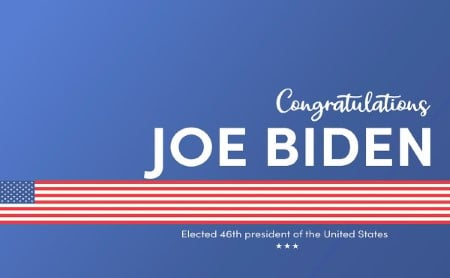 As the country prepares for the inauguration of President-Elect Joseph R. Biden, Jr. on Wednesday, the incoming administration has highlighted several priorities over the next four years. Below is a summary of priorities that are closely aligned with the work and interests of state and territorial public health.
Continued COVID-19 Response and Recovery
It is no surprise that the ongoing response to COVID-19 is the number one priority of the incoming administration. State and territorial public health jurisdictions began vaccinating individuals, from one of the two approved vaccines from Pfizer/BioNTech and Moderna, the week of Dec. 14. Considering this massive vaccination campaign started during the holiday season and several severe weather-related events occurred in that period, a total of 9.3 million people (as of Jan. 12) have received the first dose of the COVID-19 vaccine.
To support these ongoing efforts, Congress appropriated—as approved by the Coronavirus Response and Relief Supplement Appropriations Act—$8.75 million to the CDC. Of that, $4.5 billion is allocated in direct grants to states, localities, and territories for vaccine-related activities that include the distribution and administration of COVID-19 vaccines, communications, vaccine tracking systems, and modernizing data systems.
An additional $22.4 billion was appropriated to states, localities, territories, and Tribal organizations for testing, contact tracing, surveillance, containment, and mitigation related activities. The Department of Health and Human Services recently announced plans to disburse funding to states, localities, and territories before Jan. 19.
The management of vaccine distribution will be paramount for the incoming administration. Transition team officials have expressed an interest in retaining leaders of Operation Warp Speed to work under the newly created COVID-19 Response Team, headed by Jeff Zients, the coordinator of the COVID-19 response and counselor to the president.
President-Elect Biden has also put forth his goal of completing 100 million vaccinations within his first 100 days of assuming office. Overall, the continued collaboration between the federal, state, local, territorial, and Tribal health jurisdictions will be vital to meeting the overall shared goal of stopping the pandemic.
The incoming administration has also committed to ensuring that all public health decisions are informed by public health professionals. In addition, they released a seven-point plan to mitigate challenges associated with the pandemic, including:
Ensuring that everyone has access to free testing.
Utilizing the Defense Production Act to improve personal protective equipment supplies.
Equitably distributing medical countermeasures.
Emphasizing the importance of masks.
Rebuilding/expanding public health preparedness to be better prepared for future pandemic threats.
Racial Equity
The impact of racial inequalities, particularly as it pertains to the health and well-being of Black, Indigenous, and people of color (BIPOC) are profound in the United States. The disproportionate impact of COVID-19 on BIPOC communities represents an example of the need to address this issue across multiple sectors.
Recognizing this, the incoming administration appointed Marcella Nunez-Smith to serve as a co-chair of the COVID-19 Advisory Board and COVID-19 Equity Task Force Chair. She has publicly expressed that her role will target necessary resources to BIPOC communities, as well as identify and implement solutions to address the social and economic factors that put these communities at most risk. She joins the taskforce from her current role as associate dean for health equity research at the Yale School of Medicine.
In addition, she has expressed an interest to address racial inequity by taking a holistic approach that not only includes clinical health outcomes, but also food security and housing stability to name a few. The administration also expressed a need to promote diversity and accountability in all federal agency leadership, as well as building a 21st century care infrastructure—also likely to greatly benefit public health.
Climate Change
According to the CDC, rising temperatures, extreme weather events, and rising sea levels are leading to air pollution, extreme heat, environmental degradation, and increasing allergens, and more. Consequently, these events can contribute to the development of and exacerbate case of asthma, cardiovascular disease, respiratory allergies, malnutrition, heat-related illness, and decreased mental health well-being.
The incoming administration has categorized climate change, "…as an existential threat to our environment, health, communities, national security, and the nation's economic well-being." The administration has an interest in climate change investments that improve public health. Areas of interest for state and territorial public health include an expansion of state and territorial health agency monitoring, surveillance, and adaptation capacity; developing public health awareness, messaging, and education materials; promoting environmental stewardship; and strengthening cross-sector partnerships in the areas of transportation, energy, housing, and commerce.
ASTHO will continue to monitor relevant public health policy movements from the new administration as it relates to state, local, Tribal, and territorial jurisdictions.