Vaccinating Children: The Final Step
November 10, 2021 | Marcus Plescia, Claire Hannan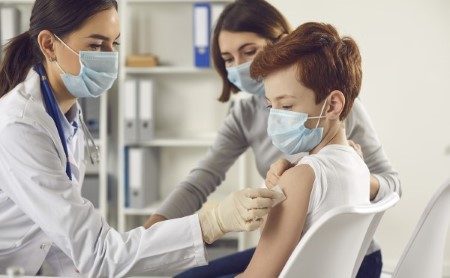 As we anticipate the likely approval of COVID-19 vaccination for children, our nation faces the final step to bring the COVID-19 pandemic under control. If approved for children ages 5-11, the COVID-19 vaccine will dramatically improve our efforts to resume in-person learning in our nation's schools and will help break the cycle of transmission from children to adults.
While we all anticipate an initial surge in COVID-19 vaccination from highly-motivated families, many parents have indicated they are still undecided and may seek further guidance. As the most trusted source of medical information and advice, healthcare providers are our best way to address this vaccine hesitancy.
Physicians have played an increasingly important role in the COVID-19 vaccination effort thus far—despite challenges with vaccine supply, distribution, and storage requirements. Many providers who participate in the Vaccines for Children (VFC) program (which provides 50% of the nation's pediatric vaccinations) have signed up to administer the COVID-19 vaccine. The reformulation and repackaging of the pediatric vaccine will make it much easier for physician offices to obtain and administer vaccine to children, and efforts are underway to address reimbursement and reporting requirements.
Over the next couple of weeks, it will be important to further expand primary care practice enrollment in COVID-19 vaccination. While participation of VFC providers has been our focus, about half of pediatric vaccinations are done in other settings. Many practices may not be aware of the changes to packaging and reimbursement, and an ACIP recommendation will be a substantive influence on physician practice. A shift of vaccination efforts back into clinical practice could be a first step in a return to our new normal.