Understanding the Updated Women's Preventive Services Guidelines
May 09, 2022 | Sowmya Kuruganti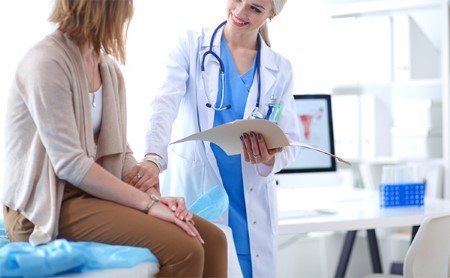 In December 2021, HRSA approved new and updated Women's Preventive Services Guidelines. HRSA developed the guidelines in 2011 with the National Academies of Science, Engineering, and Medicine to fill gaps in existing guidelines while improving women's health across the lifespan through preventive services and screenings. In 2016, a cooperative agreement between HRSA and the American College of Obstetricians and Gynecologists launched the Women's Preventive Services Initiative (WPSI), to develop, review, and update the guidelines in response to the unique health needs of women.
The recent changes include a new guideline on obesity prevention for midlife women and updates to five existing guidelines: Well-Women Preventive Visits, Breastfeeding Services and Supplies, Counseling for Sexually Transmitted Infections (STIs), Screening for Human Immunodeficiency Virus (HIV) Infections, and Contraception. These updated guidelines will be in effect starting in 2023.
New or Updated Guidelines
A More Inclusive Approach to Obesity Prevention
Through the new obesity prevention for midlife women guideline, WPSI is the first organization to recommend counseling for women aged 40 to 60 years old with a normal or overweight body mass index. Counseling includes discussions of healthy eating and physical activity, with a goal of maintaining weight or limiting weight gain to prevent obesity. This update brings attention to the needs of people without obesity or cardiovascular risk factors, who are left out of the current U.S. Preventative Services Task Force guidelines but are still at an increased risk of weight gain and associated chronic health conditions such as heart disease, diabetes mellitus, and arthritis.
Expanding Well-Women Preventive Visits
The well-woman preventive visits guideline update expands the scope of visits by specifying that services received for yearly preventative care can be completed in a single visit or during a series of visits. Visits should be based on individual needs, such as age, health status, reproductive health needs, pregnancy status (including pre-pregnancy, prenatal postpartum, and interpregnancy), and risk factors, and allow enough time for addressing these needs and coordinating related services. This update identifies regular well-woman visits as a starting point for receiving quality care throughout life and highlights their importance in reducing maternal morbidity and mortality.
Increasing Access to Breastfeeding Services and Supplies
The modified breastfeeding services and supplies guidelines support patient education services by clinicians and peer support networks. The update also includes a non-comprehensive list of newly covered breastfeeding equipment and supplies, such as double electric breast pumps, breast milk storage supplies, and items to support those with breastfeeding difficulties or who need additional services. This coverage increases access to optimal breastfeeding, which offers benefits to the lactating parent (and infant), including faster postpartum weight loss and less postpartum bleeding, as well as decreased risk of maternal mental health issues, cancer, autoimmune disease, diabetes, hypertension, and cardiovascular disease.
Strengthening STI Education and Counseling Efforts
The 2022 WPSI guidelines around counseling for STIs clarify that the list of risk factors in the 2016 version is not comprehensive for clinicians identifying adolescent and adult women at an increased risk for STIs. The updated guidelines reinforce support for clinicians to counsel or have conversations with individuals who are not typically identified as high risk because the risk factor they have shared are not listed in the guidelines or because they are uncomfortable disclosing risky sexual behavior. This update could increase women's access to comprehensive STI education and counseling, and thereby decrease personal risk and reduce rising rates of STIs.
Earlier Screenings for HIV Infections
The revised screening guidelines for HIV infection specify that, beginning at age 13, individuals should receive prevention education and be assessed for risk of HIV infection. In addition, all adolescent and adult women aged 15 and older should receive a screening test for HIV (not incident- or exposure-based) at least once during their lifetime. Earlier, additional, or more frequent HIV screening can be administered based on risk or pregnancy status.
An update defining the ages to begin prevention activities brings clarity to the providers initiating them, encourages conversations with younger patients, and emphasizes the importance of early and regular testing based on need. These revisions may contribute to early detection and treatment and lead to improved outcomes and reduced transmission for the 20-26% of infected patients who are not identified by risk-based screening.
Expanding Contraception Coverage
The updated contraception guidelines recommend that adolescent and adult women have access to the full range of FDA-approved, -granted, or -cleared contraceptives, effective family planning practices, and sterilization. Contraceptives should also be provided during the immediate postpartum period. While the former guidelines were often interpreted as only covering those contraceptives included in the FDA's Birth Control Guide, this update acknowledges the innovation in contraceptive care that has occurred since the Birth Control Guide was created. The removal of language around "female-controlled contraceptives" means a wider range of contraceptives, including male condoms, can be covered without cost-sharing.
Amplifying the WPSI Guidelines
Updates and revisions to the WPSI guidelines were developed to address gaps in guidance and improve necessary access to evidence-based preventive care. They also enhance and promote efforts toward equity by making additional services and resources accessible to all through coverage without cost-sharing. For these new and updated guidelines to be successfully implemented, state and territorial health agency staff and clinicians must be aware of and understand these changes, with support from state and island area health officials and agency leadership.
Health officials and health agency leadership in the states, territories, and freely associated states should consider existing related health policies, recommendations, and programming to ensure they are aligned with these guidelines. For instance, the Title V MCH Block Grant supports enactment of the well-woman preventive visits guideline, while the Special Supplemental Nutrition Program for Women, Infants, and Children (WIC) supports implementation of the breastfeeding services and supplies guideline.
Meanwhile, though the Patient Protection and Affordable Care Act (ACA) requires private healthcare plans to cover preventive services outlined in the WPSI guidelines, states are only required to cover expansion populations under ACA's Medicaid Expansion program. Therefore, implementation and uptake of these guidelines may require collaboration with a variety of stakeholders, including state Medicaid Directors or Medicaid Managed Care Organizations involved in coverage of services, state American College of Obstetricians and Gynecologists chapters that disseminate the guidelines, Federally Qualified Health Centers and other providers of care, state primary care associations and other organizations employing providers, and hospital system population health and quality improvement leaders, among others. To assist practices with coding and billing for these preventive services, members of the Dissemination & Implementation Steering Committee of WPSI developed a coding guide to support implementation and dissemination of revised clinical recommendations.
Benefits of Implementing Updated Guidelines
Effectively implementing WSPI guidelines will:
Minimize the burden and health consequences of obesity regardless of reason for weight gain in midlife.
Increase preventive care.
Facilitate access to additional healthcare services.
Increase opportunities to reach marginalized people.
Decrease barriers to breastfeeding and enhance the health of the infant.
Improve the likelihood of safer sex practices and lower the likelihood of serious health complications due to untreated or undiagnosed STIs.
Increase chances of screening and early treatment for people with HIV who don't know they are infected.
Reduce disparities in contraceptive use and decrease the likelihood and adverse effects of unintended pregnancies.
ASTHO has several policy and position statements highlighting the importance of and supporting states' implementation of the WPSI guidelines around obesity prevention, regular well-woman care, breastfeeding support, infectious disease screening and care, contraception, and family planning.
Moving forward, ASTHO's 2022-2024 strategic priorities will continue to support the evidence-based nature of the WPSI guideline updates, its commitment to advancing health and racial equity to achieve optimal health for all, and the development of an engaged, well-resourced, well-trained, and connected workforce to implement them.