Thanking Our Public Health Workforce
November 21, 2022 | Michael Fraser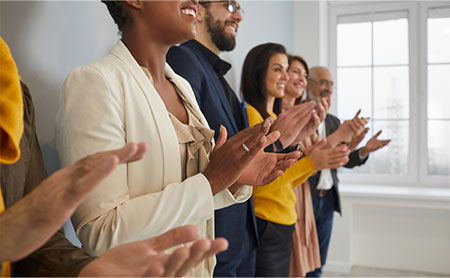 Every year on the Monday before Thanksgiving, ASTHO joins national partners in celebrating Public Health Thank You Day. It is a time dedicated to bringing visibility to you: the many governmental public health professionals who are too often working behind the scenes and whose work sometimes seems invisible. Whether you are working on the front lines of crisis response, keeping our food and water safe, or advocating for a healthier and more equitable world, you have tended to the needs of your communities in more ways than I can count.
Through equal parts expertise and empathy, you have made it your business to make a difference in places often most resistant to change, but where change is nonetheless necessary. As always, it is an honor to add my voice to the chorus of thanks.
I've been working in public health for more than 20 years. Every year I find myself increasingly awestruck by public health's transformational power in our world. Each day continues to deliver its own revelations of gratitude for all your work.
As the year comes to a close, I am excited to share that my colleague Brent Ewig and I have published Vaccinating America: The Inside Story of the Race to End a Pandemic and Save Lives. It is a tribute to you—governmental public health professionals—you are the heroes in the story of the largest vaccination campaign in our history. Its dedication reads: "To the countless public servants, public health leaders, health professionals, and private-sector partners who together ran the race to vaccinate America. We salute for your service and appreciate the sacrifices you make daily to keep America healthy."
Today, I want to reiterate that salute and thank you again for a job well done.
To embrace a career in public health is to embrace tremendous uncertainty. When we celebrated Public Health Thank You Day in November 2019, we did not know that we were a few short months away from the most daunting global health crisis of our lifetimes. When a pandemic was declared, you and your colleagues were ready. Relentless, selfless, and sometimes sleepless, you continued to show up.
More uncertainty undoubtedly lies ahead. Ebola, monkeypox, and extreme weather events continue to loom large in the headlines. Public health officials' local and national authority will continue to be challenged in the courtrooms and legislatures across the country. As we look ahead to 2023, the need to modernize our healthcare systems and expand our workforce remains evident. The past year has given us every reason to celebrate, to mourn, and to reflect on how we must do better. Today, however, I choose to be grateful.
I have come to understand gratitude not only as a feeling, but as a choice. Today—and, indeed, everyday—I encourage you to thank your friends and colleagues in public health who have impacted you and your community. A text, a tweet, a note of thanks can go a long way.
ASTHO looks forward to working hand-in-hand with state, territorial, and island jurisdiction health officials as they navigate the "next normal" for public health. At a time when there is record enrollment in public health schools and programs, ASTHO has launched PublicHealthCareers.org to help link job seekers with careers in governmental public health agencies nationwide. Pass it along to colleagues and peers who may want to join you in the important work of assuring optimal health for all.
As I consider all that we have yet to accomplish, I cannot help but be filled with thanks for all the people who have brought us this far. To our public health workforce: you have been, and continue to be, enough. Thank you for all that you do.