Tennessee's Successes Combatting Opioid Use Disorder: A Q&A with Elizabeth Harvey
September 30, 2022 | Shannon Vance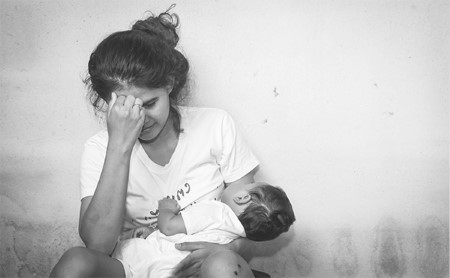 In 2017, ASTHO convened the Opioid Use Disorder, Maternal Health Outcomes, and Neonatal Abstinence Syndrome Initiative (OMNI) Learning Community to disseminate strategies and best practices for supporting program and policy implementation related to pregnant and postpartum women with opioid use disorder (OUD) and infants diagnosed with neonatal abstinence syndrome. Since the program concluded in 2021, states have doubled down on efforts to reduce the prevalence of opioid use disorder.
This month, ASTHO interviewed Elizabeth Harvey, PhD, MPH, a CDC Senior Maternal and Child Health Epidemiology Program assignee to the Tennessee Department of Health, for her thoughts on the progress Tennessee has made on OUD throughout the state's maternal and child health (MCH) population. Harvey was part of Tennessee's OMNI Learning Community team, where much of this progress began.
During its time in the OMNI Learning Community, Tennessee planned to map resources for access to treatment for pregnant and postpartum women and families affected by OUD. The state also laid out plans to implement the Tennessee Initiative for Perinatal Quality Care (TIPQC) OUD and Opioid Exposed Newborn (OEN) bundles by 2020. Tennessee successfully met these goals and today, pregnant women with OUD in the state now have better access to treatment and higher quality of care.
Tennessee's involvement in the OMNI Learning Community ended in Fall 2021. What has Tennessee accomplished since then?
A big success of the OMNI Learning Community was the foundational collaboration to initiate the development of Tennessee's Find Help Now website, an online platform to help people find substance use disorder (SUD) treatment providers. This platform allows users to find available providers based on the treatment, insurance, and location in real-time. Tennessee also customized the platform with pregnancy and postpartum treatment search options. This site officially launched at the beginning of this month, during National Recovery Month.
TIPQC implemented both an Alliance for Innovation on Maternal Health (AIM) Patient Safety Bundle for Obstetric Care for Women with OUD and an OEN project. After Wave 1 completion of these projects, TIPQC recognized the complexity in coordination between mother and infant teams, changing hospital policies and implementing best practices during the COVID-19 pandemic. TIPQC implemented a second Wave in 2021, combining the maternal and infant teams into one team, with a focus on early identification, care, communication, handoffs, and discharge planning in 2021. In Wave 2, there was a 42% relative increase (64% to 91%) in the number of pregnant women screened for SUD using a validated screening tool among the seven participating hospitals.
How has the work of TIPQC changed in the last few years as it relates to OUD and OEN? How has the role of the Tennessee Department of Health (TDH) in the TIPQC improved?
Specific to OUD and OEN, TIPQC had seven participating hospitals in Wave 2 of the AIM OUD/OEN bundle from January 2021 through December 2021 and went into sustainment in 2022. Teams participated in monthly huddles, quarterly learning sessions, and annual statewide meetings to implement evidence-based procedures, protocols, and best practices.
TDH and TIPQC are working more collaboratively in the maternal and infant health space. In August 2022, TDH received the Health Resources Services Administration's State Maternal Health Innovation and Data Capacity Program, a $5 million grant over five years. The project aims to improve maternal health outcomes by:
Establishing a state-focused maternal health task force.
Improving maternal health data and surveillance.
Improving the collection, reporting, and analysis of the AIM data.
Promoting innovation in maternal health service delivery.
A core component of this work is increasing data capacity. TDH will work with TIPQC to:
Build infrastructure to support the AIM data collection and improve the quality and validity of AIM data.
Strengthen the workforce to support AIM data analysis and reporting.
Provide recognition to hospitals to encourage participation in AIM.
Have Tennessee's policies to address opioid use during pregnancy changed since joining OMNI? If so, in what ways?
We know one hurdle for pregnant and postpartum women with OUD has been continued coverage and coordination of care. One of the policy developments to address this gap in Tennessee has been the extension of postpartum Medicaid coverage from 60 days to 12 months postpartum in April 2022.
In 2022, Tennessee also passed legislation that makes it easier for healthcare providers and community organizations to distribute naloxone to prevent overdoses. Licensed healthcare workers in Tennessee can now prescribe, directly or through standing order, naloxone or similar FDA-approved drugs to an organization or municipality, including recovery organizations, hospitals, and schools.
Tennessee's Maternal Mortality Review Committee (MMRC) released its 2022 Annual Report in April 2022. What were some of the trends related to pregnancy-related opioid use and overdose and how do you see the state's current OUD initiatives impacting these trends?
Tennessee initiated its MMRC in 2017. Through the Rapid Maternal Overdose Review supplemental funding provided by CDC in 2018, Tennessee added perinatal mental health professionals to the MMRC and fully reviewed all overdose deaths. With four years of data (2017 – 2020), acute overdose was shown to be the leading cause of pregnancy-associated, but not-related, death. The MMRC identified proximal contributing causes of overdose deaths, which included the failure of providers to screen for SUD, and the lack of referrals and social work case management. More distal contributing causes of these deaths reflected trauma throughout the life course, including a history of childhood abuse, childhood involvement with Children's Services, and domestic violence. The MMRC recommended improved screening, referral, and coordination of care for treatment of SUD from prenatal through postpartum periods.
Using grant funding from the CDC Enhancing Reviews and Surveillance to Eliminate Maternal Mortality (ERASE MM) Program in 2019, Tennessee also provided funding to organizations to address MMRC recommendations. In one grant, a large medical center educated staff on consistent screening and assessments for SUD utilizing the Screening, Brief Intervention, and Referral to Treatment scale and the 5 Ps assessment. These tools were then incorporated into all patient intake forms. Additionally, positive screens involved coordination with case management and Maternal Fetal Medicine for treatment.
Where do you see the most opportunity to better address OUD? What can other states learn from your work? What do you see as a window of opportunity for other states?
There are a few opportunities where additional improvements in approaches to address OUD could be considered in Tennessee. Tennessee could increase access to buprenorphine in the outpatient setting by expanding access through more clinicians who provide the service, such as advanced practice providers, which include nurse practitioners and physician assistants. Tennessee could also extend decriminalization of individuals who call 911 after an overdose to every caller, which could remove fear of criminalization among those calling to seek help. Additionally, Tennessee could further expand access to Naloxone, the lifesaving medication for individuals in overdose situations.
In addition to the partnership between TDH and TIPQC, another key relationship for advancing this work has been ongoing relationship building between TennCare's Maternal Health Strategy Team in the Chief Medical Office and the Division of Family Health and Wellness. TennCare has representation at our TIPQC meeting, Perinatal Advisory Committee meetings, and Maternal Mortality Review meetings. This has led to further collaboration on statewide maternal health strategy.