Telehealth and Licensure Policies Improving Healthcare Access for Rural Communities
January 26, 2023 | Ashley Cram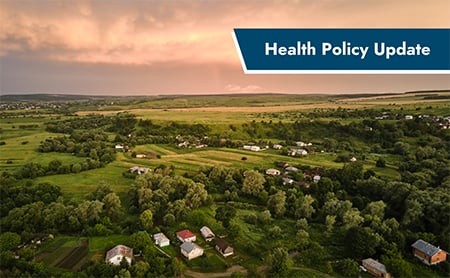 People living in rural communities face financial, geographic, and provider supply barriers to accessing healthcare services. Historically, providers may deliver healthcare services via telehealth to patients located in the state in which the provider is licensed. However, expanding cross-state licensure for healthcare providers can mitigate some of these challenges by allowing patients to engage in virtual telehealth appointments with a broader network of providers. Recent legislation at both the state and federal levels has significantly affected the ability of healthcare providers to serve patients virtually and across state lines.
Medicare and Medicaid Telehealth Policies
The passage of the Coronavirus Aid, Relief, and Economic Security (CARES) Act at the beginning of the COVID-19 pandemic temporarily expanded the use of telehealth by waiving certain requirements and restrictions. For example, any Medicare-enrolled provider could bill for telehealth services regardless of where the patient or provider is located throughout the duration of the federal Public Health Emergency (PHE), as long as state licensure requirements were met. The Consolidated Appropriations Act of 2023 then extended these Medicare telehealth flexibilities through December 31, 2024, separating the policy from the PHE.
Analysis of which patients utilized out-of-state telehealth services suggests that this policy particularly benefited rural communities. During the COVID-19 pandemic, rural Medicare beneficiaries who engaged in telehealth appointments were more likely to be connected with out-of-state providers (34%) than were non-rural beneficiaries (21%).
Only some state Medicaid programs allow providers to deliver telehealth services across state lines if the provider is licensed in the state and enrolled with the state Medicaid program. In addition, state Medicaid programs have flexibility to determine which services may be delivered via telehealth and which geographic areas may be served. COVID-19 shifted the landscape on delivering Medicaid-covered services with more states covering additional telehealth services and modalities, leading to a 20-fold increase in Medicaid claims for telehealth services.
State-Level Legislative Strategies to Allow Cross-State Licensure
During the COVID-19 pandemic, states granted temporary waivers permitting telehealth licensure for out-of-state providers to deliver services in their own jurisdiction. With many states' public health emergencies expiring, some states are looking for ways to permanently allow this licensure.
One option is pursuing interstate licensure compacts—agreements made between two or more states to facilitate cross-state licensure for various health professionals. A myriad of compacts exist for a range of workforces, including physicians, nurses, behavioral health, physical therapist, and other workforces, and they can streamline licensure by allowing a provider to obtain a single multistate license or otherwise expediting the pathway to licensure across participating states. State legislation is necessary to authorize participation in interstate licensure compacts.
For example, the Interstate Medical Licensure Compact (IMLC) is an agreement among 37 states, Washington D.C., and Guam to streamline the licensing process for physicians who want to practice in multiple states. In addition to in-person services, one of the goals of the Compact is to facilitate the broader use of telehealth to deliver services to rural communities. In 2022, Connecticut, Indiana, New Jersey, and Rhode Island enacted legislation to join the IMLC. Five states (Massachusetts, Missouri, New Mexico, New York, and Virginia) have introduced bills in the current legislative session to join the IMLC.
Additionally, Colorado enacted two 2022 laws related to interstate compacts that would allow for behavioral healthcare delivered via telehealth. SB 22-181 called for the state's behavioral health administration to submit recommendations to expand licensure portability for behavioral health providers, including engaging in interstate compacts and approaches to increase availability of mental health providers in rural communities. SB 22-077 authorized Colorado to become a member of an interstate compact that allows licensed professional counselors to use telehealth to provide services to any patient located in a member state.
Outside of joining a formal licensure compact, states may also pass legislation that allows providers with active licenses in other states to deliver services via telehealth to residents of their jurisdiction. This type of legislation differs from an interstate compact because it includes providers in all states, not just providers located in states that are also members of the compact.
For instance, in May 2022, South Carolina enacted legislation that allows a behavioral health provider with an active license in another state to deliver services via telehealth to patients located in South Carolina, as long as they deliver care within their applicable scope of practice, are registered with the relevant professional board, have no recent record of disciplinary action, and pay a fee. The law applies to licensed social workers, professional counselors, marriage and family therapists, addiction counselors, and psycho-educational specialists.
Similarly, Vermont enacted legislation authorizing a provider licensed in another state to obtain a two-year telehealth licensure and deliver healthcare services in Vermont. The law allows a healthcare professional to provide healthcare services to no more than 20 unique local patients during the license term. Providers are eligible to renew their telehealth license but are not permitted to provide in-person patient care.
The rapid adoption of telehealth during the COVID-19 pandemic, coupled with a renewed interest in cross-state licensure for providers, offer insights on how states can expand access to healthcare services, which is a central mission of public health departments. Should ASTHO members choose to follow the lead of the states referenced above and take up the opportunity to expand access to healthcare services, policy options in their toolbox include participation in interstate licensure compacts and legislation to permanently allow cross-state licensure. ASTHO will continue to monitor and report on this important issue and is available to provide support to member health departments.
The development of this product is supported by the Health Resources and Services Administration of the U.S. Department of Health and Human Services under grant number 2 UD3OA22890-10-00. Information, content, and conclusions will be those of the author and should not be construed as the official position or policy of, nor should any endorsements be inferred by HRSA, HHS, or the U.S. Government.