Taking the Smoke Out of COVID-19
August 23, 2021 | Marcus Plescia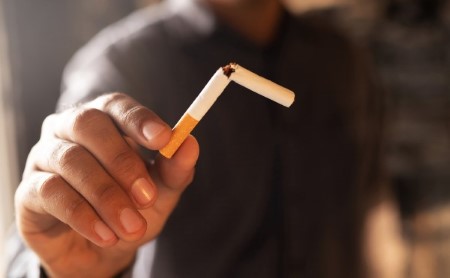 While COVID-19 remains a top public health priority, the pandemic has also intensified the need for strong tobacco control policies and marketing campaigns. CDC recognizes current or former tobacco users as one of several groups at higher risk of severe illness, including hospitalization and death, after contracting COVID-19. In addition, several health conditions directly caused by smoking (e.g., chronic lung diseases, heart conditions, type 2 diabetes) put one at greater risk for severe illness, further strengthening the connection between tobacco use and COVID-19.
It is distressing to see signs that our success in encouraging tobacco users to quit—a challenging behavior change given the highly addictive nature of nicotine—has been slowed over the past year-and-a-half. A recent article published in JAMA highlights significant reductions in calls to state quitlines in 2020 compared to the year prior, a trend most strongly observed in the second quarter as COVID-19-related changes to daily life took hold. This is concerning because quitlines are a well-established evidence-based method to help tobacco users quit. Stressors throughout 2020 related to COVID-19 and social unrest, as well as missed medical appointments where clinicians often offer cessation advice, likely caused reductions in quitline use.
Fortunately, amid these challenges, many tobacco control groups have stayed focused. The Tobacco Control Network, the ASTHO peer network that works with tobacco control programs and partners from around the country, has provided deskside briefings on communicating the risks of tobacco use and COVID-19 and encouraging tribal and non-tribal casinos to adopt voluntary smoke-free policies during the pandemic.
ASTHO has also worked closely with the University of California San Francisco's Smoking Cessation Leadership Center (SCLC), which recently launched the I COVID Quit campaign, an evidence-based campaign to support tobacco cessation. The campaign website includes a complete set of recommendations and resources relating to smoking cessation. These include an FAQ related to COVID-19, tobacco use, and tobacco cessation, as well as a list of resources for both individuals interested in quitting and healthcare providers in a position to provide tobacco cessation counseling to their clients. Engaging both audiences is critical to maximizing reach to those interested in quitting and to helping persuade tobacco users to make a quit attempt. SCLC also developed a series of sharable videos and images, as well as a comprehensive social media toolkit, so public health and healthcare organizations can easily promote the campaign to their followers.
Policy options such as tobacco product price increases, smokefree air laws, and flavored tobacco prohibitions continue to be highly effective interventions to help people make a quit attempt. The importance of these policies only grows as tobacco use continues to contribute to deaths and hospitalizations resulting from COVID-19 infection. Public health professionals and healthcare clinicians must incorporate COVID-19 into messaging to policymakers and people who smoke to reflect the newly understood health risks of tobacco use and the ways our everyday lives have changed since the start of 2020. I COVID Quit provides astute insights and timely resources to help accomplish this mission.