Taking Care of the Public Health Workforce Post-Pandemic
June 25, 2021 | Amber Williams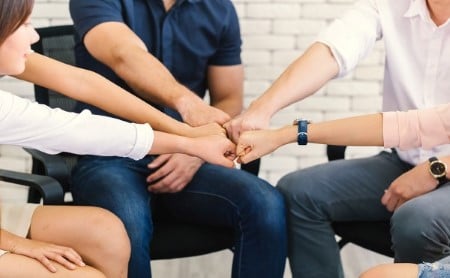 More than half of public health workers have experienced a mental health condition this year, according to a new CDC study. The report, released Friday, describes the mental health impacts of COVID-19 on the workforce. Other studies have shown that there has been a considerable impact on the psychological wellbeing of front-line healthcare workers, as well as the general population, so it is not a surprise that COVID-19 has negatively impacted the mental wellbeing of public health workers.
The report found that between late March and mid-April this year, 53% of public health workers surveyed had symptoms of at least one mental health condition, including depression, anxiety, PTSD, or suicidal ideation. These symptoms were most prevalent in people under 30, and among transgender or non-binary people. Almost all the respondents (92.6%) were working directly on the COVID-19 response.
It is particularly important to note that PTSD symptoms were higher for public health workers than those reported among healthcare workers, other frontline personnel, and the public. Some of the circumstances that may have contributed:
Usual practices significantly disrupted. The pandemic forced public health workers to move outside their typical roles, in many cases moving into virtual work for the first time, some with caregiving responsibilities on top of work responsibilities as schools and childcare centers shut down.
Public reception to public health messages mixed. From lockdowns to mask orders, there was some backlash among the public on the public health safety measures to prevent the spread. Some high-profile public health employees even had protesters outside of their home.
Contracting COVID-19 themselves or caring for family members who contracted COVID-19 or concerns about contracting the disease.
Further, the report notes that mental health symptoms among workers was linked to increased absenteeism, high turnover, lower productivity, and lower morale—likely influencing the effectiveness of public health organizations during emergencies.
While these findings are not surprising, it is still concerning. There is a lot we can do to address the psychological toll of the pandemic for public health workers, particularly as public health agencies begin to step down emergency operations and move to regular operations. Agency leaders should consider how to support their workforce in recovery and reset for the future. Here are some ways that agencies have been—or could consider—doing to improve mental wellbeing in the workplace.
Consider staffing changes in planning for future emergency response efforts such as mechanisms to monitor scheduling to ensure fair workloads; considering ways to limit overtime; and ensuring staff are able (and encouraged) to take leave through job rotations. Prioritizing and streamlining tasks may also be important for future responses.
Provide training for supervisors on how to recognize and act on signs of personal issues that may be affecting job performance, such as changes in work attendance or performance, withdrawal or mood swings, or changes in personal appearance or behaviors, like difficulty concentrating, remembering things, or making decisions. Supervisors should also work to ensure reasonable accommodations for workers suffering from mental health conditions and seeking care.
Focus on helping employees find purpose and meaning in their work, and help connect their efforts to the larger picture.
Promote a positive, healthy work environment. One state health agency has used the Joy in Work framework from IHI to reduce burnout and increase organizational resilience.
Normalize resilience and coping strategies, including use of Employee Assistance Programs and other mental health services. Promote mental well-being activities part of the organizational culture. Encourage self-care practices.
The COVID-19 pandemic changed life as we know it for most of us. As we move into recovery, it is important to note the mental health impact COVID-19 has had on our public health workforce. As we conduct our after-action reviews and identify changes for the future, we should consider how we can strengthen organizational resilience and supports—during and after public health emergencies.