Strengthening Protective Factors in ACEs Prevention With Medicaid 1115 Waivers
June 02, 2021 | Maggie Davis, Grace Deleon, Jes Lyons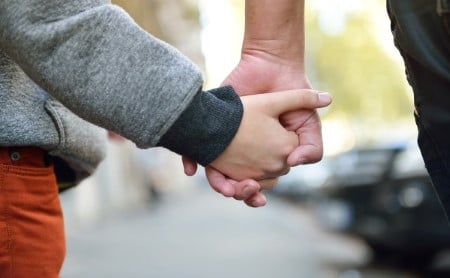 Adverse childhood experiences (ACEs) are potentially traumatic events that can disrupt a child's sense of safety, stability, and bonding, leading to long-term developmental issues and negative health outcomes. State and territorial health agencies (S/THAs) can address this public health issue by enhancing protective factors and reducing risk factors that address structural inequities (e.g., access to basic needs, housing, food, mental/behavioral, and primary healthcare). By promoting systems-level prevention strategies, like strengthening economic support and improving affordable housing approaches for families, S/THAs can prevent ACEs.
Although seen across all populations, the burdens from ACEs and their long-term effects disproportionately impact marginalized communities, such as racial and ethnic minorities and people with lower incomes and educational attainment. States and territories can leverage Medicaid to disrupt the generational impact of ACEs by utilizing a shared risk and protective factors framework to promote safe, stable, and nurturing environments for families to thrive.
Innovate With the Medicaid 1115 Waiver
Medicaid and the Children's Health Insurance Programs (CHIP) are the major sources of healthcare coverage for low-income residents in the U.S., covering almost 80 million individuals in over 51 jurisdictions, including more than half of births in many states. All 50 states, D.C., and five U.S. territories participate in the programs, which is a federal and state/territorial partnership with joint financing and authority. While the federal government mandates that Medicaid beneficiaries receive certain benefits, states and territories generally have wide authority to establish and administer their own programs. Beyond this general flexibility, Medicaid agencies that would like to implement an innovative program that promotes Medicaid's objectives but does not conform with existing federal law can apply for a Section 1115 Demonstration Waiver.
The 1115 waiver empowers states and territories to expand program eligibility, provide services not traditionally covered through Medicaid, and try new service delivery models to improve care. For states and territories to qualify for an 1115 waiver, they must show that the program is budget neutral to the federal government and meets the objectives of the Medicaid and CHIP programs. The Centers for Medicare & Medicaid Services (CMS) also evaluates 1115 waiver applications to determine whether the proposal:
Increases and strengthens health coverage of low-income individuals.
Increases healthcare access for low-income populations.
Improves health outcomes for Medicaid or other low-income populations.
Improves efficiency and quality of care by transforming service delivery networks.
Through the 1115 waiver, states and territories can leverage Medicaid to address ACEs as a way to improve health outcomes for Medicaid recipients and other low-income communities. There has been an increase in the usage of 1115 waivers for behavioral health purposes. Considering that more than five of the leading causes of death, including suicide and overdose, are linked to ACEs, states and territories have the opportunity to leverage the 1115 Waiver to maximize health outcomes.
States Leveraging the 1115 Waiver to Address the Root Causes of ACEs
Alaska is investing in acute care services to prevent more costly downstream health outcomes. The Alaska Longitudinal Child Abuse and Neglect Linkage Project (ALCANLink) is a mixed-design predictive model that prevents ACEs by identifying families at high risk for being involved with child welfare and referring them to services. CMS granted a 1115 waiver submitted by the Alaska Department of Health, which was based on the ALCANLink results and had a primary goal of increasing services for at-risk families and connecting them to early support for healthy childhood development. This was the first submission of its kind, allowing social determinants of health to qualify individuals for services listed under the waiver.
Illinois is strengthening its housing services by supporting low-income individuals, individuals with behavioral health needs, high risk of homelessness or institutionalization, and/or frequent users of emergency department services with pre-tenancy and tenancy supports. Tenancy supports can include education on tenant rights and responsibilities and coordination with services for primary care, behavioral health, mental health, and employment support. Their waiver allows the state to more effectively use data to match eligible individuals with resources and explore capital investment strategies to acquire and develop affordable housing. ACEs are a major risk factor for adult homelessness, so strengthening tenancy supports can improve a family's ability to meet children's basic needs, coordinate mental health and behavioral health care, and increase financial stability.
North Carolina is financing evidence-based non-medical services that target social determinants of health. The Healthy Opportunities Pilot aims to test the impact on health outcomes and healthcare costs by using Medicaid funds to pay for non-medical services, such as housing, food, transportation, and interpersonal safety. The lack of these basic resources are risk factors for ACEs. The pilot prioritizes beneficiaries with at least one physical or behavioral health condition (e.g., children 0-21 experiencing three or more ACEs) and a social condition (e.g., experiencing insecurity in housing, food). Lastly, the pilot aims to enhance mechanisms for payers, providers, and human service organizations to have the tools and infrastructure needed to integrate these non-medical services into the health care of eligible beneficiaries.
Looking ahead to future trends in 1115 wavier usage, some states have also used 1115 waivers to extend coverage to former foster care youth who aged out of the system, a population disproportionately impacted by ACEs.
States and territories can leverage 1115 wavier flexibilities to customize their Medicaid programs to prevent ACEs and their root causes, which can also strengthen access to services and basic needs for the most marginalized beneficiaries, such as those with food insecurity, housing instability, and unsafe households. To integrate an 1115 waiver into their social and behavioral health work, S/THAs can work with their Medicaid administrators and ACEs prevention teams to brainstorm how the jurisdictions' Medicaid program could be customized to better prevent ACEs. From there, S/THAs can identify the specific waiver and expenditure authority needed to implement the proposed project, along with a clear description of how to evaluate the proposed change for success.
More details on the 1115 Application Process are on the CMS website, including ways to connect with CMS to discuss a proposed waiver project. For S/THAs that have already implemented an 1115 waiver, information to extend it for an additional five years is on the CMS website. ASTHO will continue to monitor the 1115 wavier landscape and highlight trends in its use for ACEs prevention.