STD Awareness Month Highlights a Rise in Rates for Sixth Straight Year
April 28, 2021 | Julia Greenspan
Though COVID-19 has dominated public health over the past year, other communicable diseases are still occurring at troubling rates. The CDC recently released data in their Sexually Transmitted Disease Surveillance, 2019 report, showing that the reported cases of chlamydia, gonorrhea, and syphilis continued to increase for the sixth consecutive year and are among the most reported diseases in the United States. As STD Awareness Month comes to a close, below is a breakdown of key takeaways from CDC's surveillance report and tips for how state health officials can address rising STD rates through leadership, communications, and policy.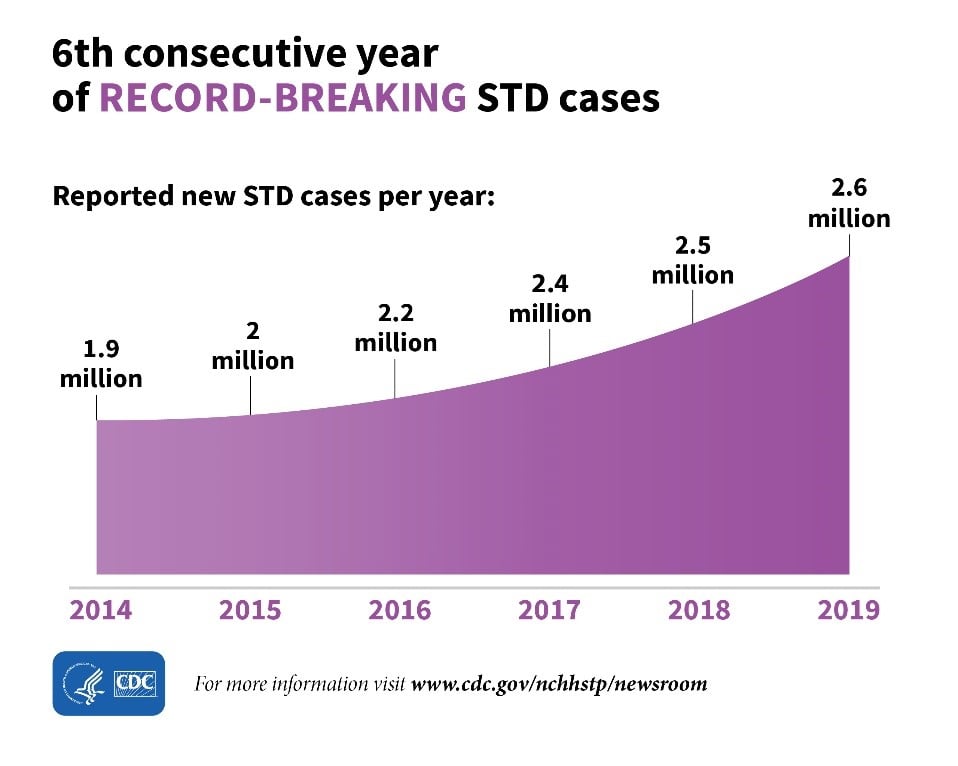 In total, more than 2.5 million cases of chlamydia, gonorrhea, and syphilis were reported in 2019. Left untreated, STDs can cause long-term pain, infertility, and infant mortality and can increase the risk of becoming infected with HIV.
Chlamydia
1.8 million cases of chlamydia were reported in 2019.
This is a 19% increase from 2015.
Rates among men have increased 32.1% since 2015. This may be attributed to more men who have sex with men being testing and diagnosed—or may indicate increased transmission among men.
Rates are highest among people aged 24 years and younger.
Gonorrhea
616,392 cases of gonorrhea were reported.
Since a historic low number of cases in 2009, gonorrhea cases have increased 92%.
Rates have increased across all sexes and all racial/ethnic groups, and antibiotic-resistant gonorrhea is a growing issue, with more than half of all infections in 2019 estimated to be resistant to at least one antibiotic.
To address growing antibiotic resistance, the CDC updated the treatment guidelines for uncomplicated gonorrhea in December 2020 to a single 500 mg intramuscular dose of ceftriaxone.
Syphilis
Syphilis cases increased 74% from 2015, with 129,813 cases reported.
Rates have increased among men over the last two decades, and men who have sex with men are disproportionally impacted (56.7% of cases) compared to all men.
Congenital syphilis increased by 279% since 2015, and there have been syphilis-related increases in stillbirths and infant deaths. A lack of maternal syphilis testing and treatment and a lack of timely prenatal care are missed prevention opportunities for congenital syphilis.
Certain groups are disproportionately affected by STDs, including young people, LGBTQ+ populations, and racial and ethnic minorities. Behavior across populations is largely similar, but social determinants of health and long-standing inequities contribute to the disproportionate impact of STDs on these populations Addressing these underlying causes through policies that promote equity will help to minimize the excess disease burden that some populations face.
COVID-19 has highlighted many of the challenges that exist for STD programs. Many state STD staff have been deployed to assist with the COVID-19 response, reducing the number of staff available to focus on STD programs. Disease Intervention Specialists, whose primary job function is to help contact trace STD infections, have proven to be vitally important for contact tracing COVID-19 infections. COVID-19 has also highlighted existing gaps in public health programs due to a lack of funding and underlying inequities that predispose some populations to infections. Because the most recent CDC surveillance data is through 2019, the impact of COVID-19 on STD rates is unknown.
However, COVID-19 has presented new opportunities to expand and strengthen the public health infrastructure and workforce. State public health departments are often the backbone of infectious disease prevention, treatment, and surveillance programs—whether it is for a pandemic or an STD outbreak. Ensuring that programs and staff are well supported will help to improve the health of all Americans. Additionally, the federal programs and initiatives focused on reducing STD infections provide guidance for state programs. HHS' Sexually Transmitted Infections National Strategic Plan for the United States outlines the steps that can be taken to support the public health workforce as we work towards reducing new STD infections, and many of the strategies included in the Ending the HIV Epidemic initiative are also applicable to STDs.
State health officials and state STD staff play important roles in addressing rising STD rates. State health officials provide cross-cutting leadership and guidance, so it is vital that they are educated about the role they can play in STD prevention and treatment. ASTHO has created a training entitled Sexually Transmitted Diseases: Need to Know that provides information to ensure that state health officials feel knowledgeable regarding STDs in their state. State STD staff are tasked with developing, evaluating, and managing STD programs. With support from the CDC, ASTHO has created a suite of tools to highlight Innovative STD Prevention and Treatment Strategies, including approaches to address congenital syphilis, expedite partner therapy, and STD/HIV testing. With increased investment and support, states will be better prepared to address outbreaks of both current and future infectious diseases.