States Using Policy to Reduce Dementia's Disease and Fiscal Impact
October 20, 2022 | Tyrone Bethune, Claire Pendergrast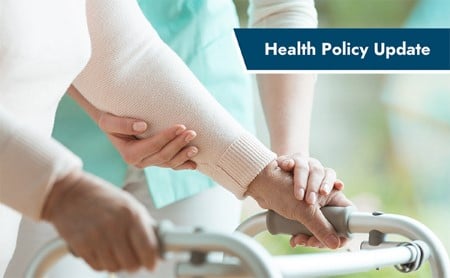 There are 6.5 million Americans living with Alzheimer's disease, the most common cause of dementia. By 2050, that number is projected to double and the associated national costs of dementia—$321 billion in 2022—are on track to increase three-fold. Racial disparities in dementia diagnosis, long-term care quality, and access are also well-documented. Taken together, it's clear that policy changes can support reducing systemic barriers to brain health equity.
Public health agencies are working to reduce dementia risk and to optimize the health and well-being of people living with dementia and their caregivers. The Healthy Brain Initiative Road Map for State and Local Public Health, which provides an action agenda for health departments, highlights developing policy as a key public health strategy to advance cognitive health.
The 2018 BOLD Infrastructure Act supports the creation of a national public health infrastructure to address dementia, as health departments funded through the BOLD Act use the Road Map to focus on changing systems, environments, and policies to improve dementia outcomes.
In recent years, states have enacted legislation addressing dementia through long-term care services, state planning activities, training requirements, and alert systems for missing persons with dementia.
Long-Term Care for Dementia
High-quality long-term care services support the health, well-being, and independence of people living with dementia. At least three states enacted legislation to regulate dementia care in long-term care facilities in recent years. Kentucky requires assisted living facilities providing dementia care to meet enhanced security protocols and ensure that only staff trained in dementia care be assigned to dementia residents.
In 2021, Oklahoma enacted legislation creating an Alzheimer-Dementia Disclosure Act Advisory Council to be staffed by the Department of Health. The Department of Health must also maintain a public website with information on facilities licensed to provide specialized dementia care. A Tennessee law created a pilot dementia respite care program to provide home- and community-based services. And the Montana legislature adopted a joint resolution requesting a study identifying alternatives to involuntary commitment in the state hospital for people living with dementia.
Coordinated Planning
Coordinated statewide planning efforts strategically address the public health impact of dementia. What's more, they support cross-sector collaboration among diverse sectors, including public health, to improve dementia-related outcomes. Over the 2021-2022 legislative sessions, at least seven states enacted laws related to state dementia planning.
Nebraska enacted legislation to create a council that will identify public health, workforce, caregiver support, and care delivery approaches to addressing dementia, as well as monitoring dementia-related analysis, policy development and program implementation. The council must also regularly present findings and recommendations. Utah passed legislation enabling their Department of Health and Human Services to designate dementia a public health issue allowing broad collaboration to implement a state plan for Alzheimer's disease and related dementia. Through a 2022 law, Washington state extended its Dementia Action Collaborative through 2028.
A Maryland law authorizes funding for the state's Alzheimer's Disease and Related Disorders Council, and requires the council to publish updates to the state plan every five years. Tennessee enacted legislation in 2021 requiring the Department of Health to integrate information about Alzheimer's disease, dementia, and other cognitive impairment into its existing public health programs and services by Jan. 1, 2022.
Colorado amended membership requirements for the state's Commission on Aging to include one member representing Coloradans living with dementia. And Rhode Island enacted a bill that requires the state's Alzheimer's Advisory Council to include people with experience caring for people living with dementia, and people of diverse racial/ethnic backgrounds.
Dementia-Specific Training Requirements
Several states have recognized the gaps in training for people working in and outside of the healthcare space and made effective changes through policy advancement. Illinois has implemented dementia training requirements across multiple sectors over the past two years, including for emergency medical services personnel, adult protective services staff, and music therapists for people working with adults.
In 2022, Indiana enacted a bill requiring home health aides providing care to people with dementia or Alzheimer's to complete six hours of training within 60 days of being hired and three hours of training annually. Aides employed through an agency for at least 24 consecutive months are required to take the training once.
West Virginia passed a bill requiring training developed for law enforcement and correctional officers to have "appropriate interactions with individuals with Alzheimer's and dementias." The Pennsylvania legislature passed a bill to help healthcare providers with early detection and diagnosis of Alzheimer's disease and related dementias. In 2022, Colorado enacted legislation requiring long-term care and nursing facilities to provide dementia training for administrators and staff providing direct-care services to clients and residents. Kentucky's long-term care bill—mentioned earlier—also requires staff training in dementia.
Alert Systems for Missing Persons with Dementia
States have enacted policies and designed infrastructure to help find missing people living with dementia or cognitive impairments. Tennessee's 2021 law requires law enforcement to immediately investigate notices of missing persons with dementia or other intellectual disabilities and to alert designated media within 12 hours. Idaho also established a statewide endangered missing person alert system—governed by committee—that includes people with dementia. And Colorado expanded grant funding for programs that provide wearable devices that help locate missing persons.
Dementia and cognitive health are significant public health priorities and it is essential for public health, healthcare organizations, and interdisciplinary partners to play an active role in the policy process. While there is a growing interest in healthy aging, dementia, and cognitive health, shining additional light to these topics and strengthening the workforce that serves an aging population would be meaningful steps to catapult funding and policy needs. ASTHO will continue to monitor this issue.