States and Territories Strengthening Infection Prevention and Control Policies
October 27, 2022 | Grace Lee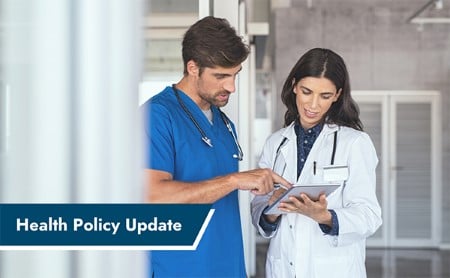 Every year, millions of patients acquire healthcare-associated infections (HAIs) while being treated for other health issues. While largely preventable, HAIs are the most common complication of hospital care, are a leading cause of death in the United States, and increased significantly during the pandemic. For example, central-line-associated bloodstream infections increased 28% in the second quarter of 2020. There was also a 19% increase in catheter-associated urinary tract infections (CAUTIs) and a 45% increase in ventilator-associated events in the fourth quarter of 2020 compared to 2019.
The 2021 federal American Rescue Plan Act allocated $2.1 billion for state, territorial, and freely associated state health departments to invest in infection prevention and control (IPC) to fight COVID-19 and other infections. This investment includes the $385 million Strengthening HAI/AR Program Capacity (SHARP) program, which provides states and territories funding specifically for HAI and antimicrobial resistance efforts.
Along with this new federal funding, states have proposed legislation to strengthen and sustain infection prevention capacity, implement requirements for data tracking and reporting through national surveillance systems, and prioritize antimicrobial stewardship.
Strengthening Infection Prevention Capacity
Recipients of SHARP funding are encouraged to strengthen health department coordination with Project Firstline to engage, educate, and equip the healthcare workforce about infectious disease threats through comprehensive IPC training. Policies that bolster workforce capacity—specifically having more IPC professionals and epidemiologists, revising HAI reporting requirements, and creating long-term financial support mechanisms—can enhance healthcare facilities' capacity for HAI prevention.
New York enacted A 8787 in February 2022, requiring every hospital and nursing home to comply with Medicare and Medicaid training requirements on antimicrobial resistance and infection prevention and control practices. Similarly, Florida appropriated $1 million to the Broward Health Hospital to focus on reducing clostridium difficile infections (C. diff), catheter-associated urinary tract infections (CAUTIs), and methicillin-resistant staphylococcus aureus (MRSA), all prominent HAIs.
Colorado enacted HB 22-1401 in May 2022, which created a nurse staffing committee to provide input on infection prevention and emergency preparedness plans. The committee must consist of at least 60% clinical staff nurses.
A bill proposed in New Jersey would require nursing home administrator license or assisted living administrator certification applicants to complete training in infection control, including hand hygiene, correct use of personal protective equipment, screening and infectious disease surveillance, environmental cleanliness, and safe admissions and transfers.
Massachusetts is considering a bill (S 1476), which would establish an IPC program designed to provide a safe and sanitary environment to prevent the spread of infections in long-term care facilities. The facility would need to designate one or more qualified infection preventionists who are employed full-time, have specialized IPC training, and can provide IPC training for facility staff and volunteers.
Boosting Requirements for Tracking and Reporting HAIs Online
The National Healthcare Safety Network (NHSN) is a CDC-managed online surveillance system. As the nation's most widely used HAI tracking system, it allows healthcare facilities and health departments to identify HAI outbreaks and measure IPC progress. Data reported through NHSN helps healthcare facilities determine the magnitude of threats, analyze trends and distribution of infections, detect changes in the epidemiology, and adhere to prevention practices.
Through widespread action, 37 states and Washington D.C. use NHSN as their primary HAI reporting system. Additionally, five territories (Puerto Rico, American Samoa, U.S. Virgin Islands, Guam, and Commonwealth of Northern Mariana Islands) voluntarily report to NHSN. The new American Rescue Plan funding provides even more opportunities for states to expand their HAI tracking and reporting capacity.
Over the past two years, at least two states have enacted or considered legislation related to tracking and reporting HAIs through the NHSN. New Hampshire enacted HB 131 in 2021, which requires that all tracking and reporting of HAIs and measures—such as adherence rates to infection prevention practices, antibiotic usage data, and vaccination rates in patients and healthcare personnel—be consistent with CDC, CMS, the National Quality Forum requirements. Facilities that would fall under compliance requirements would be hospitals, renal dialysis centers, nursing and residential care facilities, the New Hampshire veterans' home, assisted living residences, and ambulatory surgical facilities.
New Jersey proposed legislation in 2022 to require nursing homes to report facility-acquired infections through the NHSN. The proposal would also require the Department of Health to create a public-facing data dashboard visualizing quarterly nursing home data from the NHSN.
Prioritizing Antimicrobial Stewardship
The COVID-19 pandemic set back years of progress made in the fight against antimicrobial resistance, one of the biggest threats to global health, food security, and international development. A recent CDC report indicates a 15% increase of antimicrobial-resistant, hospital-onset infections and deaths during the first year of the pandemic likely caused by challenges following IPC guidance during case surges and significant use of antibiotics. Furthermore, shortages of personal protective equipment and healthcare staff, longer patient stays, and increased/prolonged use of medical devices exacerbated the increase in HAIs and antimicrobial resistance.
Several states are considering policies to improve the coordinated effort to monitor and improve how antibiotics are prescribed and used, otherwise known as antimicrobial stewardship. In February 2022, New York enacted S 7717, which requires hospitals and nursing homes to comply with Medicare and Medicaid requirements for antimicrobial stewardship programs in healthcare facilities, including training requirements regarding antimicrobial resistance and IPC efforts.
Washington state enacted HB 1739 in March 2022, requiring hospitals to adopt prevention and control policies for "pathogens of epidemiological concern." Policies must include facility risk assessments to identify the probability of occurrence, potential impact, and risk mitigation measures, as well as procedures to prevent transmission. The law also requires hospitals to report identified cases to the NHSN and expands the definition of "pathogens of epidemiological concern" to include infections transmitted within healthcare facilities, antimicrobial resistant infections, and infections associated with increased morbidity or mortality.
Rhode Island is considering SB 2763, which would amend protocols for all hospital and emergency-care facilities to recognize and treat severe sepsis and septic shock. Proposed protocol changes include increased coordination between the director of the health department and the Antimicrobial Stewardship and Environmental Cleaning Taskforce to inform best practices for treating patients with sepsis and septic shock. Issuing and renewing licenses would be contingent on healthcare facilities complying with this legislation.
The COVID-19 pandemic has emphasized the need for robust IPC efforts for patients who present with infections and/or who need other healthcare treatments, and healthcare staff. These policy initiatives require a continued partnership between public health and healthcare systems to strengthen and sustain our nation's infrastructure to combat current and future infectious disease threats. ASTHO will continue to monitor this important public health issue.