States Serving Up Healthy Eating Policies
August 03, 2022 | Elizabeth Imphong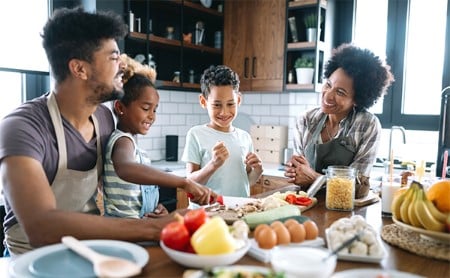 The prevalence of obesity has continued to manifest itself throughout communities across the United States and, with it, increased risk for diabetes, heart disease, stroke, and cancer. According to CDC, the number of Americans defined as obese—those with a Body Mass Index (BMI) over 30—rose from 30.5% in 2000 to 41.9% in 2020. Factors contributing to high obesity rates include lack of physical activity, social determinants of health (or the conditions where one works, lives, learns and plays), as well as eating and sleeping patterns.
While it's an important indicator, a high BMI alone does not automatically indicate that one is disease-bound. A heavy reliance on BMI measurements may cause misdiagnosing or mislabeling of a healthy person. In addition to evaluating one's health through BMI measurements, a more weight-inclusive approach assessing one's health holistically may also be considered.
While there is no single approach to reducing obesity, one combination is healthy eating and increasing access to healthy foods. Policies that improve access to healthy food options and overall living and working environments can increase healthy eating practices. States have identified different strategies to implement healthy eating approaches and reduce obesity at the school and community levels, as well as through food labeling at grocery stores and food markets.
Addressing Healthy Eating in Schools
One policy that aims to increase children's consumption of fruits and vegetables is providing farm fresh produce in school via farm to school grants. Massachusetts introduced a bill (S 349) that would establish farm-to-school grants to promote healthy eating in schools while simultaneously strengthening the agricultural economy by supporting local produce grown in the state. Public schools and licensed childcare programs in the state may be eligible for these grants if they provide school meals funded by the National School Lunch Program or the Child and Adult Care Feeding Program.
Similarly, Nebraska enacted LB 758 in March 2022, expanding the Nebraska Farm-to-School Program Act to include early childhood education programs. Louisiana enacted HB 567 in June 2022, establishing a Healthy Choices pilot program where schools provide healthy meal options during the school day, ensuring that at least one daily meal is nutritious.
Another method to encourage healthier eating habits among children is reducing exposure to sugary drinks and sodium. For example, Massachusetts introduced H 2333, which would prohibit marketing and selling sugary drinks on school property. Marketing bans on sugary drinks can help curb the obesity epidemic among children, since unhealthy foods and drinks significantly contributes to obesity in children.
Eating Healthier in Restaurants and at Home
Other states are working to make healthy eating is easier in restaurants, public spaces, and in the home. While some states have made efforts to reduce sugary beverages from being sold on school property, some have gone further and undertaken statewide taxation on sugary drinks to limit the incentive to buy. In 2022, Rhode Island introduced HB 7553, which would create a sugary drinks tax on distributors, taxing $1.50 per ounce of bottled surgery beverage as well as $1.50 per ounce of beverages derived from sugary powders and syrups. Funds from this tax would go to the state's Supplemental Nutrition Assistance Program (SNAP) to increase access to fresh fruits and vegetables.
Reducing the prevalence of obesity also requires improving access to healthy, fresh foods. Food deserts, or areas where there are few or no convenient options for affordable healthy food, place the families who live there at risk for higher obesity rates and other cardiovascular diseases. New Jersey enacted S 2921 in June 2022, which revises its Food Desert Relief Program where businesses receive tax credits as an incentive to open and maintain supermarkets and grocery stores in food desert communities.
In May 2022, Maryland enacted HB 680, which authorizes Baltimore County to grant a property tax credit to newly constructed supermarkets located in a food desert retail incentive area to offset any imposed personal property tax.
Other endeavors towards creating healthier communities include state dedicated fitness and wellness months aimed towards bringing awareness to healthy lifestyle choices. For example, the Michigan House passed a resolution earlier this year (HR 223), which dedicated February as "fitness month." This resolution called on residents to participate in fitness activities by educating the public on wellness.
Making Food Labeling Consistent
In addition to increasing access to healthy foods, a crucial component of healthy eating is understanding the food labels on the products that one buys and consumes. When food labels appear on the back of food products, it can be easy to overlook potentially harmful ingredients. In recent years, food manufacturers have been using front-of-packaging (FOP) symbols to share nutritional information.
In 2018, FDA sent a guidance letter to manufacturers highlighting the trend of using FOP symbols on food products and reminding them to ensure FOP symbols are consistent with current laws and regulations. Educating the public through more transparent food labeling systems would give consumers more control in making informed healthy eating choices, and therefore, help to improve their nutrition.
Efforts to reduce the prevalence of obesity in the U.S. are being discussed at many levels and, while there is no one-size-fits-all approach to tackling this epidemic, state legislatures are continuing to introduce and address different policies. ASTHO will continue to monitor and report on this important issue.