States Increasing Supports for Early Childhood Programs
February 02, 2023 | Shannon Vance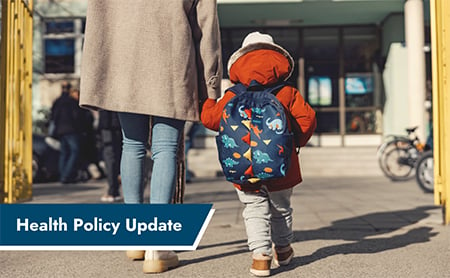 Early childhood programs—such as childcare centers, Head Start, and preschool—help prevent or identify early health problems that impact learning later in life. They also decrease dependence on social welfare, reduce crime-related costs and incarceration rates later in life and set a child up for academic success. Studies show that every dollar invested in quality early childhood programs yields up to $16 in returns (i.e., better health, education, and social outcomes). Studies also show that participating in quality early childcare can help children avoid special education, grade repetition, and early parenthood. Additionally, studies have shown that the economic benefits of affordable childcare can extend across generations.
Despite these widespread benefits, about half of the U.S. population lives in places where there is either no licensed childcare provider or where children greatly outnumber available spots. Additionally, childcare accounts for roughly one third or more of household income. For those who can both access and afford care, only about 10% of providers are considered high quality.
The COVID-19 pandemic diminished quality childcare opportunities, with many not reopening after disease prevention measures were lifted. The pandemic also further exacerbated existing disparities, such as a lack of childcare options for families who work non-traditional hours and those who rely on public funds, many of whom are Black or Latino.
Increasing Access to Early Childcare Services
Looking to the future, states are improving access to care, providing subsidies for tuition costs, and expanding hours of licensed facilities. Increasing access to early childcare services means ensuring affordability, transportation to and from care is reasonable, as well as meeting the parents' and the child's needs.
Ensuring Licensed Care Centers and Workforce
A key component of accessing quality childcare is ensuring that there are ample licensed centers, complete with a robust and properly trained workforce. More than two years after the start of the COVID-19 pandemic, the childcare workforce—primarily made up of women—has yet to return to pre-pandemic levels.
Childcare workers are some of the lowest paid workers in the United States and are less likely to have employer-paid benefits. Centers around the country are serving fewer children than their full capacity due to an inability to hire or retain enough staff. Without widespread change, many are concerned the sector will not recover. In addition to providing additional monetary support to staff salaries, states can also consider assisting with provider training, quality improvement and policies on childcare staff qualifications.
Looking forward, states can positively impact childcare and early childhood education in many ways. Cross-sector collaboration with education officials, licensed childcare center staff, families, and legislators are crucial for success. Policies that increase high-quality childcare can prevent adverse childhood experiences, encourage the development of a child's social and emotional skills and provide access to regular meals. State officials can explore the creation of subsidies and tax credits, increase benefits afforded to full and part time childcare staff (i.e., professional development or broader health insurance coverage), and expand programs focused on infant and early childhood mental health.