State, Territorial Health Policies Strengthening Emergency Preparedness Efforts
September 22, 2022 | Adrianna Evans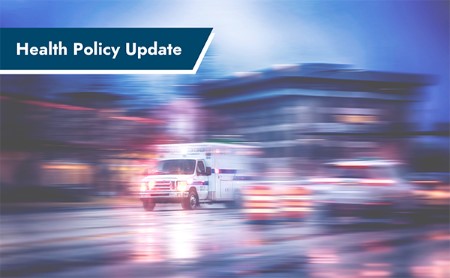 In 2021, public health emergency preparedness professionals remembered the 20th anniversary of the 9/11 attacks and how the field has changed during that time, while simultaneously responding to a historic pandemic. While COVID-19 is still present and ever-changing, public health professionals must also grapple with new challenges such as monkeypox, increasing firearm homicide, and widespread heat waves. In the wake of such emergencies, public health preparedness is more critical than ever.
In July 2022, HHS announced that the Office of the Assistant Secretary for Preparedness and Response would be elevated from a staff division to an operating division. Through this process, it became a new, standalone agency known as the Administration for Strategic Preparedness and Response (ASPR) that puts them on par with CDC and FDA to provide services, administrate, and collaborate with other agencies.
Further, the Pandemic and All-Hazards Preparedness and Advancing Innovation Act (PAHPAIA) is up for reauthorization in 2023. This act is intended to improve the nation's preparedness for a variety of emergencies through strategies such as enhancing CDC response capabilities during public health emergencies and supporting the development of medical countermeasures. The recent changes in ASPR and potential changes to PAHPAIA represent an opportunity to re-invigorate the field of public health preparedness to better meet current challenges.
Looking at the state and territorial preparedness policy landscape provides insights into priorities in the field. These insights could be an indicator of areas of focus for federal agencies and PAHPAIA reauthorization.
Varying Strategies to Strengthen Preparedness
Oregon enacted HB 4068, which requires the Oregon Homeland Security Council to establish the Oregon Critical Disaster Preparedness Stockpile for personal protective equipment, raw materials, testing equipment, and all-hazards emergency surge supplies. This bill also requires FEMA training for certain state and local officials and frequent emergency exercises for state agencies and county governments.
Massachusetts is considering H 4714, which would require schools to create continuity of operations plans that detail emergency response efforts for a number of hazards including respiratory viruses, as well as to establish guidelines for indoor air quality in different settings. The bill would also establish a "Better Prepared Trust Fund" administered by the commissioner of public health explicitly for supporting a stockpile of masks and sets rules for equitable distribution.
The Commonwealth of the Northern Mariana Islands (CNMI) introduced HB 22-109, which would allow for a price cap during emergencies to allow an increase in prices no greater than the increase in the Consumer Price Index. This bill is intended to reduce the economic burden felt by people during emergencies.
Responding to Climate and Health Trends
Some jurisdictions are continuing a trend from last year to better prepare for severe natural disasters. Colorado enacted SB 22-206, which establishes a disaster resilience rebuilding program to provide loans and grants to those who help rebuild. It also created a governor's office of climate preparedness.
California is considering AB 2442, which would allow the director of emergency services to enact climate mitigation efforts such as reducing emissions and improving preservation of natural lands.
Massachusetts is also considering H 4916, which would make its transportation system more resilient to disaster and climate emergencies through strategies such as highway and trailway adaptations. New York is considering A 1905, which requires the state disaster plan to consider how medical supplies and medication can be delivered to pharmacies, hospitals, and nursing homes in areas impacted by disasters.
Reducing Firearm Violence
Mass shootings in Buffalo, NY, Uvalde, TX, and other locations have brought attention to rising rates of firearm violence. Jurisdictions are examining ways to address mass shootings and other forms of firearm injury. According to bill text New York's A 10534 would seek to establish "an office of domestic terrorism" responsible for investigating government employees that may threaten violence due to extreme beliefs.
Connecticut enacted HB 5506 which creates a firearm violence intervention and prevention program and the Commission on Community Gun Violence Intervention and Prevention to advise the Commissioner of Public Health. Illinois enacted a similar bill (ILCS 69) that created a new Office of Firearm Violence Prevention.
New York also proposed S 9465 to establish a task force on social media and violent extremism. This task force would examine the role of social media in planning and promoting acts of violence. In Washington, HB 1941 was enacted to require that certain aspects of active shooter lockdown drills be trauma-informed.
Access and Functional Needs
In response to lessons learned from the COVID-19 pandemic, several jurisdictions are considering legislative strategies to better serve people living with disabilities during emergencies. California enacted AB 580, which amends existing laws to better include the voices of people living with disabilities in emergency operations plans. The bill states that people with access and functional needs must review certain plans or serve on committees to ensure their perspectives are included.
Illinois enacted SB 921, which creates the Access and Functional Needs Advisory Committee to provide recommendations about including people with access and functional needs and review emergency operations plans. New York's S 6294 requires the developmental disabilities advisory council to review the state's response to people living with intellectual or developmental disabilities during the COVID-19 pandemic. And New Jersey introduced S 285 to establish a permanent access and functional needs unit within their Office of Emergency Management.
As public health preparedness professionals continue to meet the challenges of responding to many concurrent emergencies, ASTHO will monitor the policy landscape to share updates and potential strategies. ASTHO members are encouraged to monitor and get involved in any jurisdictional legislation to ensure the voice of public health is included at this important moment in public health preparedness.