State, Federal Policies Increase Virtual Access to Behavioral Health Care
March 24, 2022 | Janet Oputa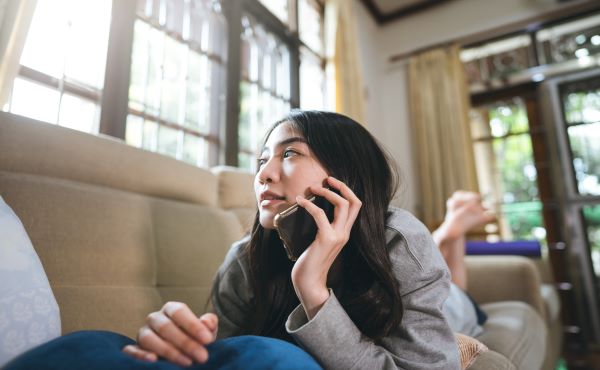 The January 2020 Federal Public Health Emergency (PHE) declaration for the COVID-19 pandemic led to the temporary expansion of behavioral health service delivery models offered through telehealth, also known as telebehavioral health. The Substance Abuse and Mental Health Services Administration describes telebehavioral health as a clinical tool that can increase access to behavioral health treatments, reduce negative health outcomes, and improve health disparities.
Telebehavioral health has the potential to improve continuity of care for communities by increasing access to a wider network of behavioral health professionals, reducing stigma, and creating spaces for increased engagement and retention in substance abuse treatments. This mode of behavioral health care has also been found to remove traditional geographic and psychological barriers that have prevented individuals from seeking care.
2022 Updates to Telebehavioral Health Federal Guidance and Policy Flexibilities
The pandemic prompted several policy changes to support increased access to telebehavioral health under selected federal statutes, including the Controlled Substances Act, the 2021 Consolidated Appropriations Act, and 1135 Medicaid Waivers.
Controlled Substances Act (CSA)
While the COVID-19 PHE is in effect, an exception within the CSA allows telehealth providers to prescribe controlled substances without an in-person medical evaluation under the following conditions:
The prescription must be issued for a legitimate medical purpose according to the practitioner's usual practice.

The telemedicine communication is conducted using an audio-visual, real-time, two-way interactive communication system.

The practitioner is acting in accordance with applicable Federal and State laws.



2021 Consolidated Appropriations Act
In alignment with the CSA, the 2021 Consolidated Appropriations Act removed the geographic limitation for providing mental health services. This change allows providers to deliver telebehavioral health services as long as a patient had an in-person interaction with the provider in the previous six months.
Centers for Medicare and Medicaid Services (CMS) 1135 Waivers
CMS authorized states to proactively contain the spread of COVID-19 via 1135 waivers, which allowed additional provider types to bill for telehealth services and removed the video requirement for delivering telebehavioral health services. Several services were authorized under these waivers retroactive to Mar. 1, 2020, continuously through the end of the emergency declaration. These waivers are effective until they are rescinded or the PHE expires, whichever occurs first.
2022 Updates to Telebehavioral Health State Regulations and Flexibilities
Beyond federal guidance and policy changes, several states are also expanding the coverage of and loosening restrictions for telebehavioral health services.
Improving Access to Telebehavioral Health Services
States are taking legislative action to reduce barriers to receiving telebehavioral health services, especially for individuals who are in urgent need of care. In May 2021, Washington State enacted a law that requires health plans to cover behavioral health services offered through telehealth and provide next-day appointments for individuals experiencing urgent, symptomatic behavioral health conditions.
In January 2021, New York enacted a law removing geographic restrictions on provider location during telehealth service delivery and requiring the state to provide addiction and mental health services and support offered through telehealth.
Other states have introduced legislation to expand telebehavioral health services. A Massachusetts bill would require a mental health evaluation during all operating hours of an emergency department or satellite emergency facility. The evaluations can be in-person or via telemedicine, electronic, or telephonic consultation, and must be carried out by a qualified behavioral health clinician. Similarly, a New Jersey bill would allow healthcare providers to offer behavioral health services by phone.
Telehealth Prescribing for Substance Use Disorders
States are also improving access to medically assisted treatments by expanding access to prescriptions for controlled substances via telehealth (or remote) prescriptions, which are ordered by a physician via telephone consultation or video visit without the need for a face-to-face consult. This form of prescribing provides options for individuals with substance use disorder to seek treatment through virtual care.
The Florida legislature passed a bill allowing telehealth providers to renew prescriptions for controlled substances listed in Schedule III, IV, or V of the state code. The bill also allows the prescription of Schedule II drugs via telehealth for the treatment of a psychiatric disorder, inpatient treatment at a hospital, patients in hospice, or residents of nursing home facilities.
In January 2022, the New Hampshire Senate passed a similar bill that allows medically assisted treatments for substance use disorder—such as using Suboxone—through telehealth without an initial in-person visit. It also allows nurse practitioners to prescribe drugs classified in Schedules II through IV for the use of substance disorder treatment.
Expanding Which Health Professionals Can Deliver Telebehavioral Health Services
The field of behavioral health requires diverse levels of expertise to support prevention, healthcare, and social services. To accommodate the needs of consumers, states are expanding the list of health professionals who can provide these services through telebehavioral health.
In March 2022, Ohio enacted a law that will expand the list of health professionals who can provide telebehavioral health services to include school psychologists, professional clinic counselors, independent social workers, and marriage and family therapists, if certain conditions are met.
The Hawaii House of Representatives passed a bill that will allow mental health providers to deliver telebehavioral health services that will be covered and reimbursed through Medicaid at the same rate as in-person services, including delivery of telebehavioral health services offered through phone if certain conditions are met. The bill recently passed the Senate Health Committee and awaits full consideration by the Senate.
Looking Ahead
The White House announced a new strategy to address the national behavioral health crisis, as the "…use of telehealth to address mental health and substance use needs rose dramatically during the height of the pandemic and has remained above pre-pandemic levels even where COVID has waned." The strategy focuses on the needs of individuals with behavioral health and substance use disorders by ensuring coverage of telebehavioral health services across health plans, encouraging better reimbursement processes and reducing cost barriers to improve continuity of care and access to telebehavioral health services.
To maintain continuity of access to telebehavioral health services, the White House outlined the following action items:
Ensure coverage of telebehavioral health across health plans and support appropriate delivery of telehealth across state lines.

Develop a learning collaborative with state insurance departments to address barriers and limitations to telebehavioral health access.

Encourage Federal Employee Health Benefits Program carriers to sufficiently reimburse providers for telehealth services and to eliminate or reduce copayments for consumers seeking telebehavioral health services.



Federal agencies and states are continuing to make decisions on policies that impact behavioral health care and access. To properly address the behavioral health needs of communities during and beyond the COVID-19 pandemic, states and Federal agencies may consider loosening policy restrictions that may inhibit the use of telebehavioral health by consumers and health professionals. States can also consider developing permanent telebehavioral health policies that create affordable and diverse options for behavioral health care.
ASTHO will continue to monitor trends in Federal and state telebehavioral health policies and how they impact access to care.
The development of this product is supported by the Health Resources and Services Administration of the U.S. Department of Health and Human Services under grant number 2 UD3OA22890-10-00. Information, content, and conclusions will be those of the author and should not be construed as the official position or policy of, nor should any endorsements be inferred by HRSA, HHS, or the U.S. Government.