State and Federal Actions to Reduce Per- and Polyfluoroalkyl Substances' Impact on Public Health
August 10, 2023 | Maggie Davis, Beth Giambrone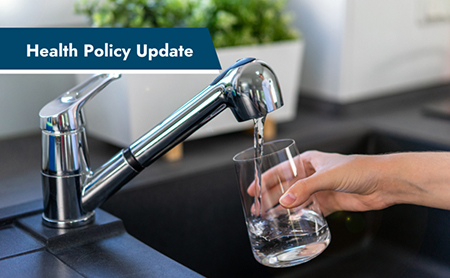 Since 2018, when the city of Stuart, Florida filed its lawsuit, communities across the United States have filed lawsuits against manufacturers that produce Per- and polyfluoroalkyl substances (PFAS), alleging that they contaminated groundwater and exposed residents to these harmful chemicals. In June 2023, manufacturer 3M agreed to pay at least $10.3 billion to settle the Stuart lawsuit and others across the country with public drinking water systems. Similarly, chemical companies DuPont, Chemours, and Corteva reached $1.18 billion settlement with local communities that have detected PFAS in their water supplies.
PFAS are synthetic chemicals used in products like nonstick cookware and firefighting foam, which can migrate to soil, water, and air during production and use. Most of these chemicals remain in the environment without breaking down—hence the nickname "forever chemicals"—and can cause harmful health effects (e.g., higher risks of kidney or testicular cancer, and pre-eclampsia or high blood pressure among pregnant people) and are prevalent across the nation.
Evidence shows the widespread nature of exposure to the chemicals and the economic costs of exposure. For example, a 2023 USGS study estimated that at least 45% of tap water nationwide could have one or more PFAS, while recent research estimates the annual cost of the disease burden attributable to long-chain (i.e., six or more carbon) PFAS exposure to be at least $5 billion.
As communities seek restitution for PFAS contamination, federal and state policymakers are working to eliminate PFAS from ground water and drinking water and to mitigate exposure to these forever chemicals.
Eliminating PFAS in Drinking Water
Under the Safe Drinking Water Act, EPA has the authority to regulate the public drinking water supply in the United States. These regulations establish legally enforceable Maximum Contaminant Levels (MCLs) or Treatment Techniques and non-enforceable Maximum Contaminant Level Goals (MCLGs) for public water systems. EPA's recently proposed PFAS National Primary Drinking Water Regulation could potentially add six different PFAS compounds to the list of regulated contaminants.
Within the PFAS chemical family, PFOA and PFOS are proposed to each have MCLs of 4.0 parts per trillion (ppt), while PFNA, PFHxS, PFBS, and GenX would be regulated collectively as a mixture using EPA's Hazard Index approach. The proposed rule also could require public water systems to monitor and notify the public of PFAS levels and reduce the levels in drinking water if they exceed proposed standards.
According to a survey conducted by the Environmental Council of the States, state guidelines vary; at least eleven states have established statewide MCLs for PFAS in drinking water. Some states prohibit their agencies from setting standards more stringent than federal ones and, in the absence of a federal standard, state agencies may hesitate to establish one that could easily be invalidated. In other cases, a lack of resources inhibits the agency's capacity to set and enforce a PFAS standard. When a federal standard is established by EPA's final rule, expected by the end of 2023, state primacy agencies will need to enforce the federal standard and adopt standards aligned with the federal standard or stronger within two years.
Additional State Efforts to Reduce PFAS Exposure
Even without MCLs, states are finding ways to mitigate the public's exposure to PFAS. In 2023, states enacted legislation on banning PFAS in consumer products, increased requirements for testing and reporting of PFAS, and PFAS mitigation.
Banning PFAS in Products
Testing/Reporting
Mitigation
Connecticut enacted SB 100 establishing a PFAS testing account, which provides municipalities with grants or reimbursements for testing and remediating PFAS in drinking water.
Maine enacted LD 289, which requires the state to purchase the real estate of a commercial farm found to be contaminated by PFAS before January 1, 2023 at the assessed fair market value but at no less than $20,000 per acre, and provides that the fair market value assessment cannot take PFAS contamination into consideration.
Two enacted bills in Rhode Island (SB 724 and HB 5861) amend current law to add that if PFAS in drinking water exceed the state's interim standard of 20 ppt, the state and the public water supply will enter into an agreement that requires dates for submittal of water treatment plans that will reduce the PFAS levels to or below the interim level.
As more information emerges about the health effects of PFAS, states will be sure to continue their work to combat, mitigate, and report on their presence in the environment. ASTHO will continue to monitor and report on all legislative and regulatory activity around this issue.
Special thanks to Nicholas Porter, MPH, director, environmental health at ASTHO for his contributions to this Health Policy Update.