Some Early Childhood Development Programs Stalled, Others Flourished During Pandemic
April 08, 2022 | Paris Harper-Hardy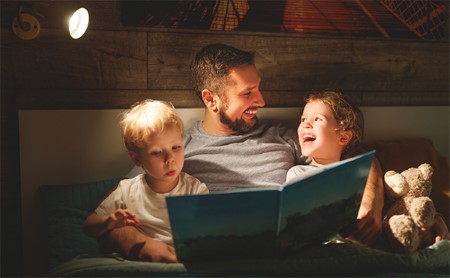 In winter 2021, ASTHO partnered with CDC to develop and implement a series of interviews exploring successful state policies and practices to improve the health and development of children through early care and education. Early learning systems include programs and services that provide early care and education to young children from birth through age five. These include, but are not limited to, public and private childcare, Head Start, preschool programs, as well as home visiting and parenting programs that support a parent's positive engagement with a child. Many of these strategies are described in ASTHO's Policy Options for Promoting Early Brain Development: A Strategic Guide for State and Territorial Public Health Leaders.
ASTHO interviewed two state health agencies (SHAs), two nonprofit partners, and one university partner that were heavily invested in state early childhood development policy.
Virtual Home Visits Offer Opportunities for Creativity, Success: SHAs
Both participating state health agencies described their virtual home visiting programs as increasing innovation and expanding services in place pre-COVID.
In 2020, the COVID-19 pandemic changed the landscape of early childhood development programming. Interview participants from the two state health agencies commented on how their home visiting programs changed completely because of social distancing protocols.
"Our state had a mandate to work remotely and also to wear a mask and to practice social distancing and all of those things in place to try to mitigate the spread of illness… Home visiting takes place in people's homes, and so there was an immediate reframing of what a home visit could be and could look like."
—Home Visiting Programs Manager at SHA
One state had to develop two emergency regulations from scratch allowing virtual home visiting. Participants also added that virtual home visits are particularly challenging because:
Children are harder to engage through screens than adults.
Providers are not able to view the home environment clearly.
Parents may be distracted with the needs of other children, especially virtual schooling.
Income and geographic disparities limit access to virtual programs.
To bridge the income and geographic gaps, one interviewee described how their program was able to purchase and distribute laptops, hotspots, and data plans to families in need of accessing virtual home visits, as well as school, telehealth, or job searches. The other state health agency developed new training programs to educate home visit providers on maintaining confidentiality and new requirements for informed consent from online home visit recipients.
While technology distribution programs and new trainings did help many people access services, they could not replace the in-person programs that were thriving pre-pandemic. As one interview participant described, some programs, such as intimate partner violence screenings, aren't always safe to conduct virtually, and other programs can suffer from a lack of in-person interaction as well.
However, for many families, virtual home visiting was an unexpected success. Many state programs observed less attrition after the implementation of virtual home visits, and both state health agencies reported positive outcomes from incorporating virtual home visiting programs.
"Once we had a few months to adjust to online and our policy and procedure was in place we had a few therapists who really went above and beyond to connect with their clients and the children. So, we started training each other and trying to share helpful strategies and tools… they have just continued to just run with that, and they've done a wonderful job of creating new ways to connect to children."
—Early Child Mental Health Program Administrator at SHA
Both state health agencies pointed out that the essential missions of early childhood development services did not change and were not overshadowed by the COVID-19 pandemic. Increasing enrollment and meeting the need within their states continues to be the highest priority.
Flexible Eligibility Requirements Increased Access
The partner organizations, one university and two nonprofits, were more focused on structural issues—early childhood needs exacerbated by the pandemic. A recurring response from the nonprofit and university partners was that some requirements for accessing social services were dropped during the pandemic, facilitating easier resource distribution and fewer barriers to accessing services, including:
Expanding eligibility to allow more people to access food from foodbanks provided by The Emergency Food Assistance Program (TEFAP).
Eliminating signature requirements for receiving food from the SNAP program.
Stopping face-to-face interview requirement for WIC enrollment.
Interviewees expressed that these relaxed requirements were well-received and produced the intended effect of increasing access to services to those who need them.
Interviewees stressed the importance of being able to be flexible in how to provide programs and services. As one state health agency pointed out:
"The biggest lesson everyone can learn is that you have to prepare for changes and be flexible and innovative in your approach to providing families with any kind of services. And during these crisis times you have to double down your efforts and be a safety net as well."
—Home Visiting Programs Manager at SHA
State health agency partners were pleased with the positive impacts of increased flexibility for SNAP and WIC programs and hopeful that these policies would not be rolled back in the future.
Summary
Policies enacted during the COVID-19 pandemic challenged the implementation of early childhood development programs and the social services meant to promote family and child welfare. However, these challenges created unique opportunities to expand virtual access to programming and eliminate some barriers to program enrollment. Increased flexibility in eligibility requirements for social services has been shown to alleviate administrative burden from social service providers and remove administrative barriers from social service recipients.
While in-person home visits have many benefits, there may also continue to be a place for virtual home visits to be incorporated into home visiting programs to reduce travel and time burdens on clients. As the pandemic becomes less of an immediate threat to public health and safety, some of these policies will be reevaluated. Lessons learned from the ingenuity and adaptability of state health agency programming should be considered when deciding on the future direction of policies impacting early childhood development.