Seven Public Health Podcasts to Follow in 2022
January 12, 2022 | Madison Bleeker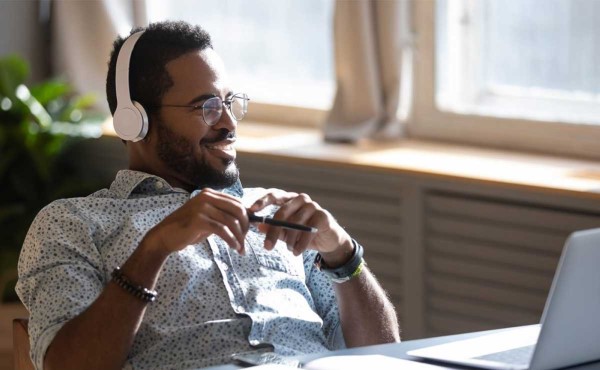 Public health is rapidly changing, especially during the COVID-19 pandemic. Public health professionals are having to navigate their way through these changes all while remaining steadfast in their ability to help their communities. With new information emerging every day, it's essential to have a backlog of sources you can reference that are trustworthy, up-to-date, and easy to access.
Over the last several years, podcasts have taken the stage as reliable sources of information. Not only that, but they're easily digestible and perfect for on-the-go professionals. Commutes to work no longer have to be filled with aimlessly flipping radio channels. You can now download episodes from your favorite podcasts and simply hit play. With hundreds of options to choose from, we've compiled a list of the top seven podcasts for public health news that you should listen to in 2022.
What The Health
Kaiser Health News' podcast, What The Health, with Julie Rovner, chief Washington correspondent for KHN, discusses the latest health news in Washington. This podcast features top health policy reporters from various national media outlets. Starting this year, What the Health will be featuring, "Ask Us Anything" episodes where listeners can write in their burning questions. This new interactive take to listeners' questions will allow you to get more involved in the podcast. Maybe you'll even hear your question during your morning commute. (45 minutes, weekly)
Why We Like It
Victoria Pless, MPH, PMP, a senior analyst on the social and behavioral health team at ASTHO, keeps this podcast in her news rotation. "What the Health is a thoughtful and informative podcast that covers wide-ranging health policy issues, including those that do not necessarily make the headlines. The host and guests are some of the most knowledgeable health policy experts today, and their expertise and commentary provide opportunity to expand knowledge of today's most impactful health stories."
Podcast From Washington
The National Association of County and City Health Officials (NACCHO) advocates on behalf of local public health and supports health departments in many ways. Podcast from Washington features NACCHO government affairs members and hosts Ian Goldstein and Adriane Casalotti. They speak to public health experts about current topics and give a rundown of public health policy news each week. They also highlight initiatives that NACCHO and local health departments are working on. (20 minutes, biweekly)
Why We Like It
Deborah Backman, MPH, senior analyst at ASTHO on the women, infant, and family health team, is a fan of the podcast. "I recommend NACCHO's Podcast from Washington because it's a quick and engaging way to catch up on both federal public health policy as well as prominent issues of concern for local health departments and how LHDs are addressing these issues."
Public Health Review Morning Edition
ASTHO's daily newscast Public Health Review Morning Edition features breaking news, new perspectives on public health policy decisions, and professional development opportunities and events to help you best do your job as a public health expert. (> 10 minutes, daily)
Why We Like It
Although we like it because it's our own newscast, we also love it because it brings a lot of value to our members, employees, and all public health experts. Just hear what one of our listeners has to say:
"A succinct and to-the-point summary of the day's most pressing health issues. Well-structured and features interviews with leading experts. An excellent way to stay current on health policy, research, and trends."
Public Health On Call
Johns Hopkins Bloomberg School of Public Health produces Public Health On Call, a go-to source of information for not just public health students, but industry-leading experts. Listen to a variety of burning topics addressed by public health professionals, healthcare professionals, policymakers, educators, and other experts. (30 minutes, multiple weekly)
Why We Like It
Grace Lee, MPH, an analyst on ASTHO's infectious disease infrastructure and policy team, finds Public Health On Call to be informative and timely. "I really enjoy listening to this podcast because I get to hear credible, scientific expertise and real-world perspectives from people across the public health field. The hosts do a great job at breaking down complex ideas into engaging, informative, and easy-to-understand messages for a general audience. Amidst all the uncertainty during the COVID-19 pandemic, the Public Health On Call podcast provides both reliable information and comforting conversations for its listeners."
America Dissected
Dr. Abdul El-Sayed, physician, epidemiologist, and the former Detroit health commissioner, hosts the weekly podcast America Dissected. After the COVID-19 pandemic hit, media group Crooked developed this podcast series to cover timely public health issues such as genetics, pandemics, environmental health, and so much more. Doctors, scientists, policy leaders, and other key public health professionals join Dr. Abdul El-Sayed each week to discuss these topics in an engaging and easily digestible way. (45 minutes, weekly)
Why We Like It
Adrianna Evans, senior analyst on ASTHO's preparedness and disability integration team, listens to America Dissected and applies it to her everyday work. "America Dissected helps me feel informed about hot topics in public health through thoughtful interviews with experts and implementers. Dr. Abdul El-Sayed really breaks down the issues with a practical eye. I can take perspectives discussed in the podcast and apply it to my work."
The Weeds
Every Tuesday and Friday, Vox publishes their podcast The Weeds, an informative show that digs into important national issues such as housing, healthcare, student concerns, funding, COVID-19, vaccine mandates, and public health research. Dylan Matthews, Jerusalem Demsas, Dara Lind, and other expert voices host. (One hour, weekly)
Public Health Review
Public Health Review brings subject matter experts from ASTHO and partnering organizations to discuss important public health issues and deliver timely, thoughtful perspectives on the value of public health through the lens of state/territorial health officials. ASTHO's government relations, environmental health, social and behavioral health, and public health preparedness teams are just a few you can expect to hear from. Hear from Nicole Alexander-Scott, MD, MPH, Director of the Rhode Island Department of Health and Katie Lamansky, CHES, Health Program Manager of the Idaho Department of Health and Welfare Resources in the latest episode on community-led health equity programs. (30 minutes, biweekly)
Open, Play, Listen
No matter how you choose to digest the latest news surrounding public health, consider adding these podcasts into your rotation. Hearing the latest updates about public policy, global public health, and improving health outcomes has never been easier or more engaging.