Sharing Island Stories on Health Equity: Setting the Stage for Equity in the Island Areas
July 27, 2022 | Julia Von Alexander, Alex Wheatley, Kelsey Donnellan, Neyling Fajardo
This spring, ASTHO's island area members—American Samoa, the Commonwealth of the Northern Mariana Islands, the Federated States of Micronesia, Guam, Puerto Rico, the Republic of the Marshall Islands, the Republic of Palau, and the U.S. Virgin Islands—convened at the first island-focused COVID-19 Health Equity Action Institutes. At the institutes, a common question rippled across the participants' discussions: What does creating an equitable and sustainable public health and healthcare system look like for the U.S. island areas?
Answering this question means taking a thoughtful accounting of the unique historical backgrounds, cultural values, and geographies that make up each of the island areas' identity. It means crafting a common, equity-centered language. And it means building on the islands' legacy of resilience and innovation by laying out a sustainable, community-centered approach to making health and healthcare accessible for all.
Throughout the Institutes, island members engaged in lively and earnest conversations around each of these issues. Conversations proceeded from the understanding that health inequalities do not exist in isolation. They are a product of—and themselves a major contributor to—other social and economic inequities, many of which have been baked into the islands' history by decades of colonization, political unrest, and human rights violations.
Finding a Framework that Works
Discussions around achieving health equity in the island areas began with asking an important question: What do we mean by health equity?
In thinking about an answer to this question, members built on existing health equity frameworks, such as those from the World Health Organization and Bay Area Regional Health Inequities Initiative.
While models such as these have proved foundational to health equity advancements in the states, the island areas face a unique and shared set of challenges, including scarce resources, limited land, and geographic isolation. Their strengths, like an emphasis on the well-being of the entire community instead of on individualism, resilience even through harsh conditions, and history of healthy lifestyles, diet, and using data to navigate the oceans, are also a consideration for an island health equity framework. As such, island members discussed how to best recontextualize these frameworks to more authentically reflect the culture, experiences, and strengths of their communities.
Building a Community of Care
One theme that emerged across health equity narratives was a commitment to taking a community-wide approach to help build systems and support structures that sustainably promote health equity. These systems of care will look to address social determinants of health at a community, jurisdiction, and regional level, setting the island areas up for long-term success.
In the states, collaboration often takes the form of partnerships between federal, state, and local organizations. For many in the island areas, this sense of community and togetherness goes even further to include a true whole-of-community approach to public health. In the Atlantic Health Equity Institute, Lavern Marsh-Cole, territorial project director in the USVI, described the department's plans to implement a whole-of-community approach.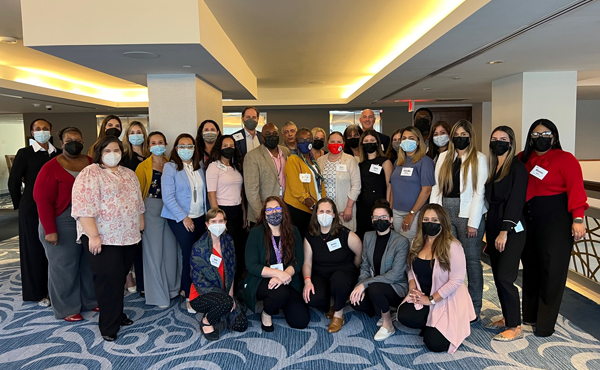 "We started out with the commissioner of health asking a question: Who is not at the table? So, we considered the people that we needed who were not initially included in our thought process of this entire Program. Ideally, we'll convene these groups to help to create all the policies and the partnership that we need to create to be able to be successful."
This communal approach is reflected not only in the island areas' approach to health, in their history of resiliency and cultural cohesion. Island areas have a history of mutual care systems in which wealth and resources are shared within the community. Island areas are heavily impacted by climate change, and also often place special emphasis on sustainability and caring for the environment for the good of all.
This collaborative spirit extends across jurisdictions as well, offering opportunities for islands to bridge geographical isolation and remain united in the face of shared challenges and roadblocks. In the Pacific, health officials and staff discussed how they could support each other in integrating migrants from other islands into their new homes and planned to collaborate on developing health equity messaging. Hear more from Minister Uherbelau in ASTHO's recent newscast.
Living Out the Island Equity Model
The story of island collaboration is already being modeled in many of the island areas' current initiatives. Recognizing that the islands' story of resilience has long been built on a foundation of trust within the community, island members are working with local leadership and community health workers to provide culturally appropriate materials and services to families.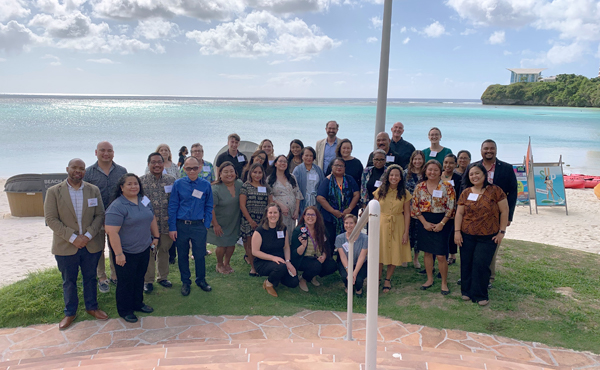 Our island members recognize that to earnestly address health equity and human rights in these jurisdictions, a broad cast of voices must be brought to the table. Internal policies in island health departments have therefore been aimed to invite the hiring of individuals based on the islands, with a focus on populations considered underrepresented in health agency staffing.
The islands' communal spirit was perhaps no more on display than throughout the COVID-19 pandemic, when the island areas came together to support strong lockdown measures to prevent the introduction and spread of COVID-19 to their islands, and rapidly ramped up contact tracing and quarantine when community transmission did occur. High rates of vaccination, testing, and masking are all examples of past initiatives that point to the successes that future preparedness responses could have.
Looking Ahead
ASTHO's partnership with and commitment to the island areas is an unfolding story with many exciting chapters to come. Our staff continues to stand by to provide and adapt technical assistance based on requests from island areas. We are determined to listen intensely to the needs and concerns of these jurisdictions and working with island jurisdictions to adapt existing health equity frameworks into one that is relevant to their unique context and culture. This will guide us as we continue to develop and re-tool learning opportunities, data dashboards, and other resources that meet these needs.
Our upcoming blog posts will take a closer look at the challenges and innovative approaches in the islands, evaluate the baked-in systemic inequities in the islands' histories, and paint a more vivid picture of how we can continue to build a more equitable public health and healthcare system that includes the island areas.
ASTHO has eight members from the territories and freely associated states, jurisdictions collectively referred to as island areas. Sharing Island Stories on Health Equity is a series of blog posts based on conversations held at the Atlantic and Pacific COVID-19 Health Equity Action Institutes in spring of 2022. Although implicit in our work with jurisdictions, these convenings were the first time ASTHO's island area members were centered in a conversation about health equity, marking a historic moment for ASTHO's relationship with its island members.