Reframing the Public Health Approach to Adult Immunizations
April 11, 2022 | Geetika Nadkarni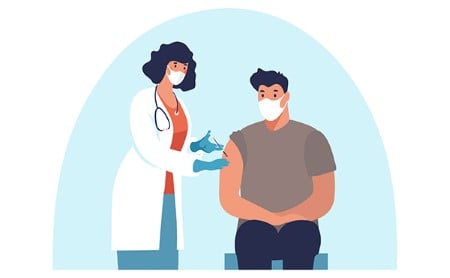 On March 31, CDC released a new MMWR on the universal recommendation for the hepatitis B vaccine for adults 19 years and older, based on the CDC's Advisory Committee on Immunization Practices vote in November 2021 to expand the recommendation for adult Hepatitis B (HBV) immunization from those "at risk" for infection to all adults aged 19-59.
The recommendation is an important step forward in efforts to eliminate hepatitis in the United States. HBV is one of many viruses that can lead to chronic infection and, eventually, life-threatening outcomes such as cirrhosis and liver cancer. Unlike other viruses that can lead to chronic disease, such as hepatitis C or HIV, HBV is vaccine-preventable. Still, CDC estimates that over 20,000 new HBV infections occur every year and only about 30% of adults aged 19 and older have been vaccinated for HBV.
In recent years, public health and healthcare providers have faced growing challenges around acceptance and uptake of both adult and childhood vaccines—whether for seasonal influenza, routine immunizations, or COVID-19. Clinical recommendations such as those made by the Advisory Committee on Immunization Practices, as well as other community and policy solutions, are a critical part of increasing vaccine uptake. It is also important to understand the barriers that adults face around vaccination, including concerns for both their own health and the health of their children.
Infectious disease outbreaks such as the COVID-19 pandemic have taught us time and time again that there are many challenges that contribute to poor vaccine uptake. Different sectors of the population have their own barriers to accepting and receiving immunizations.
For example, chronic HBV infection disproportionately affects racial and ethnic minorities, people who were born outside the United States, people who inject drugs, and people who have been incarcerated. Such individuals may have their own unique concerns and challenges around accessing vaccines. Some studies of immigrant communities have found that barriers to HBV prevention include lack of knowledge about hepatitis, language barriers, lack of healthcare access, mistrust of western medicine, perceived discrimination, and lack of transportation.
These are many of the same challenges that public health and medical professionals face today in their efforts to increase COVID-19 immunization rates across the country. While some sectors of the population are visiting their nearest point of care to receive their boosters, many racial and ethnic communities have lagged in receiving their first vaccine doses due to similar barriers, such as poor access to transportation, limited time away from work, or lack of access to a computer to register for the vaccine. Other factors include fear of government systems, personal safety concerns, and widespread vaccine misinformation.
Over the last year, public health departments and their partners have developed new strategies to reach these often marginalized communities and expand their access to the COVID-19 vaccine. Health departments have worked with trusted messengers to provide accurate and accessible information about the vaccine within their communities. They have worked with local organizations to bring the vaccine to trusted spaces: their places of work, their places of worship, and their own neighborhoods.
Meanwhile, some jurisdictions have established mobile clinics and have provided in-home vaccinations to individuals who are home-based – often vaccinating their caregivers and neighbors as well. More strategies are outlined in ASTHO's recent report, Advancing Health Equity Through Immunization.
These successes demonstrate the opportunity for public health to reframe its overall approach to adult immunization in the United States. The process will involve a combination of large-scale policy solutions, as well as the engagement of different sectors of our communities. The person-centered, community-driven approach that is making headway in the COVID-19 response can be leveraged to help eliminate HBV and other vaccine-preventable infections in the future.