Recent Federal and State Actions to Limit Flavored Tobacco Products
March 02, 2023 | Parker Beene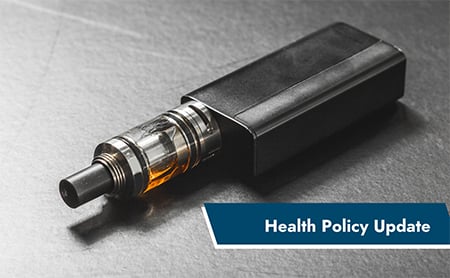 Since the 1970s, tobacco companies have pushed flavored products to attract new customers, improve the taste, and reduce any harshness—all tactics to get new, younger users. The 2009 Family Smoking Prevention and Tobacco Control Act (Tobacco Control Act) authorized FDA to regulate the manufacture, distribution, and marketing of tobacco products.
In 2022, CDC reported that U.S. adults' usage of any combustible tobacco products had dropped from 16.7% in 2019 to 15.2% in 2020—an historic low. However, adult-use rates were considerably higher among non-Hispanic American Indians or Alaska Natives (34.9%), non-Hispanics identified as "other" (29.1%), non-Hispanic Whites (21.1%), and non-Hispanic Blacks (19.4%) as compared with Hispanics (11.7%) and non-Hispanic Asians (11.5%).
Moreover, rates among certain groups that smoke menthol cigarettes have either increased or remain unchanged. Menthol cigarettes have historically targeted Black and vulnerable communities that continue to be disproportionately affected. In addition, youths and young adults are more likely to use a menthol cigarette than a non-menthol cigarette first and are more likely to continue smoking.
Federal Action Limiting Flavors for Combustible Cigarettes and Cigars
In 2009, the Tobacco Control Act banned characterizing flavors other than menthol from combustible cigarette products nationwide—a measure that resulted in fewer youths smoking combustible cigarettes or menthol cigarettes than before the rule was issued.
In April 2022, FDA proposed a rule to prohibit menthol cigarettes and flavored cigars to prevent youth smoking, with the final rule anticipated this August. FDA estimates that the proposed rule would result in a 15.1% decrease in smoking within 40 years, saving up to 654,000 lives.
Federal Action Limiting Flavors for E-Cigarettes and Other Nicotine Products
While the Tobacco Control Act requires FDA to regulate combustible cigarettes, smokeless tobacco, and roll-your-own tobacco, the agency must issue a rule "deeming" all other tobacco products to be within its authority. Although e-cigarettes entered the U.S. marketplace in 2007—bringing a variety of flavors such as menthol, grape, mango, and bubblegum—FDA did not have authority to regulate e-cigarettes until it issued a 2016 final rule deeming all products made or derived from tobacco intended for human consumption within its regulatory authority.
Under that rule, all electronic nicotine delivery systems (ENDS) needed FDA approval to be legally marketed in the United States. Numerous unapproved ENDS continued to flood the marketplace, with the U.S. Surgeon General releasing a general advisory in 2018 that put a spotlight on the e-cigarette epidemic among youth. In 2020, FDA announced a new policy to prioritize enforcement of the pre-market approval requirement for any flavored ENDS product (other than tobacco or menthol) and all other ENDS products likely to target minors. In March 2022, FDA issued decisions on thousands of ENDS applications, approving some for tobacco-flavored products and none for ENDS products with characterizing flavors.
In August 2022, the Federal Trade Commission reported recent surges of disposable e-cigarettes and menthol e-cigarette cartridges. The report concluded that since FDA prioritized enforcement of ENDS flavors other than menthol, sales of menthol cartridges for e-cigarettes rose to 63.5% of all cartridges sold in 2020—up from 36.9% in 2018. In fact, sales of cooling-flavored (e.g., menthol, mint, ice) e-cigarettes have increased almost 700% since 2017. A driving factor for this increase is consumers switching to other flavored ENDS products and menthol flavors after the 2020 policy change.
Although FDA announced prioritized enforcement of required pre-market approval for all ENDS products, the agency was unable to regulate ENDS products created with "synthetic" nicotine until Congress enacted a new law in April 2022 granting FDA authority to regulate tobacco products containing nicotine of any source.
Currently, for non-tobacco nicotine products (i.e., those using synthetic nicotine) to be marketed legally, they must also get pre-market FDA approval. This change closes a loophole that previously allowed ENDS manufacturers to change their formulation—or claim that they were doing so without FDA investigation—and continue to freely sell virtually identical products targeting youths.
State Bans on Tobacco Flavors, Including Menthol
Many states, territories, and localities have taken extra steps to expressly ban flavored tobacco products even FDA granted pre-market approval. There are currently five states and more than 360 localities with flavor bans. At least 170 of those localities restrict the sale of menthol cigarettes. As of February 8, 2023, at least 10 states (Connecticut, Hawaii, Indiana, Maryland, New Mexico, New York, Oregon, Texas, Vermont, and Washington) introduced legislation that would limit the sale of flavored tobacco and nicotine products.
Washington introduced SB 5239, which would empower the Secretary of Health to restrict the sale of any flavored tobacco product, including menthol products, that may be injurious or pose a risk to public health. The bill would also (1) grant the state board of health authority to determine the allowable nicotine concentration for vapor products sold in the state, and (2) establish a rule that manufacturers must disclose the product's nicotine form and concentration, including all ingredients or product elements that may be inhaled when used.
During the 2023 legislative sessions, Vermont (H204), Oregon (HB 3090), Maryland (SB 259), Hawaii (HB 551), New Mexico (HB 0094), New York (A 3907), and Indiana (HB 1133) have introduced legislation to prohibit the sale of flavored tobacco products including menthol-flavored cigarettes. New Jersey proposed multiples bills including a strict ban on menthol cigarettes (A 4120), a ban on menthol cigarettes and ENDS products (S 2667), and a ban on using menthol cigarettes and flavored substances for hookah (A 1989).
Indiana's HB 1133 proposed a ban on selling flavored tobacco and e-liquid such as cigarettes, e-cigarettes and smokeless tobacco that have characterizing flavors including menthol. The bill also creates penalties for any person or entity that sells a flavored tobacco product.
Conclusion
ASTHO remains committed to supporting, equipping, and advocating for state and territorial health officials in their work of advancing the public's health and well-being. Restrictions on flavored tobacco and nicotine products including menthol may reduce sales and youth access to tobacco and nicotine products and reduce the number of new users of tobacco and nicotine products.