From the Chief Medical Officer: Public Health Approaches to Healthy Aging and Brain Health
October 09, 2023 | Marcus Plescia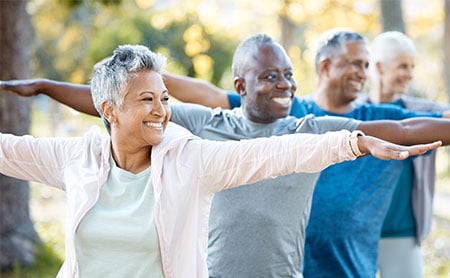 Over the last five years, I have witnessed the gradual deterioration of my mother's cognitive abilities. She had a brilliant career working until the age of 80, as a speech and dialect coach for stage theater productions in Chicago and then New York. Her early symptoms were moderate but significant enough to prompt her retirement, and she has gradually become more dependent on my stepfather and separated from a once thriving social and professional network. It has been a sad and challenging situation, and I have learned a lot about the limitations of clinical medicine and the importance of social, legal, and supportive services in managing and supporting this condition.
Cognitive impairment has become an increasingly prevalent public health challenge and a condition that has involved many of us, both professionally and personally. Approximately 16.6% of individuals age 65 and older have cognitive impairment, and this proportion will grow as this portion of the US population increases. The impact on our systems and society will be profound. Fortunately, while some aspects of cognitive impairment are not controllable, prevention and risk-reduction efforts can be very effective. There is a great deal that public health leaders can do to address cognitive impairment and mitigate the pain and suffering associated with these conditions.
ASTHO's Healthy Aging Portfolio
I am proud of the initiative and leadership our staff at ASTHO have taken to develop and support jurisdictions to address many public health issues associated with healthy aging. I encourage you to review these materials:
Updating the HBI Road Map with Risk Reduction, Equity
CDC and the Alzheimer's Association recently worked with partners and subject matter experts to update the Healthy Brain Initiative: State and Local Road Map for Public Health—a framework for public health agencies to promote brain health through 24 actionable strategies. I served on the leadership team of this process, and ASTHO convened listening sessions that helped identify strengths and challenges of implementation, guiding changes in the subsequent edition.
The Road Map provides health officials with a variety of resources. For example, the Road Map presents data on the public health impact of dementia, increasing understanding and helping with prioritizing actions. It also includes key questions to orient planning efforts. Other resources include an implementation guide to advise on execution, an evaluation tool to monitor impact, and briefs about brain health-related issues like caregiving. The Road Map can be tailored by health officials to their unique situation and priorities. For example, if health officials are looking to strengthen partnerships, the Road Map outlines a list of potential partners to consider, as well as case studies from other states working on similar goals.
The updated version of the Road Map also highlights the importance of health equity and community partnerships. It stresses the need to engage with communities at highest risk for dementia and include culturally responsive language, since dementia disproportionately affects Black and Hispanic Americans.
Call to Action
It gives me great satisfaction that ASTHO has taken a lead in helping prioritize and address healthy aging across the life course, with a focus on prevention and risk reduction. I hope that Health Officials can begin to use their health authority and public health influence to expand public health programming and planning in this area. As research and medical advancements emerge policy, data, and infrastructure will be needed to address this issue that is challenging, but increasingly hopeful.