Promoting Successful Onsite Wastewater Treatment Programs
September 19, 2022 | Emma Talkington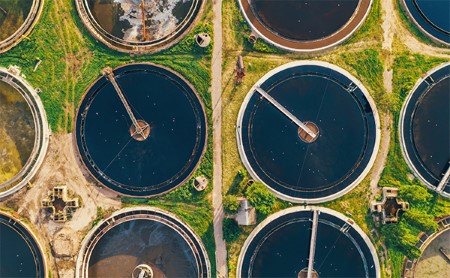 Every year during the third week of September, EPA's Decentralized Wastewater Management Memorandum of Understanding (MOU) Partnership, which includes ASTHO alongside 19 other members, works together to commemorate SepticSmart Week—an opportunity for health agencies at all jurisdictional levels to share educational resources about onsite wastewater treatment system (i.e., septic system) upkeep. This year, ASTHO is commemorating the 10th anniversary of the occasion by signing a proclamation.
By issuing proclamations, developing promotional materials, and engaging with community members, state, territorial, and local health departments (LHDs) can highlight the work they are doing, as well as the work that needs to be done, to ensure septic systems are properly cared for and maintained. This increased awareness can help encourage more individuals to pursue careers focusing on environmental health and septic system safety.
ASTHO met with two state health agencies and asked them to share what they do to promote safe septic system practices and how they work with their LHDs to engage communities. They also shared some solutions they have started implementing to mitigate ongoing onsite wastewater program workforce issues.
Onsite Wastewater Programs Tackle Workforce Challenges
Onsite wastewater programs at many state, territorial, and local health departments have dealt with workforce issues that have been exacerbated by the pandemic. ASTHO continues to work with state and territorial health agencies to determine barriers to the recruitment and retention of the public health workforce and identify potential solutions. EPA has also reported challenges in the onsite wastewater field, saying "the sector is currently experiencing a shortage of qualified workers to design, install, maintain, and inspect these systems." EPA has created two reports and a new guide to help address some of these challenges. These resources focus on career pathways and pay, education and training opportunities, and guidance on developing a training program.
Like other states, both North Carolina and Virginia have had challenges recruiting and retaining onsite wastewater program staff, especially at the local level. One solution the North Carolina Department of Health and Human Services (NC DHHS) began implementing was to engage with local universities to bring more awareness to both public and environmental health, with the long-term goal of encouraging more students to pursue these fields after graduation. NC DHHS has worked with a few universities accredited by the National Environmental Health Science and Protection Accreditation Council to enroll students in their centralized internship program.
The Virginia Department of Health (VDH) has found success in filling a position that focuses on wastewater-related funding sources. Having a dedicated staff person has given VDH the capacity needed to manage these funding opportunities. This staff member focuses on how to strategically implement current funding streams for maximal impact and stays abreast of other potential wastewater-related funding opportunities.
States Promote Successful Septic System Work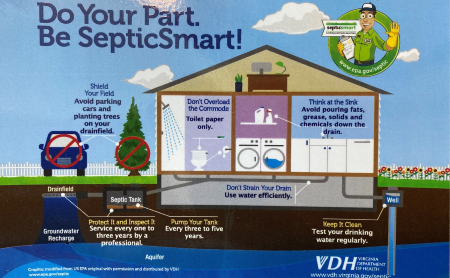 Virginia and North Carolina are two of the nine states that issued SepticSmart Week proclamations in 2021 to recognize the importance of safe septic system practices. These proclamations have helped to increase awareness of and attention to the septic system-related work conducted by VDH and NC DHHS, as well as LHDs in their states.
Both VDH and NC DHHS work closely with LHDs to distribute helpful septic system resources. In 2018, VDH used some of EPA's promotional images for SepticSmart Week and turned them into 33,000 magnets, which they shared with LHDs to distribute in their communities. VDH chose to create magnets so that community members could be reminded of their septic system's upkeep every time they open their refrigerators. The magnets received positive feedback, and VDH plans to share more of them this year.
In addition to recognizing SepticSmart Week, NC DHHS has worked to develop and share resources and update existing rules and regulations pertaining to septic systems. Similar to VDH's magnets, NC DHHS puts together educational flyers and door hangers, which they then share with their LHDs to distribute throughout their communities.
NC DHHS is also currently finalizing proposed updates to the state's "Rules Governing Sewage Treatment and Disposal Systems." This is a significant achievement for the agency as these rules have been in the process of being updated for eight years and have not been fully updated in 40 years. The updates are currently set to take effect on January 1, 2024. NC DHHS is planning training programs to provide relevant stakeholders with information on the revamped rules. Some of the changes include control panel requirements for smaller systems and material requirements for fiberglass and plastic tank materials (not just concrete).
Alongside their other septic system-related work, VDH has used American Rescue Plan Act (ARPA) funding to implement the Septic and Well Assistance Program (SWAP), which aims "to help low-income homeowners repair or replace well and septic systems." Since its initial rollout in February 2022, the program has received over 250 applications, showing how great the need is to address this issue.
What's Next?
Recently, ASTHO launched PublicHealthCareers.org, with initial support from the CDC Foundation, which provides information about public health careers and posts positions in governmental public health agencies. These agencies, many of which are ASTHO member agencies, can utilize PublicHealthCareers.org to advertise any open positions they may have, including those related to onsite wastewater treatment. ASTHO will also continue to work closely with EPA and other partners in the Decentralized Wastewater Management MOU Partnership to promote future SepticSmart Weeks and address septic system issues at the national level.
Special thanks to the Virginia Department of Health and the North Carolina Department of Health and Human Services for providing input used in this blog post. Additionally, special thanks to Nicholas Porter and Emma Carlson for their support in developing this post.