Preparing for the Next Infectious Disease Threat
August 18, 2022 | Sidnie Christian, Alyssa Boyea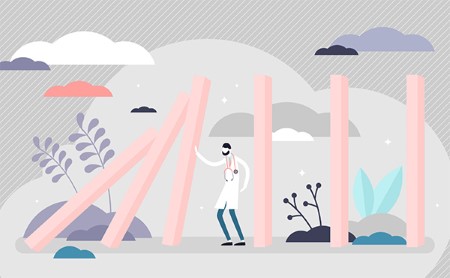 Public health agencies work tirelessly to prepare for and respond to a variety of threats, including infectious disease outbreaks, natural disasters, and more. Preparedness plans, trainings, and exercises are just a few tools experts use to ensure communities are ready in the face of an impending threat. While advanced preparedness planning is invaluable, current emergencies also serve as a critical learning opportunity to inform future public health response efforts.
The COVID-19 pandemic has changed how we go about preparing and responding to public health threats. In collaboration with CDC, ASTHO embarked on an initiative to identify effective resources, policies, and model practices utilized by state and territorial health agencies throughout the COVID-19 response. The goal? Disseminate strategies that can inform preparedness efforts for future infectious disease threats.
This initiative focused on four main areas:
Data Management
Workforce
Training and Resources
Federal, State, and Local Coordination and Collaboration
Through this project, ASTHO and CDC aimed to learn more about:
Existing programmatic policies and practices that aided (or impeded) success.
Programs or policies developed or refined during the COVID-19 pandemic that could be sustained for future infectious disease threats.
Training gaps highlighted during COVID-19.
Tools or resources needed to better prepare for future infectious disease outbreaks.
ASTHO staff met with several disciplinary groups across the organization to learn more about recent and ongoing initiatives and activities within the four focal areas. Staff reviewed and synthesized information and resources shared during discussions. An internal crosswalk document was created to track and highlight areas of congruity and identify gaps in information not previously collected. In areas where additional context was needed, ASTHO called upon specialized peer networks of state/territorial health agency staff to help provide crucial information and insights for this initiative. The peer networks that participated in this initiative included:
Directors of Public Health Preparedness (DPHP) Peer Network
Informatics Directors Peer Network (IDPN)
HR and Workforce Development Directors Peer Networks
Several data collection efforts were completed over the course of three months, including rapid query surveys, focus groups, and key informant interviews. Key findings for each focus area are summarized below.
Data Systems Management
Through a focus group style discussion and online member forum, members of the IDPN provided insights and feedback on key data management tools and resources their health agencies used throughout the COVID-19 response, as well as data management resources needed to better prepare for future infectious disease threats.
Health agencies employed several valuable data management tools and resources during the COVID-19 response. Participants identified Sara Alert, Tableau/Tableau prep, and Salesforce as some of the most helpful tools and software. Other valuable resources included video tutorials and quick guides to help users learn new systems. Participants noted two key challenges:
The high volume of data being collected, as well as the need for systems to accommodate this data. Jurisdictions considered ways to rapidly increase server and processing speeds to address this challenge.
Interoperability of different data sets and software systems. Jurisdictions are working with partners, including private labs, to develop data integration strategies to enhance communication between systems to address this challenge.
Workforce
Through a rapid query survey and focus group discussion, the HR and Workforce Development Directors Peer Network provided insights and feedback about surge staffing during the pandemic response. The peer network also shared thoughts on additional tools that would be helpful in preparing for future infectious disease threats. Key findings from data collection activities include:
A variety of federal mechanisms were used to add surge staffing. Useful mechanisms included COVID-19 relief fund, CDC deployed staff, CDC Foundation contract staff, ELC supplementals, and PHEP cooperative agreement.
Several jurisdictional mechanisms were utilized to add surge staffing , including hiring authorities, staff reassignments, temporary agencies, consulting firms, and university/academic partnerships.
Participants suggested a few strategies for sustaining surge capacity for future responses. These suggestions include contracting with qualified vendors help staff up or scale back a workforce as appropriate, developing contingency budgets, and strengthening relationships with universities to give students meaningful hands-on experiences.
Participants emphasized the need for additional information, tools, and trainings in the areas of employee wellness and communication with a variety of audiences.
Training and Coordination
ASTHO's DPHP Peer Network was called upon for two focus areas: training/resources and federal/state/territorial/local coordination. Via a virtual poll and a key informant interview, members described the frequency of engagement with federal, national, and local partners, effective strategies to engage stakeholders, and partnerships that proved critical during the COVID-19 response. Members were also asked about crucial federal and/or national tools and resources used throughout the response, useful resources developed by jurisdictions, training gaps observed, and more. Key findings from data collection activities include:
Jurisdictions relied on several partnerships throughout the pandemic. In addition to federal agencies and national public health organizations, key partners included EMS, healthcare coalitions, hospital and medical associations, pharmacies, faith-based organizations, higher education institutions, and tribal nations. Additional partners suggested for further engagement included the Indian Health Service, funeral directors, correctional facilities, refugee organizations and councils, and 211 organizations.
Participants described strategies for engaging community members and stakeholders. Top strategies included regular calls/virtual meetings, lunch-and-learn sessions, taskforces or workgroups, designated liaison position, town halls, and social media live events.
COVID-19 highlighted several training gaps, particularly in the areas of mental and behavioral health and disease investigation. Many jurisdictions developed resources to address training gaps throughout the pandemic response. Resources include but are not limited to PPE and fit-test trainings, provider trainings, and disease investigation scripts and worksheets.
Next Steps and Future Direction
In the coming months, ASTHO will analyze remaining findings from data collection efforts to identify promising practices and strategies that will be shared with state and territorial health agencies through capacity-building products and technical assistance activities.