Policies For Inclusive Emergency Preparedness Planning
July 31, 2023 | Heather Tomlinson, Adrianna Evans, Maggie Davis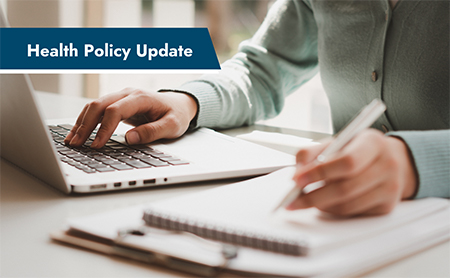 July marks the 33rd anniversary of the Americans with Disabilities Act (ADA). The ADA protects people with disabilities from discrimination in employment, state and local government services, public accommodations, telecommunications, and other areas of life. While the ADA set a foundation to make public accommodations more accessible, there's room to improve equity for people with disabilities.
Historically, people with disabilities have been disproportionately impacted by disasters, including the COVID-19 pandemic, Hurricane Harvey, and other extreme weather events. Pregnant, postpartum and/or lactating people, infants and young children, and those with disabilities have a higher chance of getting sick or highly distressed during an emergency. The 2006 Pandemic and All Hazards Preparedness Act tasked the HHS Secretary with implementing the National Preparedness Goal while taking the public health and medical needs of at-risk individuals—including pregnant people, children, and people with disabilities—into account. Subsequent reauthorizations, such as the Pandemic and All-Hazards Preparedness and Advancing Innovation Act of 2019, require that the needs of "at-risk individuals" be accounted for in preparedness planning.
Role of State Advisory Councils
Engaging people with access and functional needs throughout the emergency planning process can lead to more positive outcomes during an emergency. Identifying trusted partners who can elevate the needs of these groups is critical to bringing community perspectives into the emergency planning process. Public health leaders may consider using advisory councils to gather these perspectives.
Advisory council members can bring in-depth knowledge about the issues impacting people with disabilities, pregnant people, and children to the creation of preparedness plans. For example, every state, territory, and Washington, D.C. has a federally funded Development Disabilities Council that regularly works with policymakers and government leaders to address the needs of people with developmental disabilities.
In recent years, state legislatures have established Rare Disease Advisory Councils (RDAC) to help address the needs of people with rare diseases. RDACs advise policymakers on issues relating to healthcare access, insurance coverage, and the diseases themselves. They include a range of experts including people with rare diseases, caregivers, state health officials, healthcare providers, community disability advocacy organizations, and healthcare industry representatives. Many representatives on these councils have lived experience either of having a rare disease themselves or being a parent or family member of someone who does. Since the creation of the first RDAC in 2015 by North Carolina, an additional 23 states have established an RDAC. The National Organization for Rare Disorders (NORD) tracks and advocates for the establishment of RDACs in every state.
During the 2023 legislative sessions, at least three states —Delaware, Indiana, and Maryland—considered legislation establishing RDACs and encouraging their input on the state's preparedness plan. The Delaware legislature recently passed SB 55, which directs the RDAC to develop policy recommendations that will safeguard people with rare diseases against discrimination during disasters and public health emergency-related planning. The bill is awaiting signature from the governor. Indiana's new law (HB 1201) gives the council general direction to provide recommendations on legislation and rules that impact people with rare diseases in the state. Maryland's law (SB 188) tasks the council with creating public health emergency and natural disaster best practices for people with rare diseases in the state.
Establishing Public Health Ethics Committees to Guide Resource Allocation During Emergency Response
Public health leaders can also consider creating a public health ethics committee to assist decision makers in equitable resource allocation during an emergency response. Public health ethics are a systematic approach for using ethical principles to guide government action to promote public health. Most public health ethics guidance is centered in public health emergency preparedness and response activities, providing a framework for emergency planners to engage with communities and incorporate ethical considerations into resource allocation decisions. Additionally, public health agencies that create an ethics committee to assess the agency's process for addressing ethical issues arising from departmental programs, policies, and interventions can fulfill standards and measures needed for accreditation by the Public Health Accreditation Board.
There is not a standard process or model for creating a public health ethics committee. However, resources are available to guide states and territories considering creating a public health ethics committee or process for their health department. Building on the ethical considerations and consultation practices used in the healthcare system—which has developed a formal ethics consultation system, including an ethics committee model—the Presidential Commission for the Study of Bioethical Issues shared a 2016 webinar describing how these principles and processes could be adopted by public health.
Although no state or territory has established a jurisdiction-wide committee, several local public health departments have implemented public health ethics committees. These include Pima County, Arizona, which established its committee in response to resource allocation challenges during the COVID-19 pandemic; and Clark County, Washington, which uses the Public Health Code of Ethics as its decision-making framework.
Additional Resources
Public health leaders can leverage existing resources to support the inclusion of people with disabilities, pregnant people, and children in the emergency planning process. These include:
Populations with unique challenges need additional planning considerations to ensure they are equitably prepared for disasters. As new diseases or emergencies arise, working alongside trusted committees like RDACs or ethics committees can help health officials quickly respond and prevent undue burden on at-risk groups such as people with disabilities, pregnant people, and children. ASTHO will continue to monitor policies supporting inclusive emergency planning efforts, providing relevant updates.