Oyez! Oyez! Oyez! Public Health in the Courts
September 22, 2023 | Christina Severin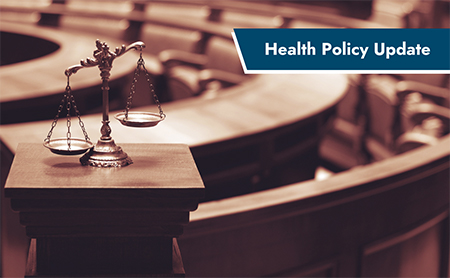 State and federal courts weigh in on public health policy, and there are a number of cases playing out across the country that could affect the options state and territorial health officials have to limit the spread of disease and promote health and well-being. And, while the Supreme Court of the United States (SCOTUS) is not currently slated to consider any public health focused cases, the new term set to begin the first week of October will likely feature several relevant decisions.
Lower Courts Address Public Health Related Challenges
State courts at all levels, as well as the federal district and appellate courts, are continuing to decide cases that impact the tools available to public health agencies to protect population health and wellness.
COVID-19 Mitigation Measures and Public Health Authority
Courts are hearing cases challenging community mitigation measures taken by states during the early days of the COVID-19 pandemic and the powers underlying them, with several recent and notable decisions.
In Michigan, a catering company challenged the authority of health orders issued in early 2021 that limited gatherings at food service establishments. In June, the Michigan Court of Appeals ruled that a state law allowing the director of the health department to issue orders prohibiting gatherings to control an epidemic gave too much power to the director and, in doing so, violated the state constitution's separation of powers. The health department has appealed to the Michigan Supreme Court.
The Minnesota Court of Appeals also recently decided a case about the scope of emergency powers, finding that state law allowed the governor to declare a peacetime emergency due to a public health crisis. In Texas, the state Supreme Court recently upheld the Governor's right to issue an executive order prohibiting local governments from requiring masks. However, the Governor is unlikely to take this particular action related to COVID-19, as the Texas Legislature recently enacted legislation prohibiting governmental entities from using mask mandates as a mitigation measure for COVID-19.
In November, the North Carolina Supreme Court will hear arguments in a case brought by a speedway challenging orders that temporarily prohibited certain indoor and outdoor gatherings during summer 2020. In this case, the court is expected to determine whether the North Carolina constitution, which includes a specific right to "enjoy the fruits of one's labor," is a valid basis for the speedway's claims against the state.
Non-Medical Exemptions to Routine Childhood Vaccination Requirements
States generally define, through legislation and administrative rules, vaccination requirements for school entry or childcare participation. All 50 states, Washington, D.C., and the U.S. territories allow medical exemptions for these requirements. As of August 2023, 45 states and Washington, D.C. also allow non-religious exemptions to vaccine requirements, and five states—California, Connecticut, Maine, New York, and West Virginia—allow medical exemptions only.
Courts are often called upon to weigh in on state vaccine frameworks, and recent decisions have addressed state non-medical exemption allowances for school entry.
In 2021, Connecticut changed its vaccination requirements for school entry and removed the option for a religious exemption. A group of parents sued and, in August 2023, a federal appeals court upheld the state's new framework as constitutional, noting that vaccination requirements for children that do not include a religious exemption have been reviewed many times, and only one case was found to be problematic.
In a case, decided earlier this year, a lower federal court in Mississippi directed the state health agency to create a religious exemption to its school vaccination requirements, while at the same time the state attorney general argued that state law already required such an exemption. Cases regarding vaccination requirements and exemptions, whether for children attending school or for other populations or settings, are likely to continue to arise in courtrooms nationwide.
Environmental Health
"Green amendments"—proposals to amend state constitutions to include the right to a clean and healthy environment—have been considered in a number of jurisdictions. New York's constitution was recently amended to give people the right to a "healthful environment" as well as clean air and water. A similar constitutional amendment has been proposed in Maine, though it is early in the process. In contrast, some states have had similar amendments in place for decades, including Pennsylvania and Hawaii.
Relatedly, lawsuits alleging violations of the state constitution—whether more broadly or under a specific green amendment—for state actions that harm the environment are emerging. In August, a court in Montana ruled in favor of a group of teens and young adults who sued the state over its process for evaluating fossil fuel permits, alleging that the state being barred from considering environmental impacts violated a constitutional requirement for a clean and healthful environment for current and future generations. The state is expected to appeal to the Montana Supreme Court. Another case brought by young people in Hawaii alleging state constitutional violations tied to the state's transportation system is expected to go to trial in summer 2024.
SCOTUS Term Begins
While SCOTUS continued to manage its docket over the summer, the 2023 term officially begins the first week of October. Several cases with the potential to impact health agencies and public health more broadly will be before the Court with decisions expected before next summer.
Access to Lethal Means
In June 2022, SCOTUS issued its decision in Bruen striking down New York's framework for permitting the public carry of firearms as a violation of the second amendment. Since then, lower courts have heard several cases related to firearm access, with one slated for argument before SCOTUS this term. In that case, known as United States v. Rahimi, the Court will decide whether a federal law prohibiting firearm possession by individuals who are subject to a domestic violence restraining order violates the second amendment.
Federal Executive Agency Powers
In Loper Bright Enterprises v. Raimondo, SCOTUS will decide whether to formally overrule or otherwise clarify a longstanding approach to the review of federal executive agency action in certain circumstances. Specifically, when a court will defer to an agency's expertise in interpreting ambiguous federal laws under the agency's purview. While the facts of this case are specific to fishing vessel management, a decision that limits court deference to an agency's interpretation of its underlying statutory powers could impact the approach taken by federal agencies in their rulemaking, as well as the litigation strategies of parties impacted by those regulations.
Social Media Actions
SCOTUS is also hearing two cases this term that could impact how health officials use their social media accounts. In one of these cases, they will consider whether a public official is taking state action (i.e., acting on behalf of the government) only if they are using their social media account as part of their official duties.
In a similar case, SCOTUS has also agreed to decide whether a public official using their social media account to communicate about their job, and blocking individuals from their account, is engaging in state action—making the activity subject to the first amendment—even when using the account is not part of their government authority or responsibilities.
Opioid Settlements
SCOTUS is also expected to hear arguments in December about the scope of bankruptcy law that could impact jurisdictions expected to benefit from Purdue Pharma's proposed reorganization plan. The federal government has acknowledged that continued litigation in these bankruptcy proceedings could further delay finalizing the plan, which includes distributing benefits to states and others impacted by the opioid crisis.
ASTHO will continue to monitor the legal landscape impacting public health generally and health agency actions specifically and provide relevant updates to its members as they become available.