Neonatal Abstinence Syndrome: State Considerations for 2021
February 03, 2021 | Beth Giambrone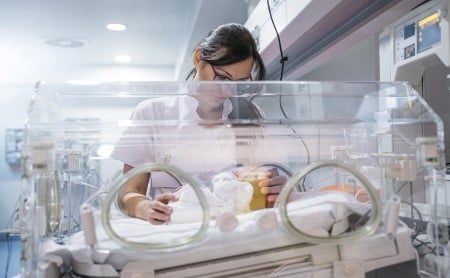 Neonatal Abstinence Syndrome (NAS) has become more prevalent in the United States, with the hospitalization rate increasing from 2.9 to 7.3 hospitalizations per 1,000 newborn births between 2009 and 2017. NAS occurs in newborns who experience withdrawal from substances they were exposed to during pregnancy. While NAS is most often associated with exposure to opioids (e.g., Neonatal Opioid Withdrawal Syndrome), it can also be caused by exposure to other drugs such as cocaine, amphetamines, or barbiturates. Infants with NAS experience withdrawal symptoms including tremors, irritability, poor feeding, vomiting, dehydration, and increased sweating. These symptoms usually appear within 72 hours of birth.
Standardized clinical definitions, guidelines, and treatment of pregnant people with opioid use disorder (OUD) and infants experiencing withdrawal could greatly mitigate the effects of NAS and the associated health care burden. In 2017, CDC developed public health strategies to identify, prevent, and mitigate the impacts of NAS, including prescription drug monitoring programs and eliminating barriers to prevention and treatment of both pregnant people with OUD and infants with NAS.
The 2016 Comprehensive Addiction and Recovery Act (CARA) established a strategy through grant programs that expanded prevention, treatment, and recovery efforts to address the opioid epidemic. One of the provisions of the act required the Department of Health and Human Services to provide information on best practices for plans of safe care for infants born with substance use or withdrawal symptoms. It also requires state plans address the health and treatment needs for infants and caregivers. Oklahoma recently enacted a law requiring a plan of safe care for infants with NAS and the treatment of the caregiver, and approved funding for evidence-based programs and services addressing these needs. A recently adopted law in Delaware formally established a perinatal quality collaborative intended to improve health outcomes of caregivers and newborns, including those impacted by NAS. New Hampshire enacted legislation referring children under three who were born substance-exposed to the state's Family-Centered Early Supports and Services (FCESS) Program. The legislation also authorized the Department of Health and Human Services to adopt rules for application procedures, eligibility criteria, and program administration for FCESS.
This year's state legislative sessions have also seen bills related to NAS treatment and prevention. A bill in New York proposes a pilot program establishing infant recovery centers that provide cost-effective services for infants suffering from withdrawal from in utero exposure to substances (including infants diagnosed with NAS) and services to caregivers in preparation to bring their children home. A Massachusetts bill would establish that infants diagnosed with NAS and substance-exposed newborns would be eligible for early intervention services until their third birthday.
While there is no national surveillance system for NAS in the U.S, at least 11 states have made the diagnosis of NAS a notifiable condition. This means a healthcare provider or facility must notify the state health department of clinically diagnosed cases of NAS. Notification of NAS cases can help state health agencies increase access to care and treatment for pregnant and postpartum people who experience substance use disorders, as well as monitor the prevalence of clinically diagnosed NAS. It is important to note that notification requirements vary between states.
While states adopt laws and policies aimed at the impact of NAS, public health continues to learn more about the its effects on newborns and infants as they grow. For example, the American Academy of Pediatrics noted an Australian study linking an association with NAS and poor school performance. In the meantime, ASTHO will continue to track state legislation that helps prevent and reduce the impact of NAS.