Lessons Learned from the U.S. Affiliated Pacific Islands COVID-19 Response
January 25, 2021 | Karl Ensign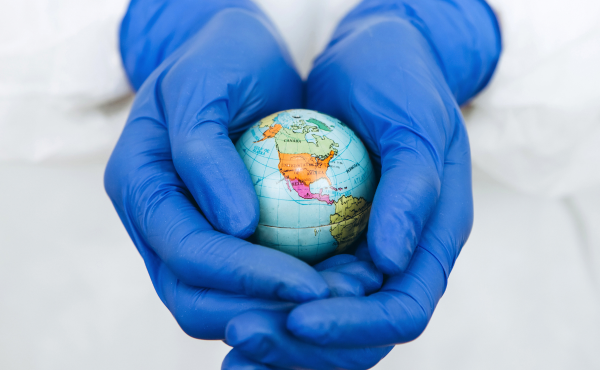 During the past year we've become accustomed to a new normal—isolating, meetings on Zoom, wearing facemasks in public, and physically distancing in the presence of others. Yet as COVID spread throughout the country and infection rates rose in every state, the U.S. Affiliated Pacific Islands (USAPI) received media attention for remaining relatively COVID-free, apart from Guam. And more recently, the USAPI received renewed attention as they led the nation in vaccination rates.
The USAPI's unified response in the face of a global pandemic is a history-making tale of collaboration, communication, and partnership. The successes of public health leaders provide important lessons for preventing, preparing for, and responding to future public health emergencies.
The USAPI are comprised of three territories (American Samoa, the Commonwealth of the Northern Mariana Islands, and Guam) and three Freely Associated States (the Republic of the Marshall Islands, the Federated States of Micronesia, and the Republic of Palau). Territorial citizens are granted U.S. citizenship at birth. However, territories are treated differently than states when it comes to federal funding.
For instance, caps are placed on Medicaid reimbursement, which impacts the ability to build comprehensive public health and health care systems. The three Freely Associated States (FAS) are independent nations that have negotiated compacts of free association with the U.S. government allowing citizens to travel to states and other territories without being subject to visa restrictions despite the absence of U.S. citizenship.
Each of the six jurisdictions has a distinct history and culture that harkens back to ancient times. With western exploration the islands became known as the "stepping stones across the Pacific." This construct was imposed by dominant culture and the present-day nomenclature "USAPI" reflects U.S. strategic national interests.
Guam, "where America's day begins," is home to both a naval base and an air force base, as well as the Guam national guard. In fact, the DoD holds about one-third of the 212 square miles that comprise the island. Guam and the Commonwealth of the Northern Mariana Islands (CNMI) are both located about 2,000 miles from North Korea and under 3,000 miles from China. For this reason, Guam and CNMI are sometimes collectively referred to as the "tip of the spear."
To say that globalization was unkind to these jurisdictions is a dramatic understatement. Deadly conflicts occurred but nothing compared to the devastation wrought by infectious disease upon first contact. It is difficult to estimate the actual impact of disease on the native populations, but by all accounts it was horrific. The common observation from island to island handed down through oral histories is that "there were not enough left living to bury the dead.
Today, the USAPI suffer from both first and third world problems. In addition to mosquito and water-borne illnesses, there are significant population health challenges in the Pacific resulting from imported foods, and the westernization of diet and lifestyle. The region suffers the greatest loss of life to non-communicable diseases in the world and some of the highest obesity rates.
In fact, the proportion of the population with diabetes is two to four times higher than the U.S. national rate. Health providers in Guam report that one-half of all COVID deaths were those with diabetes. Stateside in Arkansas—a common destination for citizens from the Republic of the Marshall Islands—the reported COVID death rate per 1,713 per 100,000 for Pacific Islanders. This stands in stark contrast to the statewide average which was just 11.
Yet despite these documented needs, lab capacity, health infrastructure, and testing capability has always been challenging in the USAPI. Although there's been a lot of work to build up lab training and development, it is common for labs to send specimens to Hawaii and the mainland for analysis. Access to clinical and health care services is limited, especially in the FAS jurisdictions and on remote outer islands.
Watching the USS Roosevelt incident unfold and community transmission begin to occur in Guam, FAS leaders took decisive and dramatic action that most viewed as premature and unwarranted at the time, effectively closing their borders for a time period that would extend for the better part of a year. The territory of American Samoa soon followed suit. While Guam and CNMI's borders remained relatively open, travelers faced mandatory quarantine and testing upon arrival.
Aided by the common dread of infectious disease brought from the outside world, authorities were able to strictly enforce the new measures. After landing in Majuro to unload supplies within the Republic of the Marshall Islands, a United flight developed mechanical issues and was unable to take off again.
Yet the on-board crew and passengers were not allowed to enter facilities at the airport and were not allowed to transfer to other on-island facilities. Instead, they were instructed to overnight on the plane until a rescue plane arrived the next morning. And in Guam, one woman who refused to enter quarantine upon arrival at the airport was arrested and jailed.
With their borders secured, Pacific jurisdictions assessed their inventories of supplies and equipment. As states scrambled to purchase testing supplies, PPEs, and ventilators, the USAPI were at a distinct disadvantage given their relatively small populations and remote location.
ASTHO's partner organization, the Pacific Island Health Officers' Association (PIHOA), stepped into the breach, serving as a distribution point for supplies donated by non-profits like the World Health Organization (WHO), UNICEF, the World Bank, and federal agencies—most notably the Office of the Assistant Secretary for Preparedness and Response, CDC, and FEMA—as well as a variety of Asian nations.
Within a few months, all jurisdictions procured ventilators, PPEs, stockpiled oxygen, and developed testing capacity through the Abbott ID and BinaxNOW systems or GeneXpert equipment. PIHOA procured and distributed vent supplies such as regulators and tubing, as well as oxygen delivery supplies including non-rebreather masks, nasal cannulas, and endotracheal tubes.
Weekly meetings kicked off in early Feb. 2020 to coordinate procurement and distribution. Organizations representing both the global and domestic response were invited and provided updates on planning. Over time, three distinct sets of weekly calls emerged:
Jurisdiction-specific calls to collect basic information on testing capacity; border security and quarantine policies; community mitigation measures; supplies and facilities; and vaccine planning and administration convened by PIHOA and CDC.
Global and domestic partner calls convened by PIHOA.
Support calls involving both partners and jurisdictional leadership.
These weekly calls were critical for coordination and planning on a range of issues including vaccine planning, coordinating the entry of health care workers, and later the repatriation of citizens stranded outside the jurisdiction. A unique system of double quarantine was developed and coordinated. Hotel facilities were reserved in Honolulu for the first quarantine hold for travelers heading west, as were facilities in Guam for the second quarantine hold. Testing was required in both phases before travelers were cleared. Early on, Guam developed testing capabilities and extended this to the region and later CNMI loaned Palau an ultra-cold freezer so the jurisdiction could be positioned to receive the Pfizer vaccine. Public health leaders from states with relatively large Pacific Island populations were invited and joined select calls to strategize on outreach and engagement of these populations stateside.
Recognizing the potential threat posed by COVID, public health leaders in the Pacific took early and decisive action within their individual jurisdictions and planned and strategized across jurisdictions and with a broad array of partners. The foundation that has been built is strong and should be maintained. To help prevent future public health crises, prepare for those that are coming, and effectively respond to future events, it is imperative that we:
Build quality public health and health care systems within each jurisdiction encompassing all aspects—prevention and public health measures, detection, testing, and treatment. The USS Roosevelt's reliance on Guam illustrates the global and strategic importance these islands continue to play.
Develop shared resources at a regional level. In recognition of this, the Department of Defense Authorization Act of 2021 appropriated $19 million for the establishment of a public health laboratory of sufficient size and sophistication to serve the region's needs.
Create enhanced data capabilities for surveillance, disease tracking and situational awareness, and to inform communication across partners and jurisdictions.
Prior plans that have been developed should also be consulted. These include PIHOA's 2010 NCD declaration, the Asian Development Bank's 2005 Pacific Plan, and the National Academy of Sciences 1998 Pacific Partnership for Health to name a few. With these in place the USAPI will emerge from this current threat stronger than ever.