Jurisdictions Moving Many ASTHO Essential Tobacco Control Policies Forward
November 23, 2022 | Ann Abraham, Joshua Berry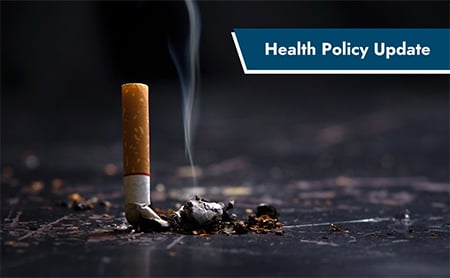 Although cigarette smoking in the United States is declining, tobacco use is still the leading cause of preventable death, responsible for approximately 480,000 deaths annually—approximately one in five adults. Jurisdictions can disincentivize tobacco use, and support tobacco cessation, by adopting evidence-based legislative and regulatory policies. ASTHO's 2019 Chronic Disease Prevention and Control Technical Package included several evidence-based policy actions to reduce tobacco and nicotine usage.
Over the past several years, jurisdictions have continued to implement important policies to reduce tobacco and nicotine use, including increasing tobacco prices, expanding areas deemed "smoke-free," limiting the sale of flavored tobacco products, and supporting tobacco cessation programs. Additionally, jurisdictions considered proposals to pre-empt local government action on tobacco policies with many protecting the right of local government to enact stricter tobacco policies.
Table 1. Number of Jurisdictions Enacting ASTHO Essential Tobacco Control Policies
| Essential Tobacco Control Policy | # Jurisdictions as of Dec. 2019 | # Jurisdictions as of Oct. 2022 |
| --- | --- | --- |
| Implement cigarette tax ≥ $2.00 per pack* | 26 | 27 |
| Implement tax on e-cigarette products* | 24 | 33 |
| Create and enforce comprehensive tobacco-free air policies | 28 | 31 |
| Restrict all tobacco product flavors | 0 | 2 |
| Protect local authority to enact tobacco control policies | 37 | 36 |
| Promote policies that increase access to tobacco cessation programs | 15 | 19 |
* This update has altered the categorization of tobacco pricing policy to now assess tax on cigarettes and e-cigarettes separately, rather than on all tobacco products.
Increasing Prices on Tobacco Products
Consumer use of tobacco products lowers when the product price increases. This method is especially effective on reducing youth smoking rates, with a 10% price increase reducing youth smoking by 7% and decreasing overall cigarette consumption by up to 5%. One study in Oregon found that combining price increases with comprehensive tobacco control programs decreased the state's taxable per capita cigarette consumption by 11%.
At least 22 states, Washington, D.C., Puerto Rico, American Samoa, the Commonwealth of Northern Mariana Islands, and Guam have cigarette excise tax rates of $2.00 per pack or higher at the end of 2021. Additionally, 30 states, Washington, D.C., Puerto Rico, and the U.S. Virgin Islands (USVI) have a tax on e-cigarette products, an 83% increase from 18 jurisdictions with e-cigarette taxes effective in 2019.
During the 2022 legislative sessions at least 15 states (Alaska, California, Delaware, Georgia, Hawaii, Illinois, Kansas, Massachusetts, Mississippi, New Mexico, Nebraska, New Jersey, New York, Washington, and West Virginia) considered legislation to alter tobacco pricing.
Virginia enacted HB 1199, clarifying how tax on cigars and pipe tobacco products should be administered to online retailers. The Alaska legislature passed SB 45 in May 2022, which would have established an excise tax on electronic smoking products and raise the minimum age of sale to 21. This measure was vetoed in September 2022.
Comprehensive Tobacco-Free Air Policy
Laws that prohibit smoking in workplaces, restaurants, and bars reduce exposure to second-hand smoke. Additionally, smoke-free laws substantially change social norms regarding the acceptability of smoking, prevent youth and young adults from beginning to smoke, and reduce heart attack and asthma hospitalizations among nonsmokers. At least 28 states, Washington, D.C, Puerto Rico, and USVI have laws prohibiting smoking in non-hospitality workplaces, restaurants, and bars.
At least nine states (Florida, Kentucky, Massachusetts, Mississippi, Nebraska, New Jersey, New York, Tennessee, and Wisconsin) considered bills relating to smoke-free environments in 2022. Tennessee enacted SB 1047, which permits local governments to prohibit the use of vapor products in and around hospitals, schools, public pools, outdoor amphitheaters, public parks, playgrounds, and governmental buildings.
Tobacco Product Flavors
Flavored products represent a powerful driver of health inequities. Currently, 86% of African American smokers, 46% of Hispanic smokers, 39% of Asian smokers, and 29% of white smokers use menthol cigarettes. The availability of products with appealing flavors is cited by youth as one of the main reasons for using e-cigarettes. Youth who smoke are more likely than older smokers to smoke menthol cigarettes. More than half of smokers ages 12-17 use menthol cigarettes.
Massachusetts became the first state to adopt a statewide flavor ban on all tobacco products in 2019. Additionally, California, Rhode Island, New Jersey, New York, and Washington, D.C. have enacted flavor bans or restrictions on at least one type of tobacco product. California enacted SB 793 in 2020, restricting the sale of products including menthol cigarettes and fruit-flavored vaping liquids, but the implementation had been delayed pending the outcome of the veto referendum. California voters considered whether to uphold or veto the law in November 2022, with a majority of voters approving the ballot measure (Proposition 31) and upholding the legislation.
Tobacco Cessation Programs
Strategies that remove barriers to accessing proven cessation treatments are expected to increase the delivery and utilization of tobacco cessation treatment and increase quit rates and successful quit attempts among those enrolled in Medicaid. Increasing access to tobacco cessation programs narrows the gap in disparities that persist in cessation behaviors across underserved communities defined by educational attainment, poverty status, age, health insurance status, race/ethnicity, and geography. African American smokers are significantly less likely than white smokers to receive cessation advice from healthcare providers, contributing to lower cessation rates.
While Medicaid programs in all 50 states and Washington, D.C. cover some smoking cessation treatments, at the end of 2018 only 15 state Medicaid programs covered all nine evidence-based cessation treatments. Since then, at least four jurisdictions have moved to cover all FDA-approved cessation therapies through state Medicaid.
Preemption
State governments are granted significant powers to protect the health and safety of its residents. Powers granted to local governments (e.g., counties, cities, and towns) are determined by the state government. Generally, state actions to prohibit local governments from acting on an issue is known as preemption. As of July 2022, at least 14 states preempt local smokefree air laws in some way, ranging from preventing all local smoking and vaping legislation to prohibiting local laws from designating specific places smoke-free (e.g., restaurants and bars). Recently, Idaho enacted S 1285, to prohibit local governments from adopting additional regulations on the marketing, sale, or taxation of tobacco products or electronic smoking devices.
States can also explicitly allow local governments to go beyond state-level tobacco control policies. During the 2022 legislative sessions at least 11 states (California, Florida, Idaho, Kentucky, Louisiana, Massachusetts, Maryland, Missouri, Nebraska, Rhode Island, and Tennessee) considered allowing local jurisdictions to strengthen their tobacco laws. Florida enacted HB 105, which permits local governments to place greater smoking restrictions on public beaches than the state (except for the smoking of unfiltered cigars). Tennessee enacted HB 2705, which permits metropolitan governments to regulate smoking and the use of vapor products in age-restricted venues.
As new state and jurisdictional legislative sessions begin in 2023, we can expect tobacco control to remain on the minds of lawmakers. ASTHO will continue to monitor this important public health policy issue.
Please refer to the 2022 Tobacco Control Network Policy Recommendations Guide for a comprehensive, evidence-based approach to advance progress in enacting each of the above essential policies.