COVID-19 and Beyond: Improving Youth Mental Health Outcomes and Disparities
May 25, 2021 | Ioana Ungureanu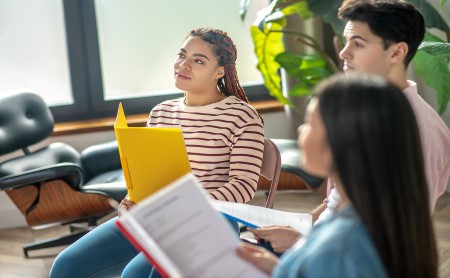 The COVID-19 pandemic has impacted both the physical and mental health well-being of youth. Disruptions in both their home and school life have put youth at risk for poor mental health outcomes that include increased anxiety, depression, and risk of suicide. This Mental Health Month we examine state and territorial legislation that addresses youth mental health.
According to a new Mental Health America report, 9.7% of youth in the U.S. had severe depression in 2020, and that number is higher for youth who identify as more than one race. The report also found that more than half of lesbian, gay, bisexual, transgender, queer/questioning (LGBTQ+) youth screened for suicide risk experienced thoughts of suicide or self-harm. Despite an increase of depression screenings among youth, 60% of youth with depression do not receive mental health treatment. Youth suicide risk was on the rise even before the pandemic, as a 2019 CDC report found that suicide among youth aged 10-24 rose 57% between 2007 and 2017. State and territorial health agencies can improve youth mental health through inter-agency coordination of policies and resources. Many legislative efforts focus on improving youth mental health outcomes through systems of care that youth interact with, including school and healthcare systems.
According to a convening by the National Center for School Mental Health, a comprehensive mental health system for youth should include: mental health screenings; trained educators and school staff; collaborations between the community, family, and school systems; and multi-tiered system of support ranging from universal to targeted individual services.
As health inequities persist, policymakers are also making efforts to address equity within systems of care for priority populations, including LGBTQ+ and racial and ethnic minority youth. The Office of Behavioral Health Equity at Substance Abuse and Mental Health Services Administration emphasizes the importance of improved data, policy, workforce, and communications strategies to improve equity. For example, mental health workforce policies could focus on increasing access and culturally competent care for LGBTQ+ and racial and ethnic minority youth.
Improving State and Territorial Agency Coordination
Legislatures often use inter-agency task forces, committees, or councils to increase coordination between cross-sector agencies in response to a public health emergency. These inter-agency efforts are integral for coordinating state policies and resources to address youth mental outcomes and disparities. Utah enacted HB 288, creating the Education and Mental Health Coordinating Council to clarify roles between community based and school-based mental health services. The council will include members from the state legislature, state education agency, state substance abuse and mental health agencies, and community-based behavioral health providers. New Jersey introduced A 1105 to establish a Task Force on Student Mental Health, which will require members from the state education agency, state behavioral health agency, and school districts to develop recommendations for improving student mental health support. In Hawaii, the legislature passed HB 1322, establishing a task force to create, develop, and adopt a statewide framework for trauma informed and responsive practice in the state, including principles for entities that have contact with children or youth.
Addressing Youth Mental Health Through the School System
Several states also enacted or proposed bills to improve individual and universal access to comprehensive mental health programs for students. Oklahoma enacted, SB 21, requiring all school district staff to receive evidence-based suicide prevention training and SB 89, requiring school districts to include social and emotional health as part of the health education curriculum for all students. In Arkansas, SB 656 would require all schools to develop procedures for screening and intervention of mental health, substance misuse, and suicide prevention. A newly enacted Arkansas bill, SB 291, allows public schools to adopt community school strategies (e.g., integrated student supports, active family and community engagement, etc.) and maintain community outreach coordinators tasked with engaging and connecting students and families with services and opportunities. Georgia proposed SB 106 which would require schools to provide wraparound services (such as early intervention and community programs) intended to improve physical, social, emotional, and intellectual development of students. Indiana enacted HB 1405 which allows the state Medicaid program to submit a state plan amendment to increase access to school-based health services, such as mental health, for Medicaid eligible students.
Advancing Youth Mental Health Equity
Several states have proposed bills that improve mental health promotion and health access for LGBTQ+ and racial and ethnic minority youth. Washington state legislators proposed HB 1182, which would include the commission on African American affairs, the commission on Hispanic affairs, the governor's office of Indian affairs, and the LGBTQ+ commission in the implementation of an expanded state crisis line and crisis response services. If passed, New York S 5930 will establish a grant program for a peer-support group for LGBTQ+ youth and require that community-based organizations implementing the program are trained in mental health best practices like post-traumatic stress and suicide prevention. In Nevada, AB 327 proposes that mental health professionals are required to complete continuation education on cultural competency, diversity, equity, and inclusion.
As states are promoting positive health outcomes for youth in response to the COVID-19 pandemic, some states are considering inter-agency approaches for improving systems of care. Several states have enacted or proposed bills to improve inter-agency coordination, address mental health through the school system, and advance health equity for priority populations. ASTHO will continue to track legislation on states approaches to improving youth mental health.