How States Can Leverage JUUL Settlement Funds to Promote Public Health
October 31, 2023 | Amy Ciarlo, Matta Sannoh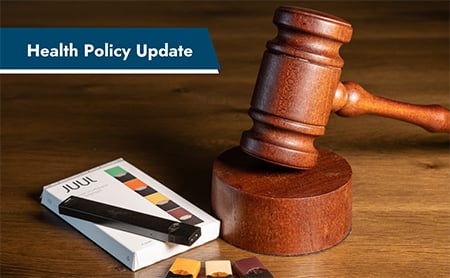 Electronic cigarettes (e-cigarettes) vaporize a liquid solution that creates inhalable aerosol containing nicotine, flavorings, and other chemicals. Early e-cigarette designs resembled combustible cigarettes in their appearance and functionality, often adopting a cylindrical shape and manual activation. When JUUL emerged in 2015, the discreet, pod-style e-cigarette available in a variety of flavors became popular with consumers. Unlike earlier e-cigarette systems that use freebase nicotine, JUUL uses nicotine salts which allows for higher levels of nicotine to be absorbed with less irritation.
Soon after it launched, JUUL's popularity skyrocketed, peaking at a dominant 75% of the market share in 2018. The brand's modern design and advertising depicting youthful influencers and models was especially popular among younger audiences. By 2019, a youth e-cigarette epidemic was in full swing with one in three high school students using e-cigarettes—an increase from 27.5% in 2015, the year JUUL began its youth-oriented marketing campaigns. Youth cited that the number one reason for using e-cigarettes was the availability of flavors. This alarming rise accompanied by the health implications of such use has urged federal and state entities to take action.
Federal Oversight
In 2019, FDA issued warning letters to JUUL for marketing to minors and making unauthorized claims that their products were a modified risk tobacco product compared to traditional cigarettes. Later that year the federal government raised the legal age for retailers to sell tobacco products, including e-cigarettes, to 21 nationally.
In January 2020, FDA announced that it would prioritize enforcement against e-cigarette companies who were illegally marketing flavored vaping products in the form of pod-based systems, noting that no e-cigarette products were authorized to be sold at the time. That spring, FDA released its Premarket Tobacco Application, leading to all flavored e-cigarette applications being denied in 2021—including JUUL's submission for which the FDA issued an application denial in 2022. JUUL filed suit challenging FDA's denial order in federal court, which suspended the order while the court thoroughly reviewed the case and allowed JUUL to continue selling products.
States Reach Settlement Agreements with JUUL to Stop Advertising to Youth
To address the epidemic, states, cities, counties, school districts, and tribes filed lawsuits against JUUL to end their marketing practices aimed at youth and to obtain compensation from the financial toll experienced by communities. In 2019, North Carolina was the first state to file a lawsuit against JUUL and in 2021 reached a $40 million settlement agreement with the company. Although they did not admit fault in this agreement, JUUL did agree to stop marketing its product in a way likely to appeal to youth and to implement stronger protections to keep people under age 21 years purchasing the product.
In February 2020, Attorneys General from Connecticut, Florida, Nevada, Oregon, and Texas announced a bipartisan 39 state investigation into JUUL's marketing and sales practices. After a two-year investigation, 33 states and Puerto Rico reached a multistate settlement against JUUL. Per the agreement, JUUL must follow marketing and content restrictions, advertising regulations, and is prohibited from providing free or nominal cost samples of their products, with all these efforts intended to curtail youth exposure to the products, as well as a total payment of nearly $440 million to these jurisdictions.
In April 2023, JUUL reached a second multi-state settlement agreement to settle claims in seven states (CA, CO, NM, IL, NY, MA, and Washington D.C.), resulting in one of the largest monetary settlements with JUUL and the most stringent restrictions on their marketing and sales tactics. With a monetary value of $462 million, the settlement agreement requires JUUL to restrict marketing practices, limit individual's sales purchases, provide retail compliance checks, prohibit free or nominally priced JUUL products, exclude product placements in media, and maintain a document depository for public access.
The multistate settlements raise the question: how will the funds be spent? Every state has different processes for allocating funds, such as statutory requirements directing the funds to be deposited into the state's general or treasury fund where legislators must appropriate it. Others may have settlement agreements that dictate where the funds will go, such as the state health agency or towards prevention programming. If authorized under state law, the attorney general can use their discretion to allocate the settlement dollars. Per attorney general statements, settlement agreements, and as directed by legislation, at least 15 jurisdictions have indicated funds will go towards:
Prevention and education programs to prevent and reduce youth e-cigarette use (AZ, CA, CO, DC, IN, MA, MS, NM, NY, NC)
Enforcement efforts related to e-cigarettes (CA, DC)
Research into e-cigarette health effects (CA, DC, NM, NC)
Cessation programming for e-cigarettes (AZ, DC, MS, NC)
Efforts to limit access to or use of nicotine products (MS)
Regional behavioral health boards for mental health and substance use prevention and treatment (CT)
Establishing a health equity unit within the attorney general office focusing on enforcement, outreach, and education (WA)
Reimbursing states' attorney fees (AZ, CO, DC, MS)
Local municipalities in communities, school districts—even individual e-cigarette users across the nation—have also pursued litigation against JUUL. Many school districts and cities as part of multidistrict litigations have reached agreements ordering JUUL to pay more than $1 billion, in addition to the $1.1 billion owed to 48 states, territories, and Washington D.C. from various settlement agreements.
Leveraging Settlement Funds for Effective Tobacco Control Measures
Prior to the JUUL settlements, the landmark 1998 Tobacco Master Settlement Agreement (MSA) marked a transformative moment in tobacco regulation that shifted the landscape of tobacco regulation and public health initiatives. Under the MSA, the largest U.S. tobacco companies agreed to restrict advertising, marketing, and promotion of their products targeted toward youth and end company practices that obscured the health risks of tobacco.
While the MSA resulted in many positive outcomes—its policy outcomes contributed to a 50% reduction of cigarette use in the United States between 1998 and 2019—it allows states to use the funds for any purpose without requiring promotion of public health priorities. As a result, some states have used the funds to address budget shortfalls, support education, and even subsidize tobacco farmers. Of the $27 billion states collected from tobacco settlements and taxes in fiscal 2022, less than 3% was spent on programs to prevent children from smoking and to help smokers quit.
To ensure that JUUL settlement funds are used to promote public health, attorneys general can consider agreements (e.g., assurances of voluntary compliance) that delegate funds toward comprehensive tobacco control measures. In this endeavor, public health professionals, including state health officials and tobacco control programs, hold valuable expertise about evidence-based programs and strategies that can minimize circumstances for emerging tobacco products to proliferate in the future.
The Public Health Law Center recommends several public health strategies to address youth vaping, including:
Education and prevention (e.g., implementing evidence-based regulation and removal of PUP laws, youth engagement, and parent/community outreach).
Research and knowledge (e.g., examining long-term effects of vaping and improving data collection to monitor trends).
Intervention and support (e.g., treatment and cessation programs, supportive school disciplinary practices, and healthy alternatives to suspension).
Environmental and societal measures (e.g., tobacco product waste management).
Public health leaders in jurisdictions that have received, or are in the process of receiving, JUUL settlement dollars, can work with policymakers to ensure that the funds are used to promote evidence-based public health strategies.
ASTHO will continue to monitor this important public health issue, providing relevant updates.