How States are Handling School Vaccination Requirements in a Pandemic
September 23, 2020 | Andy Baker-White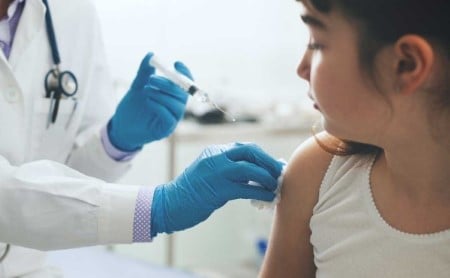 For many students and families, going back to school during the COVID-19 pandemic means patiently working with their schools as virtual learning platforms are rolled out and physical leaning spaces are altered. These new challenges are being added to the typical fall routine of buying school supplies, remembering what time the bus arrives in the morning, and making sure that your student's vaccination records are up to date. Unfortunately, the pandemic has led to a drop in well-child visits. While the number of vaccines being administered to children has declined, vaccine requirements for school attendance remain in effect.
Conditioning school attendance on student vaccinations is an evidence-based way of maintaining and increasing vaccine coverage. State law establishes school vaccination requirements which apply not only to public schools but often to private schools and childcare facilities as well. All states allow an exemption for those where a vaccine poses a medical risk. Several states also allow non-medical exemptions, often based on an asserted religious, philosophical, or personal belief of the parents or child opposing vaccinations. However, a few states have recently abolished all non-medical exemptions.
California, Maine, Mississippi, New York, and West Virginia currently only allow medical exemptions to their school vaccination requirements and do not permit any type of non-medical exemption. In March of this year, Maine's law was challenged through a voter referendum. Approval of the referendum would have repealed the state's 2019 elimination of non-medical exemptions, however, voters rejected the ballot question 73% to 27% and agreed to maintain the law only allowing medical exemptions. So far this year, no other state has eliminated its non-medical exemptions. A bill in Massachusetts (H 3999) to remove the existing non-medical exemptions was introduced.
States are also continuing to add vaccine-preventable diseases to their school vaccine requirements. For example, this January, New Jersey Gov. Phil Murphy signed a bill (A 1991) passed by the state's legislature in late 2019 to require students at institutions of higher education to receive the meningococcal vaccine. Influenza is another vaccine-preventable disease for which states continue to consider vaccine requirements. Six states, Connecticut, Massachusetts, New Jersey, Ohio, Pennsylvania, and Rhode Island currently require childcare and/or preschool enrollees to receive the annual flu vaccine. In New York, a set of companion bills (S 2276 and A 2316) would require all childcare attendees to receive the annual flu vaccine while in New Jersey, a bill (A 4576) is being considered that would extend the state's annual flu vaccine requirement to students in public and private K-12 schools and institutions of higher education. It would also codify the existing requirement for childcare and preschool enrollees. Lastly, efforts are being made in Massachusetts (S 1264) and Illinois (HB 4870) to include human papillomavirus (HPV), yet another vaccine-preventable disease, to the list of required school vaccinations. To date, HPV vaccines are required for school attendance in the District of Columbia, Hawaii, Rhode Island, and Virginia.
A few states are also looking at ways to improve the efficiency of their school vaccination process. Earlier this year, Virginia adopted a bill (HB 1090) to streamline the state's regulatory procedures and allow timely conformity with evidence-based vaccine recommendations. In New York, a set of companion bills are being considered (A 10773 and S 8605) that would allow all school nurses access to the state's immunization information system to allow for quicker downloading and uploading of student immunization information. Finally, due to the disruptions the COVID-19 pandemic has caused to children receiving the required school vaccinations, North Carolina and Pennsylvania both extended the deadlines for achieving the requirements during this school year.
Beyond the beginning of the school year, effective vaccination practices and policies will be vital to reduce the risk of vaccine-preventable diseases, especially throughout the fall and winter months and among populations most vulnerable to serious illness or death. As 2020 unfolds, ASTHO will continue to monitor legislative and executive activity increasing vaccine coverage for preventable disease and illness.