How Equity Fellows Impact Health Agencies
October 31, 2023 | Ashley Nanthavongsa-Mosley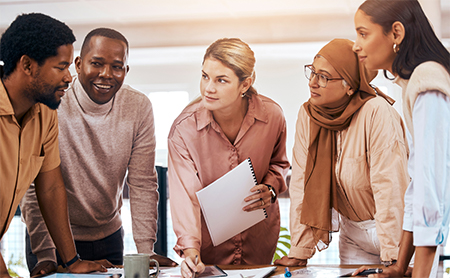 With the recent decline in the public health workforce, health agencies are actively developing strategies to recruit and retain new talent. One crucial element of bolstering the public health workforce is creating pathways for emerging public health professionals to enter the field, such as internship and fellowship opportunities. These opportunities allow early career public health professionals to build the skills and experience for future roles in public health leadership.
In 2021, the Kellogg Foundation funded ASTHO to support equitable response and recovery from the COVID-19 pandemic in communities by developing a resilience-focused, two-year public health fellowship program—the Public Health Equity Corps (PHEC). ASTHO contracted with Lead for America—a nonprofit organization that recruits, trains, and places diverse young leaders within host agencies to tackle tough and complex community challenges—to place eight fellows in state health departments to support these efforts and provide administrative functions.
Lead for America supported both state health agencies (SHAs) and fellows by:
Recruiting applicants for fellow positions within selected host locations.
Providing fellow training.
Managing human resources functions for fellows, including hiring, payroll, record keeping, etc.
Convening and supporting fellow cohort training updates.
Providing program evaluation and reporting.
For agencies with limited capacity, third-party contract agencies can offer valuable administrative and fellow support.
Contributions from Fellows
During the two-year program, PHEC fellows focused on enhancing relationships between their SHAs and community partners to improve equitable COVID-19 vaccine distribution. Some of the fellows' work included writing an agency health equity plan, delivering training, grant data collection and reporting, supporting strategic planning and listening sessions with targeted communities, analyzing data for quality improvement, and creating a health screening manual.
The SHA host sites surveyed found this type of fellowship program valuable and would recommend it to other host institutions.
"It was a pleasure to be a host site for the PHEC fellowship program! Our fellow was amazing! Their questions and perspectives brought growth and more opportunities to our office to help us in our work to reduce health disparities."
– EchoHawk Lefthand, Administrator OHD, Nebraska DHHS
Recently, the PHEC fellows graduated from the program and embarked on their new journeys. Half of the fellows are returning to school to pursue their MPH or DPH degrees, while the other half have received opportunities to work as contractors or apply for a full-time position at their host sites.
Considerations for State Health Agencies
Since the conclusion of the program, ASTHO has gained unique insight to offer to agencies considering pathway programs. ASTHO will continue to raise awareness about any available fellowship placement opportunities. When preparing to host a fellow at a state health agency, the PHEC Program offered valuable lessons to consider:
Prioritize regular communication with fellows to set clear expectations and provide feedback regularly.
Maintain an operational plan to prepare for any transition of supervisors to ensure continuity.
Introduce a co-program officer alongside the third-party agency to work more closely with fellows and offer subject matter and site-specific support.
Fellowships can provide agencies hands-on support, fostering leadership skills and igniting a passion for service in the next generation of public health professionals. Health agencies should consider collaborating with third-party organizations that align with their vision and mission to support healthy, happy, and resilient communities.