How Community Health Workers Are Impacting Rural Communities
April 05, 2023 | Shelby Rowell
The COVID-19 pandemic highlighted the disparities rural communities face in accessing healthcare services. These disparities have been driven by health workforce shortages, rural hospital closures, and geographically dispersed clinical and public health infrastructure.
In response, rural communities are developing tailored, self-determined solutions to these unique challenges, including directing investments into community health worker (CHW) programs that reduce disparities.
The Time is Ripe for Investments in Building a Rural CHW Workforce
Recent federal COVID-19 funding provides a milestone opportunity to invest in CHW infrastructure, regardless of a state's current policy landscape. CHWs are proven to be effective in improving health and social outcomes, reducing healthcare costs, and closing health disparity gaps. CHWs are uniquely qualified to address rural America's needs due to their ability to advocate for clients, build trusting relationships within their communities, and create robust communication pathways between patients and providers. As workforce shortages, lack of specialty care access, and hospital closures persist, CHWs can provide rural clients with an avenue to stay connected in a health system that continues to have shrinking points of entry.
In June 2021, the Centers for Disease Control and Prevention (CDC) made its largest investment to date focused on health disparities in the form of CDC-RFA-OT21-2103: National Initiative to Address COVID-19 Health Disparities Among Populations at High-Risk and Underserved, Including Racial and Ethnic Minority Populations and Rural Communities, a two-year grant for state and local health departments in all 50 states, U.S. territories, and freely associated states (2103 funding).
Grantees were directed to address COVID-19 disparities among underserved and rural populations. In some instances, state health departments are using the funds to hire full-time CHW positions and convene coalitions to develop CHW policies—including around reimbursement and workforce development. Kansas offers insights into how one state has applied its 2103 grant funding to expand hiring of CHWs—particularly in rural counties, which have historically had a limited CHW presence.
Kansas Investments in Rural CHWs: Building on Early Successes
In May 2020, Kansas had the greatest racial and ethnic COVID-19 mortality disparities in the country and ranked 43rd for per capita testing for COVID-19. This suggested that many Kansans in at-risk population groups—particularly people of color and those living in rural communities—were not being tested despite being at a higher risk for contracting COVID-19.
The University of Kansas Medical Center (KUMC) received funding through the National institutes of Health (NIH) for the RadX project, which aimed to improve access to COVID-19 testing. Through this project, KUMC created Local Health Equity Action Teams (LHEATs) in 10 counties—six of which are rural—that were disproportionately affected by COVID-19. LHEATs include community members who represent underserved and underrepresented populations, especially within community health efforts. While the RadX project was primarily rooted in addressing racial and ethnic health disparities, it provided a meaningful precedent for how the state could take a local approach to engage communities in areas of the state not previously reached.
When additional CDC 2103 funding became available, the Kansas Department of Health and Environment worked with KUMC to build upon RadX and implement the Communities Organizing to Promote Equity (COPE) project, which has now expanded into 20 counties—14 of which are classified as rural counties by the United States Department of Agriculture (USDA). COPE's fundamental purpose is to strengthen the role of communities in the public health response. The COPE project utilizes the LHEAT model, while also incorporating up to three paid CHWs into each LHEAT team to serve as "boots on the ground" for community outreach.
Figure 1. Map of Kansas Counties Organizing to Promote Equity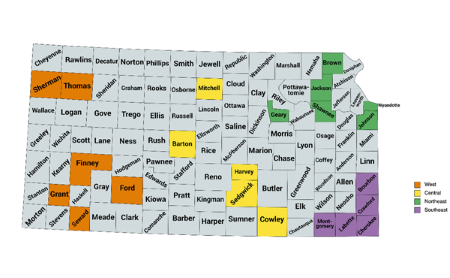 Communities organizing to promote equity targeted counties in Kansas.
The program reported that CHWs employed into LHEATs spend 70% of their time in the communities they serve and identify gaps in services or other barriers to care. From there, LHEAT members were able to collectively decide on action plans to address those challenges. Specifically, the CHWs have four core goals:
Develop partners in the community to create a connected network of organizations that can provide and receive referred clients and share resources.
Organize and participate in events initiated by organizations in the community or by LHEATs.
Be active in LHEATs, contribute ideas, and become the operative arm of the LHEAT.
Work with clients one-on-one to address their social drivers of health needs, while educating and empowering them to become more self-sufficient.
The integration of the LHEAT model and strengthening of the CHW workforce in rural areas demonstrates that there can be meaningful progress can be made. In addition, it illustrates several community-driven solutions for addressing specific barriers to achieving health equity.
Across the 20 counties, LHEAT members have helped distribute over 22,000 at-home COVID-19 test kits to those who previously had low access to testing. In Geary county, one CHW developed a partnership with her local Veterans of Foreign Wars chapter for Men's Health Awareness Month to address disparities within local veteran populations and build trust throughout the community. Across all 20 counties, LHEATS have identified specific service gaps and barriers to care to develop their own unique plans.
While this project was born out of the COVID-19 pandemic and has a COVID-19 focus, the larger goal is to build a foundation for reducing health inequities, building trust, and empowering communities. At project end, the hope is that COPE has established the necessary infrastructure to support and strengthen the work of the 60 hired CHWs and that the work continues as Kansas transitions out of the public health emergency.
A Natural Partnership
As rural communities look for ways to improve health equity, address the social determinants of health, and improve access to healthcare, CHWs will remain a valuable partner. Both ASTHO members and CHW advocates point to a need for both public health and healthcare delivery systems to make investments in the CHW workforce to sustain hiring, build career ladders that retain effective CHWs in the public health system, and maintain community relationships. CHWs are an asset in rural health interventions to identify community health needs, improve equity, and safeguard against the next public health emergency.
The development of this product is supported by the Health Resources and Services Administration of the U.S. Department of Health and Human Services under grant number 2 UD3OA22890-10-00. Information, content, and conclusions will be those of the author and should not be construed as the official position or policy of, nor should any endorsements be inferred by HRSA, HHS, or the U.S. Government.