Hill Day Takeaway: Thank you! (And Please Finalize FY22 Appropriations)
March 08, 2022 | Jeffrey Ekoma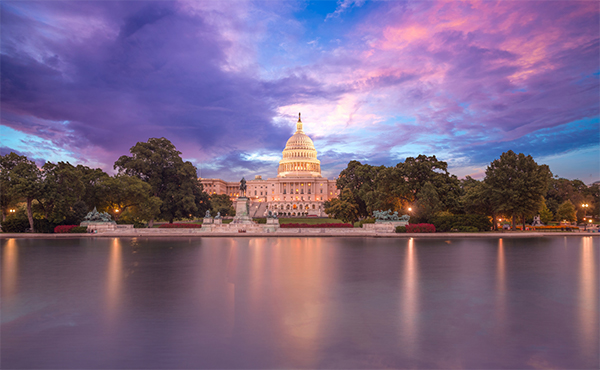 When you ask most people what reminds them of the most wonderful time of the year, they may reference the classic song by Andy Williams. For government affairs professionals, that time would be hill day! Traditional hill days are filled with the excitement of advocates going to Capitol Hill, braving the entry lines of congressional office buildings, zigzagging through the hallways, running into other advocates throughout the day and, most importantly, meeting with members of Congress and their staff. However, the pandemic has drastically changed how advocates engage with Congress when participating in hill meetings.
Key Hill Day Messages
There were several key messages that health officials sought to deliver to members of Congress and their staff. First and foremost, members offered gratitude for the support given through emergency supplemental funding to address the pandemic.
The most urgent message relayed during Hill Day was the importance of finalizing FY22 appropriations, which includes resources to support the creation of a public health infrastructure fund. We are currently under a continuing resolution that is set to expire on Mar. 11. As is with every continuing resolution, funding for the federal government is pegged to levels in the previous fiscal year (FY21). The potential for a full-year extension of the current CR would be devastating.
As background, the creation of this fund was included as part of the President's FY22 budget and was subsequently included as part of the FY22 House and Senate Labor Health and Human Services draft bills. The funding would support health departments to detect and respond to threats both domestically and globally, while improving and supporting activities in core public health capabilities, including assessment, policy, preparedness and response, community partnership, communications, equity, accountability, and performance management.
Moreover, members discussed the importance of ensuring that funding remains disease-neutral, flexible, and sustainable as we advocate in transitioning public health from a boom-and-bust funding cycle. There was also a discussion of FY23 appropriation requests that were developed by ASTHO, in collaboration with our affiliate organizations.
In meetings with congressional committee staff, territorial health officials focused their messaging on the importance of a long-term solution for territorial Medicaid and expanded Medicaid eligibility for state based COFA populations. The overwhelming response from Congress to equip state and territorial health departments with resources necessary to respond to the pandemic has not only been vital but has saved lives—both in the United States and across the world.
Members provided an up-to-date picture of how they are managing the pandemic in their respective jurisdictions. Overall, their updates were optimistic. There has been considerable progress in vaccinating the public, combatting hesitancy, and preventing hospitalizations. They also discussed how they have been using the most recent emergency supplemental funds (e.g., to support schools, testing, improving laboratory capacity, sequencing various variants, vaccinations, and strengthening the public health workforce).
Virtual Hill Day Offers Advantages
This year ASTHO embarked on a journey to host a virtual hill day due in large part to the restrictions against in-person meetings because of the pandemic and safety concerns. Although there was a high sense of optimism around the possibility of returning to in-person meetings this year, the emergence of COVID-19 variants, among other factors, necessitated the need to refresh our playbook for hosting a virtual hill day.
A virtual hill convening allows health officials to meet directly with their entire federal delegation at the same time. Similar to a briefing, we held our question-and-answer session virtually, which enabled members of Congress and their staff to receive information and cut down on the full-day commitment generally required for in-person hill day convenings. Of note, territorial members also conducted evening meetings to accommodate time zone differences with congressional committee staff charged with writing legislation that specifically addresses territorial member priorities.
In Summary
ASTHO members look forward to keeping their congressional delegation abreast of not only what is happening with their response to the pandemic, but other important department updates. Members sent thank you notes and offered themselves as a resource for all public health-related matters, which is critical in helping them build long-term relationships. Concurrently, ASTHO staff are working to follow up with offices as we finalize our advocacy for FY22 appropriations and ramp up our work on the FY23 cycle.
Our 2022 hill day was nothing short of a success! We remain cautiously optimistic for an in-person hill day in 2023 and look forward to continuing our work to ensure we meet state and territorial health departments' advocacy priorities.