Harm Reduction Policies Can Prevent Overdose Fatalities
November 03, 2022 | JoAnne McClure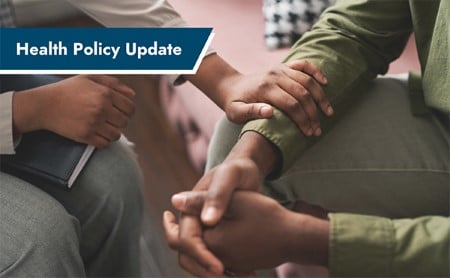 Between April 2021 and April 2022, more than 100,000 Americans died of an overdose, and more people died from drug overdoses in the United States during the first year of the pandemic than in any single year on record. While overdose death rates have increased in every major demographic group, the biggest increase has been for Black and American Indian/Alaska Native people. Overall, fatal overdoses may have been accelerated by the increasing prevalence of fentanyl in illicit drugs and reduced access to supportive services, high stress, and isolation during the pandemic. Social determinants of health, criminalization of substance use disorders, and stigma also influence drug overdose disparities and have had a lasting impact on racial and ethnic minority groups.
Adopting a public health approach to substance use by implementing harm reduction policies across all levels of government can help communities address the overdose crisis. As overdoses increase, the federal government is promoting evidence-based harm reduction services, expanding sustainable funding and developing educational materials and programs to reduce stigma related to substance use and overdose. Some states are adopting and considering evidence-based harm reduction efforts such as overdose-reversal medications, education about drug checking equipment, and supporting syringe service programs (SSPs).
Federal Policy to Include Harm Reduction
The White House announced a National Drug Control Strategy in April 2022 that included harm reduction as a key strategic pillar for the first time. This strategy emphasizes direct engagement with people who use drugs to prevent overdose and infectious disease, improve the physical, mental, and social wellbeing of those served, and offer low-threshold options for accessing substance use disorder treatment and other health care services.
In another first, CDC and the Substance Abuse and Mental Health Services Administration (SAMHSA) are allowing state, territorial, tribal, and local governments to use federal funds for fentanyl test strips. Additionally, the Justice Department is evaluating its stance on overdose prevention centers where people who use drugs can use drugs under supervision and receive additional services.
Since 2021, SAMHSA has awarded $30 million in harm reduction related grants to 25 cities, counties, and community based organizations as part of the American Rescue Plan of 2021. These grants can be used to expand access to overdose reversal medications and fentanyl test strips, provide overdose education and counseling, and manage or expand SSPs.
States Continue to Legalize and Expand Syringe Service Programs
Syringe services programs are evidence-based harm reduction programs that have been shown to effectively reduce opioid overdose deaths and infectious complications and increasing rates of entry into recovery programs. Currently, 43 states along with Washington, D.C. and Puerto Rico operate at least one SSP. In April 2021, Oklahoma passed legislation to allow certain groups to provide harm reduction services including needle exchange, referrals to mental health and substance use disorder treatment, and education and testing for sexually transmitted infections, viral hepatitis, and HIV.
While the law permits Oklahoma's State Departments of Health (OSDH) and Mental Health and Substance Abuse Services (ODMHSAS) to provide harm reduction services and report metrics, it prohibits using state funds to purchase hypodermic needles, which means state agencies need to form partnerships with other authorized organizations to establish programs offering needle exchange.
Decriminalizing the Use of Fentanyl Test Strips
There has been a substantial increase in the presence of the synthetic opioid fentanyl in the illicit drug supply, which has been a major contributor to the rise in fatal and nonfatal overdoses in the United States. Fentanyl is estimated to be 50 times stronger than heroin and 100 times stronger than morphine. Fentanyl test strips can reduce the incidence of overdose so a person who uses drugs can make an educated decision about their personal safety and use.
While fentanyl test strips are shown to reduce overdose, at least 25 states had drug paraphernalia laws prohibiting them in April 2022. Many states are taking action to legalize fentanyl test strips, with at least 10 states (Alabama, Connecticut, Georgia, Louisiana, Minnesota, Nevada, New Mexico, Tennessee, West Virginia, and Wisconsin) enacting laws during the 2022 legislative session.
The Georgia legislature passed their fentanyl test strip legislation on the last day of the General Assembly session, as an amendment attached to a bill designed to legalize raw milk sales in the state. Georgia policymakers were able to include the test strip language amendment because the bill included a section of state law addressing adulterated food products like milk that also addresses adulterated drugs.
Expanding Naloxone Access
Naloxone is an FDA-approved medication that rapidly reverses the effects of opioid overdose when administered in a timely manner. As of July 2022, all 50 states, Washington, D.C., and Puerto Rico allow naloxone without a prescription in some capacity. Some laws allow statewide standing orders, so a licensed healthcare professional can prescribe and dispense naloxone to any person in a position to help someone experiencing an overdose, or by allowing schools to store and administer naloxone.
Notably, as of January 2022, 37 states and Washington, D.C. enacted laws that protect laypeople who administer naloxone in good faith in an emergency from criminal liability, 45 states and Washington D.C. provide immunity from civil liability, and 37 states and Washington D.C. provide immunity from professional sanctions.
A recent study found that the average out-of-pocket cost per naloxone prescription among insured people was $27, while it was $35 for those who were uninsured. By 2018, the average out-of-pocket cost was $18 and $250 for insured and uninsured, respectively. At least eight states (Arkansas, Delaware, Illinois, Maryland, Minnesota, Missouri, Rhode Island, and Washington) have laws that require private health insurance plans to cover at least one type of opioid antagonist, such as naloxone.
Overdose Prevention Centers
Overdose prevention centers (also known as supervised consumption sites) provide a safe space for people to consume pre-obtained drugs in controlled settings, with staff onsite and access to sterile supplies. Participants can also receive healthcare, counseling, and referrals to health and social services, including substance use disorder treatment.
Overdose prevention centers are intended to reduce the health and environmental risks often associated with public injection, such as discarded syringes and related litter, the spread of infectious disease, and fatal drug overdose. Approximately 200 centers exist across 14 countries, and extensive research on these sites has generally shown them to save lives, connect people to treatment, be cost-effective, and not increase drug use or crime.
Rhode Island was the first state to pass a law to authorize overdose prevention centers (called harm reduction centers in Rhode Island) in 2021, and New York City became the first local jurisdiction to begin operating an overdose prevention center one year later. Rhode Island's law authorizes a two-year pilot program beginning March 2022 that requires municipal approval and licensure for opening a harm reduction center. The law also requires the Rhode Island Department of Health to create regulations for the facilities and manage their licensing.
In 2022, the California and Vermont legislatures passed bills to authorize overdose prevention centers to be considered in the state. In both instances, the Governor vetoed the legislation. California Governor Gavin Newsom expressed concern that clinics may have the unintended consequence of encouraging illegal drug use, especially without engaged local city and county official leadership where such sites would be located. Vermont Governor Phil Scott stated that it would be contradictory to divert funding from other proven harm reduction services to overdose prevention sites without clear data on their effectiveness outside of large, urban areas.
ASTHO will continue to monitor and report on this important issue.