Factoring Housing Into Federal and State Policies to Improve Community Health
December 02, 2021 | Anna Bartels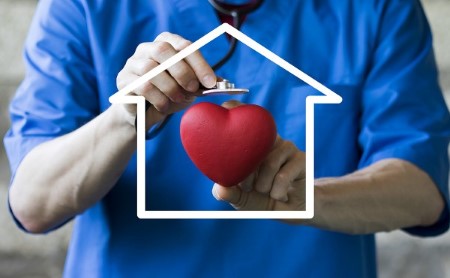 Housing and overall neighborhood conditions significantly influence a community's health. Housing quality, stability, and affordability also directly impact an individual's opportunity and ability to be healthy. There are several policies and initiatives at the federal and state levels focused on improving four pathways connecting housing and health as discussed below.
Housing Instability
Individuals experiencing housing instability (i.e., chronic or short-term homelessness, and/or frequent moving) have higher rates of chronic behavioral and physical health needs than the general population. In addition, housing instability can also contribute to increased use of high-cost health services, such as utilizing emergency departments for health conditions that could be addressed in outpatient or primary care settings. Yet homelessness remains a grave issue in every state, with more than 580,000 Americans experiencing homelessness in January 2020.
Addressing homelessness is a federal priority, led by an interagency council of 19 federal agencies that creates and implements the Federal Strategic Plan to Prevent and End Homelessness. On Sept. 20, 2021, the U.S. Department of Housing and Urban Development (HUD) launched the House America initiative, which encourages jurisdictions to "take a Housing First approach by immediately re-housing individuals and building additional housing for people experiencing homelessness."
In addition, the CDC viewed stable housing as a public health strategy during the COVID-19 response. In July 2020, the CDC issued an order to temporarily stop residential evictions to prevent the spread of COVID-19, which expired on July 31, 2021, after being reauthorized. Although the CDC Eviction Moratorium is no longer in effect, some states and local jurisdictions do have COVID-19-related tenant protections in place.
Several states have enacted legislation this year that focuses on providing housing to individuals who are housing insecure or providing supports to help people remain in their housing. Illinois enacted legislation creating a five-year "Housing is Recovery" pilot program that provides rental subsidies and recovery support services to individuals with serious mental illness or substance use disorder. The program will evaluate whether these services reduce homelessness, institutionalization, and overdose rates.
A new Maine law aims to reduce homelessness by creating an eviction mediation program, and New Jersey enacted a bill allowing hospitals to "construct housing and provide wraparound services to patients who are homeless or housing insecure." In order to help provide health services to people experiencing housing instability, Utah enacted legislation requiring the state Department of Health to apply for a Medicaid waiver or state plan amendment that allows reimbursement to a single medical respite facility that serves homeless beneficiaries in the Medicaid expansion population.
Availability and Affordability
Even before the COVID-19 pandemic, 18.2 million American households were considered severely burdened, paying more than half their incomes for housing. The job and income losses associated with COVID-19 further contributed to increasing economic and housing insecurity for Americans, especially among Black, Latino, and immigrant households. The high-cost burden of housing can lead individuals and families to choose between paying for housing and buying nutritious foods, medications, utilities, and other essential necessities. In addition, the chronic stress of unaffordable housing can lead to worsened mental health outcomes.
In 2020, Virginia enacted legislation directing the Department of Housing and Community Development and the Virginia Development Authority to study "how to incentivize the development of affordable housing in the commonwealth." Oregon passed a bill authorizing the Housing and Community Services Department to provide grants and loans to organizations that help individuals with down payment assistance grants, as well as provide technical assistance to organizations increasing home ownership among people of color.
Hawaii enacted legislation establishing an Affordable Home Ownership Revolving Fund, which provides loans to nonprofit community development financial institutions and nonprofit housing developers to develop affordable housing projects. Further, the Build Back Better Act, which at the time of writing is under consideration by the U.S. Senate, includes increased investments in affordable housing programs.
Housing Quality
The quality of housing itself—such as exposure to lead, pests, overcrowding, or other environmental hazards—can directly contribute to poor health conditions and outcomes, including increased rates of asthma. Particularly vulnerable populations include children, seniors, and individuals who are homebound. Public health agencies help ensure safe housing, such as through aging-in-place programs, and reduce environmental hazards in housing through falls prevention and lead abatement programs.
The Georgia House adopted a resolution creating a House Study Committee on Childhood Lead Exposure that operated through Dec. 1, 2021. The state public health commissioner served on the committee. Additionally, Oregon enacted legislation establishing a Healthy Homes Program within its Health Authority. The program will provide grants to repair and rehabilitate residences, focusing on low-income households and historically disadvantaged communities.
Community Conditions
A neighborhood's social, economic, and environmental conditions influence an individual's opportunity for health and wellness. Such conditions can refer to a home's proximity to transportation, jobs, pollutants, or green spaces, as well as to a neighborhood's crime rate or level of segregation.
Several states, under health department leadership, are making direct investments in marginalized communities, with the community members themselves identifying the barriers to health and well-being that should be addressed. Earlier this year Washington state enacted legislation authorizing the creation of health equity zones, mirroring similar models in Rhode Island and Delaware. In the Washington model, the state health department works with community leaders to provide funding, technical assistance, and data that address the community's most urgent needs affecting health. In Rhode Island and Delaware, several communities identified affordable housing as a key priority.
Housing is a crucial factor in an individual's and community's ability to be healthy and well. As the public health system continues to respond to the COVID-19 pandemic, there is significant momentum and interest in working collaboratively across sectors to address upstream prevention strategies and reimagine how coordinated services are delivered to marginalized communities. ASTHO will continue to monitor housing-related policy trends, as well as support state/territorial health agencies to build cross-sector partnerships that bridge health and housing.
This Health Policy Update is supported by the Centers for Disease Control and Prevention (CDC) of the U.S. Department of Health and Human Services (HHS) as a part of a financial assistance award for State Partnerships for Population Health, totaling $150,000, with 100% funded by CDC/HHS. The contents are those of the author and do not necessarily represent the official views of, nor an endorsement by, CDC/HHS or the U.S. government.